Empress of the Deep 2: Song of the Blue Whale Collector's Edition
Exclusive
Anna awakens on a mysterious tiny island after escaping the destruction of her underwater kingdom. She must find her way to a mystical floating cloud city in the sky, seek out the four Children of Light and save them from the twisted clutches of the Evil Empress Pandora. Along the way she must rescue and heal enchanted animal slaves in this fantastic Hidden Object Puzzle Adventure game!

This is a special Collector's Edition release full of exclusive extras you won't find in the standard version. As a bonus, Collector's Edition purchases count toward three stamps on your Monthly Game Club Punch Card!

The Collector's Edition includes:
Bonus gameplay
Additional Match 3 mode
In-game Strategy Guide
Game System Requirements:
OS:

10.4

CPU:

1.0 GHz

RAM:

512 MB

Hard Drive:

249 MB
Game Manager System Requirements:
Browser:

Safari 4.0 or later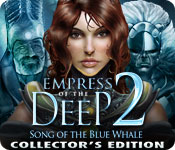 The Big Fish Guarantee:
Quality tested and virus free.
No ads, no adware, no spyware.

Reviews at a Glance

Empress of the Deep 2: Song of the Blue Whale Collector's Edition
0
out of
5 (
0
Reviews
Review
)
Customer Reviews
Empress of the Deep 2: Song of the Blue Whale Collector's Edition
29
29
Beautiful & Soothing, Best Enjoyed By Kids. 8 /10
Game Style: The adventure aspect is simple and relatively easy so the focus is on the beautiful surroundings and the puzzles. Artwork: Magic. I hate to gush. But this is really beautiful graphics. I found myself dawdling through HO scenes, taking in the sights and soaking up the atmosphere. Story: It is simple and easy to follow, less involving, however, than the graphics. It?s a fairy tale, and kids would love it. Replay: I might play it again if I need to de-stress, but this really is for a younger audience and also presents little challenge. Flaws: The map is worse than useless. It makes getting around sometimes frustrating. Tips: Don?t let your ten year old get her hands on this one, she?ll replay it to death. Did I mention how much I LOVE the artwork??
December 11, 2011
A HO?strategy game that's fun, not frustrating
An interesting game, set in a fantasy world of sea and sky, that is far more strategy than hidden object. The HO part is more looking for things as you journey through the fantasy world, but it's not too difficult. The traditional HO game of finding multiple objects in a single scene happens infrequently. If you are inexperienced with strategy games, or have a low frustration level like me, the storyline does a good job of helping you identify your next move, as do the large arrows that show you which direction to travel. Also nice is the large magnifying glass that appears on its own to beckon you over to look at something. And my favorite: when you've completed your tasks, a bubble appears on screen that says "area clear" so you don't have to waste any more time looking around.
November 29, 2011
Disappoints Compared to 1st Installment -formulaic, uninspired
BASED ON COMPLETED GAME The first of these games, "Empress of the Deep" offered so much promise for a sequel it deservedly received rave reviews. If you've not played that gem, stop now, save yourself and give it a try. This game, "Empress of the Deep 2" falls short in just about every category. This game offers none of the true artistry of the first. The HOS (note: not interactive), the few simple puzzles, and even fewer adventure components were formulaic and not well constructed so game play grew tedious. The worst part of this sequel for me was the "bonus" play. I toughed it out to the very last hoping to be surprised. Nope. Just annoyed and wishing I had 30 minutes of my life back. So What am I talking about? "Empress of the Deep 2" had beautiful scenes many of which were walk through or pick up a single item resulting in a a fair amount of trekking back and forth without the relief that a teleporting map would have provided. STORYLINE: A play on the first installment but not cohesive. Storyline never really makes sense and just erodes as game play progresses. The items collected and how they are used seems random. At one point we collect rabbit heads, why? Because they are winking at us as we pass by. Last one we find out why, but even still, why? Each of the magic animals we free are aquatic - where do the rabbit heads fit in? Later on "Pandora Heads" wink so we pick them up and schlep them around with no obvious function for some time. AREA COMPLETE is still a nice touch, especially in this game given all the back tracking. MAP: Doesn't show gamer's location or active areas. It shows areas traveled and on mouse over a snapshot of a location. HINTS: The ones I saw brought up the map showing the rough area to without much more. HINT was maddeningly not useful in figuring out the Pandora Heads. JOURNAL: Updated sporadically with info no longer needed or never needed. On update shoots winks like fireworks until game play is stopped and it is opened. Storyline Formulaic: 4 Seasons to visit (Details come out in game play): --START-- 1) collect crystal dolphins 2) solve easy puzzle on trapped magical creature 3) use healing powers to set magical creature free so that you can in turn later set a child free. --Increment Season, GOTO START-- HOS - Same ol' Same ol' - Pile o' stuff, find stuff in it. Nothing special or innovative as the case in first installment. Puzzles - The few there were were ho-hum and became another "thing to do". - Nothing special or cute. Adventure-There are sparkles so it's hard to miss anything and there ain't much to pick up and use. Bonus Play - The most tedious part of me was figuring out what in the world to do with these inventory items that had been stubbornly hanging. To my chagrin, using them means revisiting allllll of the seasons once again. Why? No logical reason or extension of storyline. Even then there is more work in going to a newly opened area and solving thrown together HOS after HOS to attain the ballyhooed "ZEM Game". ZEM can have it. Yikes.
January 18, 2013
Beautiful and fun game!
I am really attracted to games with beautiful graphics and fantasy concepts. This game fits that bill as you help Anna save all of the animal guardians of the cloud city! This game was relaxing but challenging as well. The bonus game called Zem is real addicting! You'll love it.
November 18, 2011
Incredibly Beautiful, Magical, and Engaging Game!
This game is absolutely gorgeous, excites and invites the imagination to experience the blessing of its being. It's incredibly positive for adults and children, alike. A marvelous way for mother and daughter to bond and explore a beautiful, empowering, and uplifting world together. The perfect game to play when up late at night... great, too, if you're hospital bound, and long to get away in a peaceful, healing place. No other game has inspired me to review it with 15 minutes remaining in the trial. It's artfully and tastefully done. Even masterful in ways. I'd encourage everyone to at least give it a test drive. It is truly something special. The Bonus features look very promising, too. It is my honor to give this game the maximum star value.
December 15, 2011
Escape into another world, get hooked on the bonus game!
I just spent several hours saving the Children in this most delightful game. No, not that challenging adventure wise, and no, the puzzles were not difficult, but still, it was just a lovely time. Much of the artwork is quite spectacular, it didn't seem terribly repetitive, the story line was charming. Why get the CE -- well, you will collect 6 items that give you pages from the wicked sister's diary -- a little more insight into the story, but that's not the best part. You have to find them all to get access to the ZEM area. You even have to solve 4 puzzles (they are the same, so a bit of a disappointment there) to finally get to ZEM -- so more playtime. Hard to believe this beautiful game doesn't tout it's own artwork with some CE bonus wallpapers. ZEM -- not at all your typical match 3, and I mean not at all! It's the kind of thing you can get hooked on because you want to beat your score. So, it truly is like a full fledged second game. My opinion is yes, the CE adds quite a bit to the game. I have to add one more thing -- it's just a plus to me for even the standard edition of this game. The hidden object scenes -- I really admire the effort taken to truly hide some objects in the old fashioned way. You don't just wade through a junk pile; the objects blend into the scenery. Well done!
January 15, 2012
Simply Too Easy
On the plus side, the game has interesting and imaginative visuals, particularly in the way the environment is rendered. The sound effects are also effective. Where the game falls flat is in the gameplay itself. There is actually very little to do that is challenging, and most of that is repetitive: find a certain number of objects, put them where they're supposed to go, and move on to do pretty much the same thing again and again. Most of the game is just finding stuff, rarely (if ever) having to figure out how to use the stuff you've found This would be okay if at least the mini-games were challenging, but they are also far too easy (and far too few). By the time I was halfway through the game I found myself hurrying along, just so I could finish the game already (I had bought it, after all) and move on to something hopefully more interesting and challenging.
March 14, 2012
"Fantasy adventure"
Beautiful graphics, more strategy than hidden object but still one of my favourite games. Fantasy concepts and lots of running around....I found I could relax into this game but boring it certainly isn't There is also the addictive "Zen" game which kept me busy for ages. Give this one a go!
December 29, 2011
One of the most frustrating games ever!
I read all the other reviews, and the only one I really agreed with was the the one that said this game was torturous. I have played many HOS games with beautiful graphics, and this game did have those but that is where my positive comments end. I found the story line to be boring, and there was a lot of wandering around just to find a few objects. I found the whole setup of this game confusing. There were no real hints except to tell you an area to go to (if you could even understand where that was.Trying to find the place they were speaking of was very confusing. I have left and come back to play this game in an attempt to finish it, but every time I do, I just get aggravated. There is no Walkthrough available which may have made it more tolerable. For now...I quit!
July 8, 2012
This game was terrible
I can honestly say I have played this game style at least 20 times in other games. It follows the standard hidden object scenes, find some objects, solve some puzzles game formula. When a game follows this standard formula, the redeeming 'make you want to buy it' quality is the story line. In this game, the story was terrible. Animals bow to your character asking to be saved, with these contraptions on their heads. Then you zap them to heal them, but only after you have collected enough 'healing power' by picking up blue dolphins and birds. I finished the demo in 45 minutes, if that gives any indication of how easy the game was. It is definitely not for advanced players. I played the demo through just to complete it, but honestly it was a terrible game. I played the first Empress of the Deep game and enjoyed it very much, but this sequel was a complete disappointment.
April 1, 2012
The Apple logo is a trademark of Apple Computer, Inc.
The Windows logo is a trademark of Microsoft, Inc.