Hallowed Legends: Samhain
Celtic folklore seems to be more truth than lore when the Samhain festival goers disappear! Find the missing people and save the day in this exciting Adventure game! Battle the gods of yore to restore the seasons and repair time in Hallowed Legends: Samhain. Depart on a fantastic adventure and learn the secrets behind an ancient Gaelic festival!
Game System Requirements:
OS:

Windows XP/Vista/8

CPU:

1.8 GHz

RAM:

512 MB

DirectX:

9.0

Hard Drive:

715 MB
Game Manager System Requirements:
Browser:

Internet Explorer 7 or later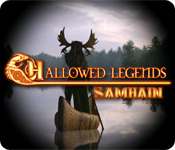 NEW299
The Big Fish Guarantee:
Quality tested and virus free.
No ads, no adware, no spyware.

Reviews at a Glance

Hallowed Legends: Samhain
0
out of
5 (
0
Reviews
Review
)
Customer Reviews
Hallowed Legends: Samhain
57
57
OMG Make it STOP!!!
I purchased this without trying it first based on all the great reviews. BIG MISTAKE!!! The story bounced all over til you forgot what it was you were supposed to be doing. I spent the entire time back and forthing across multiple scenes, getting one measly clue at a time. I ended up forgetting what I was looking for and once found, where it was meant to go. The HOG were good, but by halfway through I so didn't care I used the hints on a regular basis to get them done and try to get the stupid game over. There were a lot of other mini games that I originally thought were going to be good since there was a little info button to tell you the directions to the game. Yeah, right. The "information" was so generic and uninformative, many of the games I had no idea what I was supposed to do, the others were so easy it was a joke. Thankfully there was a "skip" button and that got used on a regular basis as well. Frequently I had no idea what my next move was supposed to be...until I figured out that needed information would land in the journal only. What's the point of talking to someone if they're only going to give you half the information??? Because I'm someone who "has to know how it ends", I sucked it up and stuck it out...and boy was that a complete waste of my time. The ending was absolutely absurd!!! It left me going, "huh, that's it???!!!" What started out as a yawn, ended up being ulcer worthy and I could not get it deleted off my computer fast enough!!!
April 15, 2012
What a difference 18 months make...
I played the CE version but as you get achievements here in the SE version, there was no other extras (just the usual wallpaper etc) and bonus play was just under the hour and the plot was tied up here (although you could guess where it might go in the bonus.) This isn?t elephant?s first HOPA, I think that was MT: the void but this feels and plays like their first (the lost games I put in another category). Comparing it to their recent games what a difference! It doesn?t feel or plays like their other games. There is no transporter map, graphics are a weird mix of grainy to OKish although there were a couple of nice scenes. There are also a lot of HOS and even more puzzles. Plot was OK you are off to try and find what happened to your ex, with of course twists to it. But don?t expect even templar?s quality of cutscene. The difference between this game and the hallowed legends templar is big but it shows how far elephant has come, especially in recent games. Here there are only two modes of play which is changeable during the game but advanced does still have faint sparkles sometimes and has sparkles on the HOS. There is also black bar tips. You can hide the inventory bar but hint button is in middle with diary to the right and inventory to the left. Hint button isn?t their usual mini guide just shows you in a scene and if it?s not in the scene just one back button won?t keep going back to show you where you should go. There is no voiceover just dialogue boxes. It?s hard to describe but something you have to see for yourself why the quality isn?t here compared to their other games. Apart from graphics, plot isn?t really there and I feel they put in a lot of HOS and puzzles to pad the game out without being part of a game. Here I felt like I was picking up one thing in one scene to use it in next and the backtracking is huge here. I know all HOPAs are like that but the really good ones don?t make you feel like you are doing that. 24 HOS At least it?s their usual never repeat, and no random click penalty on their all list types. Most were junk pile or very nearly, some weren?t. Some were quite good in clarity and sharpness but others were more grainy. Some tiny items but not many. Don?t think any were interactive. 34 PUZZLES Quite a few were very easy so very quick to do. Others were all varied hardness and some hard ones. Most of them were really old school but a couple were new. TIME - It did take me a fair bit over 5 hrs and I did skip about 3 puzzles (as was bored and didn't want to do them) If you are looking for a good enough game with length and a lot of HOS as well as puzzles and don?t expect a recent ?elephant? standard game then I do recommend it especially with a coupon or DD. But if you are expecting their usual type of game ? of amazing graphics and sharpness in HOS, not many HOS, transporter map, wow cutscenes then keep walking!
October 19, 2012
Hallowed Legends ? Samhain (Dispel evil & battle the gods)
I rather enjoyed this adventure trial based on the Celtic folklore ? your aim is to restore the seasons and repair time in Hallowed Legends while you track and learn secrets to find the missing people. Dispel evil and battle the gods with numerous mini games, puzzles and HOS. I found the game well done when it comes to interacting with parts you find and there is plenty of help for anyone to get into this game and really enjoy it. INTRO ? Nice powerful intro and gives you a glimpse of what this game is all about MODES ? Casual & Advance Casual, easy play, relaxing, extra help, sparkles and other helpful aids. Advance more challenging without extra help ? no sparkles or other helpful aids HELP ? Is available if you get stuck within the game by clicking on the Hint button. HINTS - Hints are not limited and the star refills quickly in approx 40 seconds. This is also the SKIP for mini games HOS ? Clear, light and easy to find items, some items need interacting with other items to be able to pick them up. CLICKING - No penalty for over clicking and I found the clicking to be a nice and smooth action within game play. VOICE OVERS ? None, only text to read GRAPHICS ? Are great, clear and no dark ugly places MINI GAMES ? Nice variety, not hard to work them out and the skip is on hand if you need assistance. I have actually tried this game a while back and I am so glad I got the opportunity to have another trial as this time I enjoyed it more! A great game for both starters and experienced I give this my (((Rawww)) of approval to buy!
January 8, 2012
Play It Again Samhain!
After playing this game (and the fabulous "Enimatis:The Ghosts of Maple Creek") I am never going to give any game 5 stars unless they match the elegance, creativity, challenge, and all out FUN of these two games! Samhain is what I'm looking for as an expert player. The locations are wonderful. The challenge to remember many tasks is what keeps a game interesting to me. There is a bit of a time lag when you choose a new location or HOG, but I can live with it when the game is just so good!
December 31, 2011
Hated it
I can't remember if I read any reviews before purchasing this game, but I wish I had read the lowest rated reviews. The only good thing I can say about this game is the graphics are excellent. Obviously, the game looked good at first or I wouldn't have purchased it, but it quickly went downhill. The nonsensical story line goes literally and figuratively all over the place. First of all, I hate back and forth games. I can take a little toing and froing, but this story was so disjointed and poorly conceived that I had a hard time remembering why I was doing anything. There was no logic to anything. The settings and storyline were bizarre to the point of just being ridiculous and stupid. I had to consult the walkthrough many times, partly because nothing made any sense, partly because I wasn't enjoying the game at all and wanted to get it over with as soon as possible. I hated the mini games and ended up skipping them more often than not. This awful game felt like it would never end. (Speaking of the ending, that was bad, too.) I thoroughly hated it.
July 22, 2012
AWESOME GAME START TO FINISH!!!
Based on playing full game. Even with the glitch that I had to skip over one puzzle--which is beyond me to do--gave this game FIVE very well-deserved stars. Immersed myself in this sci-fi type plot based on Celtic Lore. The artwork and cut scenes are masterful. Played Advanced Mode with lots of Adventure-type activity and a generous amount--but not too many--hidden object scenes. The scenes were loaded with very cool, creative objects and blended well with story-line. There is some going back and forth, however, the areas are contained with no complicated long jumps. Wow! GREAT GAME!! Onward to Hallowed Legends:Templar! Enjoy! -Mama Mia-
June 2, 2012
Long and Fun
This game was fun, long, and not too hard. Hidden object scenes are challenging, but still manageable without using the hint. I was able to complete the game in advanced mode without using any hints or walkthroughs. It is easy to figure out each objective and find the needed objects. None of the mini-games were particularly challenging. Actually, I accidentally solved a couple of them with mindless trial-and-error clicking, without ever determining the objective of the mini-game. There were some mini-games requiring basic math, assembling fragmented pictures, remembering sequences, and ordering colored marbles. Positives: Very lengthy game. Nice visuals. Hidden object scenes are challenging but not impossible. Variety of mini-games. Negatives: If you attempt to use the wrong item, you?ll be told what type of item is meant to be used there, which is basically an unrequested hint. Lots of walking back and forth between scenes, although not traversing the entire game each time. The game is very long, many hours. It is somewhat divided into a few separate large regions, such that when you?ve completed all the tasks in one large area, you take a journey to a new area, and you cannot go back. This is artfully done, as in the transportation needed to reach the new area is disabled upon arrival. This was convenient for such a large game, and I appreciate that it was worked into the story rather than displaying a message like ?Location Complete.? That said, there is a fair bit of walking back-and-forth and back-and-forth within each large area. Overall, the game is not as long or rich as Return to Ravenhurst, but you still get much more game for your money here than you do on the average HO game.
May 30, 2012
GOOD VALUE FOR THE MONEY
Although there was nothing really new, this was a long game (11 chapters). It was more of an adventure game, but still had a fair number of HOGs. There was the usual mix of puzzles (e.g. eliminate all balls except one, move weights from the left to the right). The hint system generally showed where you should head next. There are numerous locations to visit (mountains, church, snowy mountains, underwater et al) and different modes of travel (e.g. balloon, boat) and, of course, you usually have to make some repairs in order to travel. Each location has good, detailed artwork. No comment on the music as I listen to the radio or ipod instead. The HOGs were fairly easy, with some of the items going into inventory for use later. The one complaint I have on the HOGs is that occasionally an item was located so close to the bottom of the scene that I sometimes backed out of the HOG when I was only trying to click an object. I thought the play was straightforward, until I reached the last chapter, when I had to resort to the walkthrough (the sticking point turned out to be just an error on my part when I transposed some numbers to open a lock and couldn't move forward ? duh!). There are also a number of achievements you earn throughout the game. I only gave the game 3 stars for the storyline - I'm usually not particular about the storyline connecting the dots although I did not find the storyline that compelling. My end conclusion is that this is a good lengthy game for the money.
May 6, 2012
Challenging and Fun
This was one of the more challenging games I've played in terms of the puzzles. Was able to do most without skipping but did use skip on a couple I didn't care if I solved or not because I wanted to get on with the story. The Graphics are stunning. Even when the HO scene asks for a small thing like key or spool - you can see it very clearly - no blurry guessing. Each scene propels you from one set to another in such a direct fashion the story is easy to follow and compelling. Not really accurate in terms of celtic symbology but fun and diverse chapters (underwater, in a castle, in the snow) keep the energy high and lively. Most of the adventure is intuitive and you'll figure out what to do with each object.
April 18, 2012
Hated It
I felt this game was all over the place.....you are in a cave, in the woods, fixing airplanes and elevators; canoeing down the river in the wilderness one minute and then and freeing trapped scuba divers the next. This game tried to be too many things to please everyone and I just felt annoyed with it. It lacked humor and creativity. I do not recommend this game.
January 14, 2012
The Apple logo is a trademark of Apple Computer, Inc.