Hallowed Legends: Samhain
Celtic folklore seems to be more truth than lore when the Samhain festival goers disappear! Find the missing people and save the day in this exciting Adventure game! Battle the gods of yore to restore the seasons and repair time in Hallowed Legends: Samhain. Depart on a fantastic adventure and learn the secrets behind an ancient Gaelic festival!
Game System Requirements:
OS:

Windows XP/Vista/8

CPU:

1.8 GHz

RAM:

512 MB

DirectX:

9.0

Hard Drive:

715 MB
Game Manager System Requirements:
Browser:

Internet Explorer 7 or later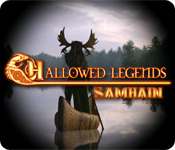 NEW299
The Big Fish Guarantee:
Quality tested and virus free.
No ads, no adware, no spyware.

Reviews at a Glance

Hallowed Legends: Samhain
0
out of
5 (
0
Reviews
Review
)
Customer Reviews
Hallowed Legends: Samhain
57
57
"Hallowed" Hit!!!
Beautiful scenes, great story line, which was easy to follow and flowed through the scenery well. The story was long and gave us our monies worth, but was never boring! Fun, challenging puzzles and HO scenes. To me this game is one of the best I have played and I look forward to more in the "Hallowed Legends" franchise, hopefully!
January 7, 2012
Demonic
Sick of the DARK & EVIL - DEMONIC stories, they're only getting worse and more frequent, I'm done with this.
November 4, 2012
Very good game!
The storyline is interesting. Graphics are clear and the sound is good. The objects in the HOS are easy to find. The mini-games are sometimes quite challenging but not unsolvable. The hint system is good. There is not too much walking around. The gamelength is good and you never get bored. All in all very enjoyable game!
January 11, 2012
Not up to Standards
I was actually a little disappointed with this game, especially after playing (and loving) Hallowed Legends: Templar. Good Parts: As always, the graphics are absolutely excellent. Very clear, very detailed, and great designs. Hint and skip recharge very fast. Loved the achievements. They added extra fun to the game Loved the Hidden Object Scenes. They were great fun and a nice challenge. Tutorial included. OK Parts: For a great company such as this, the storyline was actually pretty average. Intro is dull and boring and no voice-overs were included. The game is dull to start off with, then gets slightly better. Bad Parts: I actually didn't like the puzzles. They were hard and annoying. The game needs a strategy guide. At times it's really hard to figure out what to do next. If you enter a room, use and hint and it tells you to go back, (unlike every other game) your hint will be used up. The game isn't really interesting. Certainly not up to the standard of the Surface and Mytsery Trackers series. For such a brillian company, we are left with a pretty boring game. I'm sorry to say I don't recommend it.
September 4, 2012
Not to bad
When I first saw this, I thought "cool, a Pagan themed mystery game similar to the 'Mystery Case Files' or 'Dark Parables.'" I couldn't have been more wrong. It is insulting to Pagans/Wiccans as our God is not evil or cruel. The instructions for the mini games are borderline helpful/very vague. Need a clue button more than a solve only. The graphics were good and the cut scenes where really well done. I may be biased as I am offended by how the game ended - first time I've ever been this dissatisfied with a game from Big Fish.
June 29, 2012
Another great game from elephant games
When I saw it was by elephant games I bought it as their games are always reliable to play. I found the puzzles difficult as they are often logic based and I don't do well most of the time with these.The hidden object scenes don't have the too many clicks you are frozen out feature which I very rarely have but some objects are very well hidden later in the game. I always use the casual mode but still took a long time to finish.This is a very good game and highly recommended.
April 10, 2012
Very good game..needs better hints
Love the graphics, very interesting game play...great game but the only thing I don't like is the hint button will tell you to leave the screen you are on then that is it. Most games it reset right away and send you to another screen or to where in that space you need to go. This game you have to wait for it to reset again to see if there is something there or go to another screen. Then when you get to that screen where you probably should be the hint button won't tell you what to do. I need hint buttons that give me hints!
March 4, 2013
Find the truth! Great Game!
I really enjoyed this game. You leave to find someone and end up in the middle of something you never expected. In your quest to find answers and save that person, you travel through many locations. The graphics are amazing. The story is incredible...I love this game!
August 31, 2012
Interesting Gaming Experience!
I wasn't quite sure what to make of this game after playing the entire game for the first time. I think I was expecting more of the actual Celtic folklore; but the science fiction bit was an interesting twist. As mentioned by a fellow reviewer, Cernnunos is a fertility god, NOT a demon!! There were other parts of the plot that had me scratching my head as well, eg. that carniverous plant? In Ireland?? But on the whole, the graphics are excellent - crisp and clear, and the hint facility recharges at a super fast rate. Will look forward to playing again with a differant mindset!
April 11, 2012
What in the name of all that's holy was THAT?!
It has been over three weeks since I completed this and I am STILL finding it hard to find the words to adequtly describe this game (and how bad it is) because there is literally no way to get this across to the reader so here goes my best attempt........oh and it was out of sheer morbid curiosity that I went to the bitter end with this monster. Ok so we start out with a game that begins as a dark tale of black magic and pagan sacrifice and ends as a romantic situation comedy. Here is the journey. It makes no sense at all. There is no plot. There is no story. There is no narative. There is no logic, understanding or reason to do anything in this game at all. This...erm...experience... starts with an animation of a Celtic Demon looking over the brow of a hill and thus it begins. We are on a mission to meet a distinguished scientist at a recent dig near Glastonbury Tor. Three or Four screens into the game we get locked in a ruined church in the English countryside and can't escape - even though their is a giant gaping hole in the wall at ground level, right next to the locked gate in fact, we are stuck there for some reason. From there we find a group of people frozen on a sort of pond inside the church. Why they are there is not explained and they are forgotten about for the rest of this awful experience. We do some...erm...stuff... that takes us to an underground cavern in which the player needs to find a way to get to an elevator in said cavern that comes out at........ ............the top of a snow covered mountain somewhere in the Swiss Alps. I kid you not! Here we meet a butler who asks the player to find his kidnapped daughter. We need to find new clothes to cross a bridge over the mountains wherby we find ourselves............ ......in a warm Steampunk type engine room (on the top of a mountain) where somehow the butler has managed to make it there before us without any explanation at all. At this point we need to fix the Steampunk Engine that lowers a drawbridge to another peak on the mountain where we find............ ..........an archelogical dig revealing an underground forrest and a small weather research station where we need to search for objects to open a trap door leading us to....... ..........a James Bond type underground base where we need to find parts of a Lazer Gun to shoot a Wolf who gives up a fuse device to open a security door where we find......... .....a gas burner to a hot air baloon that we take and fix to the baloon. From there we are taken to........ .......a lake where we need to find objects to repair another elivator to obtain a code key and a scuba diving outfit. We use the code key to open an underground security airlock door where....... .......we discover it it isnt a lake anymore but the open ocean. Here we find a trapped scuba diver who has become lodged under a treasure chest he is trying to salvage who once rescued gives us the key to his submarine where we find locks for an inflatable globe which we climb into and are taken to the surface and discover.... .....that the ocean has changed back into a lake again and que an animation of the player falling over a waterfall in the afor mentioned inflateble globe to land in..... ....a forrest back in the English Countryside. This level is the standard find and repair a cannoo with a hole in it using a convinently place log cabin with a metal refinary to melt pitch, find nails for wood planks - blah blah blah, etc etc etc. You know the drill and once the canoo is repaired we find ourselves..... ......in an inner city that has buildings on fire. This is where we get some classic Scooby Doo one liners such as "Hmm I think I'm beginning to figure out what's really been going on here" and "This is all beginning to make sense". The object in this level is to find the key to a hotel room hidden in a train station. Yes Friends in 2012 London they still use Steam Locamotives - yes you read that right STEAM TRAINS!!! In 2012. Again I kid you not. Somewhere in this we come face to face with the Butler we left on the mountain top in the Alps (remember him?) who tells us that after we left he found a car. I promise his exact words.......he " FOUND A CAR" all the way up there, on the mountain top, in Swizerland. Anyway once we have jumped through the various hoops to find the hotel key we then find....... ......the old proffesor we were going to meet at the begining (remember him too?) who is slowly being digested by a carniverous plant in his hotel room. We free the Professor from the plant and come upon another Scooby Doo classic - he makes a full confession that it wasnt really the Demon Samhain it was him in disguise all along! Then he askes you the player to marry him. O yes he does, he tells you how beautiful you are and how he has always loved you and would you marry him..... Game ends with snapshots of your wedding day. Dear reader by now you are probably frozen to the spot, mouth open, glazed look wondering what on earth you have just read. That has been my state since completeing this monstrosity, mouth open, glazed eyes wondering what just happened. If anyone is aware of a rehab programme available to people who survived this - Experience - to the end please let me know.
March 13, 2013
The Apple logo is a trademark of Apple Computer, Inc.