Hallowed Legends: Samhain
Celtic folklore seems to be more truth than lore when the Samhain festival goers disappear! Find the missing people and save the day in this exciting Adventure game! Battle the gods of yore to restore the seasons and repair time in Hallowed Legends: Samhain. Depart on a fantastic adventure and learn the secrets behind an ancient Gaelic festival!
Game System Requirements:
OS:

Windows XP/Vista/8

CPU:

1.8 GHz

RAM:

512 MB

DirectX:

9.0

Hard Drive:

715 MB
Game Manager System Requirements:
Browser:

Internet Explorer 7 or later
Mild Blood
Use of Alcohol
Use of Tobacco
Violence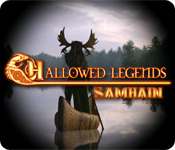 NEW299
The Big Fish Guarantee:
Quality tested and virus free.
No ads, no adware, no spyware.

Reviews at a Glance

Hallowed Legends: Samhain
0
out of
5 (
0
Reviews
Review
)
Customer Reviews
Hallowed Legends: Samhain
63
63
Lots to do!
the story moves you forward with multiple areas/scenes/times to search through. You will always be wondering what to do next, or what you need to do with the stuff in your inventory. I liked the flow of tasks to do, but many of the tasks were overly apparent or simplified beyond necessity, taking some of the fun out of it.
February 25, 2012
Not Bad
I liked this game a bit long winded but good I thought the backgrounds were a bit cartoonish I can not comment on the sound quality as I always play games with the sound off, the ending was a bit disappointing after all you had done a bit of anti climax in all not bad
November 10, 2013
Good mix of adventure and HOS
Slight annoyance -- Cernunnos was not a demon in Celtic mythology; he was a horned god. But, leaving that aside, it's a fun game with moderately challenging puzzles. Some of the puzzles, though, require you to just randomly try different combinations until you hit on the right one, rather than providing clues. Every HOS resulted in finding something which was used later, so they didn't feel like just routine tasks. At times, the steps were just not logical, usually returning to a previous scene to play an HOS scene that was not there before. Some of the actions either made no sense - such as using a single bucket of sand to put out a roaring warehouse fire, or a knife to cut a piece of paper, when fingers would do the job just fine -- or were ambiguous. A machete most certainly will cut tall grass; acetone will definitely kill a plant. It is also very touchy -- you had to hit just the right spot for an object to work. As is usual with most of these games, there are a few vocabulary issues. Either the term used is British, rather than American, or, again, it's ambiguous. Several times I had to use a hint, to discover that I had been looking at the object all along, but that's not the word we would use to describe it in America. Other times, there were two different items that the term could be referring to. I also had trouble several times with getting puzzles to respond, but that might have been because I was playing on streaming.
May 19, 2013
Very good game..needs better hints
Love the graphics, very interesting game play...great game but the only thing I don't like is the hint button will tell you to leave the screen you are on then that is it. Most games it reset right away and send you to another screen or to where in that space you need to go. This game you have to wait for it to reset again to see if there is something there or go to another screen. Then when you get to that screen where you probably should be the hint button won't tell you what to do. I need hint buttons that give me hints!
March 4, 2013
Enjoyable
Liked this game and the graphics were quite good but the mini games were quite challenging so thankfully the skip button filled quite quickly. Enjoyed the hos but thought the story could of been a bit better really, not a bad game at all and quite enjoyable but nothing compared to ERS games which take a lot of beating in my book.
March 29, 2012
good game
i have some fun with this game in end i starting bored not too bad
April 18, 2012
A+
Super Fun!!! I liked jetting off to different locations and leaving the old ones behind. The only thing I wish it included were voice overs. Have to knock one star off for that. (2013)
May 16, 2013
EXCELLENT GRAPHICS
Excellent graphics, good sound and storyline. Most puzzles were easy. This would be a wonderful choice for a beginner HO fan.
July 29, 2012
What a difference 18 months make...
I played the CE version but as you get achievements here in the SE version, there was no other extras (just the usual wallpaper etc) and bonus play was just under the hour and the plot was tied up here (although you could guess where it might go in the bonus.) This isn?t elephant?s first HOPA, I think that was MT: the void but this feels and plays like their first (the lost games I put in another category). Comparing it to their recent games what a difference! It doesn?t feel or plays like their other games. There is no transporter map, graphics are a weird mix of grainy to OKish although there were a couple of nice scenes. There are also a lot of HOS and even more puzzles. Plot was OK you are off to try and find what happened to your ex, with of course twists to it. But don?t expect even templar?s quality of cutscene. The difference between this game and the hallowed legends templar is big but it shows how far elephant has come, especially in recent games. Here there are only two modes of play which is changeable during the game but advanced does still have faint sparkles sometimes and has sparkles on the HOS. There is also black bar tips. You can hide the inventory bar but hint button is in middle with diary to the right and inventory to the left. Hint button isn?t their usual mini guide just shows you in a scene and if it?s not in the scene just one back button won?t keep going back to show you where you should go. There is no voiceover just dialogue boxes. It?s hard to describe but something you have to see for yourself why the quality isn?t here compared to their other games. Apart from graphics, plot isn?t really there and I feel they put in a lot of HOS and puzzles to pad the game out without being part of a game. Here I felt like I was picking up one thing in one scene to use it in next and the backtracking is huge here. I know all HOPAs are like that but the really good ones don?t make you feel like you are doing that. 24 HOS At least it?s their usual never repeat, and no random click penalty on their all list types. Most were junk pile or very nearly, some weren?t. Some were quite good in clarity and sharpness but others were more grainy. Some tiny items but not many. Don?t think any were interactive. 34 PUZZLES Quite a few were very easy so very quick to do. Others were all varied hardness and some hard ones. Most of them were really old school but a couple were new. TIME - It did take me a fair bit over 5 hrs and I did skip about 3 puzzles (as was bored and didn't want to do them) If you are looking for a good enough game with length and a lot of HOS as well as puzzles and don?t expect a recent ?elephant? standard game then I do recommend it especially with a coupon or DD. But if you are expecting their usual type of game ? of amazing graphics and sharpness in HOS, not many HOS, transporter map, wow cutscenes then keep walking!
October 19, 2012
Not up to Standards
I was actually a little disappointed with this game, especially after playing (and loving) Hallowed Legends: Templar. Good Parts: As always, the graphics are absolutely excellent. Very clear, very detailed, and great designs. Hint and skip recharge very fast. Loved the achievements. They added extra fun to the game Loved the Hidden Object Scenes. They were great fun and a nice challenge. Tutorial included. OK Parts: For a great company such as this, the storyline was actually pretty average. Intro is dull and boring and no voice-overs were included. The game is dull to start off with, then gets slightly better. Bad Parts: I actually didn't like the puzzles. They were hard and annoying. The game needs a strategy guide. At times it's really hard to figure out what to do next. If you enter a room, use and hint and it tells you to go back, (unlike every other game) your hint will be used up. The game isn't really interesting. Certainly not up to the standard of the Surface and Mytsery Trackers series. For such a brillian company, we are left with a pretty boring game. I'm sorry to say I don't recommend it.
September 4, 2012
The Apple logo is a trademark of Apple Computer, Inc.