Nancy Drew - Danger by Design
Minette is one of the best fashion designers in the haute couture world, but her destructive tantrums have investors on edge. Has the stress of fame forced her behind a bizarre mask, or is there something sinister lurking in the shadows of her studio? Now it's up to you, Nancy Drew, to work undercover in Paris and unravel this international mystery.
Explore French landmarks.
Decode lost secrets.
Play at your own pace.
Game System Requirements:
OS:

Windows 2000/XP/VISTA/7/8

CPU:

600MHz or faster Processor

RAM:

128 MB
Game Manager System Requirements:
Browser:

Internet Explorer 7 or later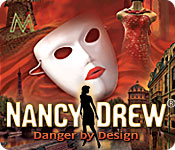 NEW299
The Big Fish Guarantee:
Quality tested and virus free.
No ads, no adware, no spyware.

Reviews at a Glance

Nancy Drew - Danger by Design
0
out of
5 (
0
Reviews
Review
)
Customer Reviews
Nancy Drew - Danger by Design
11
11
I'm running out of Superlatives for the Great Drew Series!
The Nancy Drew Series -- that massive collection of very enigmatic games is, arguably, the best Collection in the Big Fish arsenal. Having just finished "Danger by Design," I can state that it was intricate, challenging, and most puzzling, at times. Ah! And Paris! The sights, the smells, the delicacies, the wine! "Tis a consummation devoutly to be wish'd." But, back to "Danger." It was difficult and intricate, with many major blockades and brutal puzzles for Nancy to get past. It was well thought out by the developers and it was very cohesive in nature. And It was just so full of so many beautiful locales. Of all the many, many Drew Games, I have only criticized two. The series should receive a gold medal, and I must say, in conclusion, that this series will go on and on, and will continue to bring us new mysteries for Nancy to solve. I doff my hat to Nancy, to the series, and to the developers. I am content to let that be the last word.
August 4, 2012
Good Adventure Game of Average Difficulty
A good Nancy Drew game, not extremely long or complicated, but still quite challenging, especially towards the end. Some reviews say it's boring - it's not! That just means they were stuck. If you're stuck in a Nancy Drew game, the game doesn't continue because you still need to "do" something before the storyline can continue. This game had a very good story, clever puzzles, and was quite surprising at times. The only disappointment was that the fashion portrayed was totally ridiculous - except for the first lady's dress...
March 16, 2012
Amazing
Such a great game! Everything is so cool!
July 15, 2014
love it
i love every nancy drew game there is!
January 12, 2013
Fun
I thought this game was quite fun!
February 9, 2014
more adventure, few puzzles - not one of the best
Overall not very good. The variety of places to visit was good, some of the interactions were good. But the rest left me a bit cold. Some ND games have loads of puzzles in them but sadly this wasn?t one of them. All ND games I have played have a couple of minigames that you can replay as much as you want, but the computer one ? match faces was boring and the other one was hangman (yes really!) Puzzles ? a fair bit of decoding, end puzzle. - Usual (seen before) make food, this time it?s parfaits. But others it was just following a recipe or putting in a code that is in your journal but as usual with ND games you have to write it down in a bit of paper which is annoying. But they were few puzzles and far between. Adventure side,- there was an underwater maze which was good. I like that it wasn?t mostly in a old home which a fair amount of ND games have been. But lack of puzzles and variety of them really let this game down. There isn?t any clock or things you have to do on a certain time or day which was good, but you do have to go to bed. But at least the interface wasn't surrounding the whole screen, just got the bit at the bottom, although still too intrusive. And the plot wasn?t as good as others. I really liked the ending re plot, great idea. And I liked the plot re a dead character, who has left clues which you follow in the game. But the apparently main plot, which you are employed to do, find out about Minnet and her behaviour and the rest of characters that go with it, was farfetched and didn?t grab me. If you like more of an adventure with ND games and not so much the puzzles and you are a ND game fan then I would say you might like it. It just wasn?t consistently interesting enough for me or got enough puzzles in it. (I rate myself an intermediate with ND games but not with LF games)
February 12, 2012
A few fun spots but mostly just OK
Ive been playing all the ND games in order of development. I have to say I'm not really wow'd by this one. As far as fun factor goes, I can't say I found it very fun. It was entertaining at best. The funniest part was finding out the guy who got fired by the museum in Scarlet Hand had worked for the designer. I did enjoy sampling the menu at the restaurant. Visual/Sound.. unimpressive. Level of challenge was intermediate and hard. There were some e-z mode challenges but some were just annoying like developing pictures in pitch black. There was a lot of running around. Some of the puzzles I would not call intuitive, but most you could figure out without too much trouble. Storyline was.. well how do I say this.. confusing? There seemed to be 3 different stories. 1 - the supposed main story of finding out about her, 2 - the side story about spies, and 3 the history story which was the best of them all. I did get a chuckle about the alien tattoo but that wasn't even part of the story. Overall, it was ok. If you are playing the ND games, I do recommend this one, but if you are new to ND, you may want to try one of the other games first.
December 8, 2013
ND: Danger by Design... what danger?
ND goes to France to solve a mystery! Actually I don't really understand the mystery behind it. The real mystery in the game itself doesn't connect with the storyline. Again, I don't like games with war setting and the like. In this game, ND meets people from different nationalities: French, German, Australian,... but there is not much interaction with them. Basically ND (you) is given chores to do, and she has to finish them to continue to other stage. ND is in Paris, but there's nothing much to see, there's no visit or any tiny glimpse of Eiffel Tower. Good thing is, you learn a bit of French and its cuisine, probably the best part of this game. If you are a diehard ND fan, you should have this game. If not, probably better to skip it or wait for a sale.
July 14, 2012
Just OK
This game was fun at times and then boring and if you missed something it would take you forever to get back.
February 19, 2013
not my favorite nancy drew by far
It was interesting in the beginning. I like the errand and doing things for people but when it came to the end, I didn't buy a "critical" book to beat the game. You had to block moves that you must have read in this book to win. Even with the walkthrough to show me the moves, I found it irritating and didn't bother with the rest of it.
July 3, 2013