Vesuvia
When an exciting excursion goes terribly wrong, Jake, a marine geologist, finds himself on a journey of survival in this adventurous Match 3 game. Shipwrecked on a mysterious island, he quickly discovers he is not alone. Join other captives in their quest for freedom as they reveal the evil secrets possessing this puzzling paradise. Help Jake unlock necessary tools, collect resources, rescue spellbound wildlife and break a wicked curse in Vesuvia!
Incredible gameplay
Exciting moments
Escape from a mysterious island!
Game System Requirements:
OS:

Windows XP/Vista/8

CPU:

1.0 GHz

RAM:

1024 MB

DirectX:

9.0

Hard Drive:

128 MB
Game Manager System Requirements:
Browser:

Internet Explorer 7 or later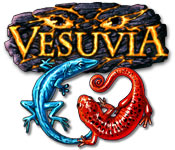 NEW299
The Big Fish Guarantee:
Quality tested and virus free.
No ads, no adware, no spyware.

Reviews at a Glance

Vesuvia
0
out of
5 (
0
Reviews
Review
)
Customer Reviews
Great Fun and Story in a Match 3
I love me some good explosions and this game has it. It's goes at a good pace, and keeps you interested. One of the best basic Match 3's I've played. Pros: Huge game boards, lots of bonuses that create explosive elements on the board, interesting story with heroes, villains and mystery. Good graphics and sound. Quick learning curve. Great diversity on the game board as levels change. Bonuses build up over time. Cons: The instructions are overwhelming at first. It's easier to just play the game and figure them out yourself. Instead of building up to stronger villains, they are all the same level. End is a bit abrupt, anti-climatic. But it's a long game and I was ready for it to be done.
September 20, 2014
Don't Miss This One
The graphics are incredible and the soundtrack is great. The gameplay is very addictive. I find that M3s last longer for me than HOGs and this one definitely delivered. If you like an occasional M3 or are currently on a steady diet of M3s, don't miss this one.
July 20, 2014
Mega Time Stealer
Once I start playing this game, I just keep going, on and on, just like a safari. The theme is great, the music a bit redundant but atmospheric and perfect for the mood of the game.For a casual gamer like me it's perfect. I love the feel of the game and the graphics. Demo it right now, fall in love then purchase. That's what happened to me anyway.
June 26, 2014
Vesuvia
What an awesome match 3 game, now I've got to download and play the previous version, Paradise Quest! You can play in either timed or untimed and you can play Quest, which has a story about a person trying to survive on an uninhabited island (or is it?) after his ship sinks during an unnatural freak storm. You can also play Frenzy mode where you play for 60 seconds and try to beat the highest score while you collect coins to spend on power-ups that last for up to 4 rounds. Both modes have a board that is bigger than the screen and to access the parts of the board that you cannot see, you make matches close to the edge to move in that direction. Quest mode requires you to make matches as well as uncover 4 compass pieces before using the key you uncover onto the lock to exit, but you cannot use the key until you have uncovered all of the tiles covered in sand. There is a meter that will show you what percentage you have uncovered currently. Power-ups are earned as you make large matches such as a Bomb, which is earned with any match 4, simply use the bomb in a match to destroy four adjacent symbols. Matching 5 symbols in an L or T shape gets you a Super Bomb which will destroy symbols in a diamond shape. Match 5 in a line to get a Lightning bonus which will destroy an entire row. Match 6 symbols to get a Crossfire bonus which destroys an entire column and row.. When you match 7 symbols you earn a Megasphere bonus which can be matched with any adjacent symbols to destroy all matching symbols. There is a journal or equipment item hidden in every level and many of the levels have impassable barriers that can only be overcome by using tools found under covered tiles. There is limited space for equipment in your backpack so you have to choose active equipment wisely. Each equipment requires a different amount of energy, so you need to collect energy by making matches of each color. When energy requirements are met, you click on the icon to use it. This game sounds complicated but once you get the hang of it, you'll love it, enjoy!
July 8, 2014
Imaginative Match 3
There are 10 levels: Tropic, Jungle, Prairie, Forest, Mountain, Desert, Grove, Ocean, Cave and Volcano. Help Jack escape this Island. Each level has from 5 to 11 panels, and the icons are appropriate to that level -- bats in cave for example. You earn your power-ups which are called "equipment". There is a Quest Mode and a Frenzy Mode. There is a journal which guides the story. You can play untimed (which I recommend.) The programmers give very good instructions on how to play the game.
August 23, 2014
Great match 3 game and more
This is a fun match 3 game that tests your planning skills. You cannot just do matches at random. You have to make it so that you advance in the direction you want, and you must uncover the hidden areas for items that you need. You find that you need explosions, a lot of them, and part of your strategy is where to create the bomb you need. Also there is a developing plot. Great for people who like strategy games.
August 7, 2014
LOVED IT!!!
I played Quest mode, beat the game and loved it! I loved the story line, loved the graphics, music and game play! Sound effects were awesome too. This game has a lot of re-play value too. I hated for the game to end, and I can tell there will possibly be a part 2 in the future. Great job developers! This was a fun game!
June 22, 2014
Lovely scrolling M3 game
Pros: Timed/untimed option, lots of powerups, good storyline Cons: Not all that hard for hardcore M3ers Vesuvia is a M3 with the twist of having a board larger than the game window, so the board scrolls in whatever direction matches are being made in. While this may be disconcerting to some players at first, once you get the hang of how to move the board around, it's a refreshing change from standard M3s. Besides moving the board with swap style M3s there are hidden tools to find that you will need to get past board obstacles, and you are allowed to exit the game board at your discretion. This can be useful for planning out the strategy for a board, or earning a game trophy or powerup to help you better navigate upcoming boards. If you get lost, there's a well thought out map included in each game board to help you reorient yourself and/or find which items you are missing. The storyline is good for a M3, albeit a bit confusing in spots, but worth watching. The graphics are a bit garishly colored, but at least that makes it easy to spot matches on the edges, and the tiles are distinct enough that there's not too much eyestrain involved. There are both timed and untimed options but not all the trophies can be won if playing in untimed mode. Even in timed mode, some of the trophies seem to be programmed only for those who want to do monotonous work over and over in order to obtain them, which is one of the few detractions in Vesuvia. If you play a lot of M3s this won't be the most challenging game you've ever encountered, but it's well thought out enough to be worth a look.
November 20, 2011
Clicky and floaty
The "claim to fame" for this match 3 game is a floating board that you can't see in its entirety. You have to keep making matches around the edges of the board to "steer" it so you can explore the entire surface and find the artifacts and exit key for the door. I gave it a good effort, but I just find this an annoying way to play. You can't use the usual matching strategies because you can't see the whole board (if you use strategies). This may be a fresh challenge to some, but it just didn't click with me. Can't complain about the graphics, although the matching aspect was pretty routine. Unfortunately, nothing here to keep me playing past the trial.
February 25, 2012
Great M3 game; beware ending!
Loved the M3 play -- the moving board for a bit of extra challenge (took getting used to at first), the lovely explosions, etc. Spent a number of enjoyable hours playing this but not being able to complete it has spoiled the overall experience somewhat. Be warned that you must open your journal immediately after completing the last game board (as per game forum) so that you don't get stuck playing it over and over without accomplishing anything. Other than that, I really love this M3 game. I know I'll be playing it again so I will eventually get to defeat the enemy and enjoy many hours of fun play doing so.
September 17, 2014