Dive: The Medes Islands Secret
Dive deep into the ocean and find the countless treasures that have been lost over the course of history, in Dive: The Medes Islands Secret! Plot out your course and set off on an epic journey as you find shipwrecks and the priceless booty contained within. Help John Sanders claim the valuables at the bottom of the sea in this exciting Adventure game!
Incredible gameplay
Fantastic action
Find the lost treasures!
Game System Requirements:
OS:

Windows XP/Vista/8

CPU:

1.8 GHz

RAM:

512 MB

DirectX:

9.0

Hard Drive:

115 MB
Game Manager System Requirements:
Browser:

Internet Explorer 7 or later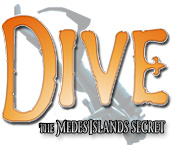 NEW299
The Big Fish Guarantee:
Quality tested and virus free.
No ads, no adware, no spyware.

Reviews at a Glance

Dive: The Medes Islands Secret
0
out of
5 (
0
Reviews
Review
)
Customer Reviews
Dive: The Medes Islands Secret
3
3
And now... Something completely different!
Once in a while, a game appears that is unique, at least from my point of view. This is one of them. As I have said before, I have become bored with most HOGs, and I like looking for something different in gameplay. In Dive: The Medes Islands Secret, you are a diver trying to find different treasures, while - you guessed it - diving. You control your diver with a mouse and explore underwater mazes. But be careful! There are lots of obstacles and dangerous creatures that won't like you! And watch the diving depth! Of course, you find lots of little treasures and supplies on the way, plus a few bigger treasures in every level, which help you upgrade your equipment - and you'll need it! The graphics are nice and simple, in 3D, and music to my liking - although it may become a bit tedious after a few hours. Also, there are lots of trophies and acievements to get, so it offers lots of replay value as well. Give it a go, if you like the sea! tuskel, sincerely
March 9, 2012
Excellent Game!
Good game for anyone to enjoy.
June 20, 2012
Very hard game play, feels more like a hardcore game, than casual.
First off, I rated the level of challange "Excellent" because it was VERY hard. I wish they had an "Impossible" rating, because "Excellent" makes it sound good, and nothing about this game was for me! Second, if you get sea sick, or have a fear of water, well don't even bother! Even scrolling and 360 games I can tolorate, this one made me ill! It's not "hand disability" friendly either. Just for the 1 hour trial, I needed a nausea pill and some pain reliever after playing. My mouse finger is throbbing, as you have to hold it down to keep your diver swimming along with some fast/double clicking. Third.. the options are very limited, you can't turn off the super stressfull annoying music, but without it, you wouldn't hear the dreaded oyxgen warning. Yeah, note to the Developers; don't use that. Ever! AND this is NOT an adventure game. Really, it should be under Arcade games. Someone also mentioned in the forums, when you die (run out of oxygen) you start over with your spears replenished.. not so! And some areas you need them, to get to a new box of refills. Not sure if this is a bug? I've been expending my gameplay lately. My first love will always be HOGs in all forms, Adventure/RPGs and just about any game with a good storyline. I really wanted to like this game, and I did, for the first level.. it went from easy (I wasn't even on the hard option), straight to hardest game I've ever played on the site. I'm not big on arcade console games, anymore, due to hand and eye problems from being disabled. What I love about BFGs, is even the hard/Arcade ones, I can play! This is one of the rare ones on the site, I just can't and wouldn't anyway, so no big "loss". Yes there are bouys to save your progress, oxygen tanks and more spears to help, trouble is there are very aggressive pufferfish, sharks and eels (they look more like weird lock ness snakes), that deplete your oxygen so rapidly, it's often times impossible to get to them in time, before you run out. I died over and over. The lantern recharges too slowly and is needed a lot, as many areas are too dark to see. The map is hard to follow, and sometimes doesn't match up with where your swimming. While those good at arcade/console games may love this, most casual game players will find it difficult, frustrating and boring. I've played console games for years, and I love BFG, because the games are more relaxing. This is not! You look for what seems like the same things over and over. Also why did they make the word at the bottom of the instructions/level info "Yes" when it should be "OK?" For grammer pet peeves, there are lots. I just can't imagine the level of challange if the 2nd one is so hard! Not for lack of tips, and I got the learning curve and "how to's", The music when your running out of air, flashing red (WARNING for those who are prone to seizures, by flashing screens, it doesn't but your diver who your looking at does!) and your flailing about, just made me stressed out and panicky! I do not play games to be stressed out. The controls are frustrating as well, though there are upgrades, they are expensive.Very unbalanced that the puffer fish and sharks can swim 5Xs faster than you, before you can come close to upgrading! So you must click to speed up lose oxygen and lose more if they touch you. Hit them with a spear, they take a good 4-5 seconds to disapear.. then reapear in the same spot! (Bug #2?) So your diver is slow, hard to swim around tight areas and the rocks are confusing too. Some rocks are dead ends, and some you can swim past (where your diver is not seen, until you swim past, to the other side) so you really can't tell the difference. There may also be a bug (#3!) in the 2nd level, as I found the treasure the mission required, but it wouldn't progress to the next level as the 1st one did. While it isn't a horrible game, and some may like it with better eyes and none of the above mentioned ailments, it's one of the worst I've played on BFG, and to me it just doesn't belong on BFG. This would be better suited on a console, big TV and contol pad not a mouse, since you have to hold the "button" down, as in many console games. Although I don't see consoles wanting to pick up, this poor quality of a game. And I don't see many BFGamers liking it. I can not recommend it. But if you like this sort of thing..I do suggest if your even considering buying; try the full hour first, before doing so! Had I stoped after the first level, I would have been asking for my money back! If timers (although not timed, your oxygen acts as one) and dying frustrate you. Dark games you have trouble seeing in, and your not swift with hand eye... swim away without looking back!
June 14, 2013