Chronicles of Mystery: The Legend of the Sacred Treasure
With smarts, intelligence, and a zest for adventure, young American journalist Chelsea Connor decides to explore the mysterious circumstances surrounding her father's death. Her father, an experienced treasure hunter, never returned home from his grand expedition to Africa. Uncover a dark secret in Chronicles of Mystery: The Legend of the Sacred Treasure, an incredible Hidden Object game.
Awesome graphics
Incredible gameplay
Uncover a dark secret!
Game System Requirements:
OS:

Windows XP/Vista/8

CPU:

2.0 GHz

RAM:

512 MB

DirectX:

9.1

Hard Drive:

246 MB
Game Manager System Requirements:
Browser:

Internet Explorer 7 or later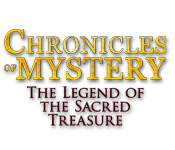 NEW299
The Big Fish Guarantee:
Quality tested and virus free.
No ads, no adware, no spyware.

Reviews at a Glance

Chronicles of Mystery: The Legend of the Sacred Treasure
0
out of
5 (
0
Reviews
Review
)
Customer Reviews
Chronicles of Mystery: The Legend of the Sacred Treasure
6
6
City Interactive- 3rd in Chronicle of Mystery Series
You play American Journalist Chelsea Connor who investigates the details of her father's unexplained death. Minus all the bells and whistles of modern day games, this is a Classic point and click Adventure Hidden Object Game with hidden object scenes, puzzles and realistic 3-dimensional artwork. Mysterious, intriguing story line quickly captures your attention. I like and purchased all four of City Interactive's Chronicles of Mystery games and researched their release dates for your information should you be interested in playing in order of their release date. 1. CM-The Scorpio Ritual - 11-14-2008 2. CM-The Tree of Life - 12-10-2009 3. CM-Legend of the Sacred Treasure - 11-12-2010 4. CM-Secret of the Lost Kingdom - 4-21-2011 If you are a Gamer who appreciates an excellent plot as well as quality older-style gaming and the fact that not all games fit into our little box of criteria, you will enjoy a positive play experience. Enjoy! -Mama Mia-
August 20, 2012
Chronicles of Mystery: The Legend of the Sacred Treasure
I liked this edition better than the first one, they have made the hidden objects much larger. There are hidden objects to find that are list finds and some are finding items that match the (very dark) silhouetted shapes. Each scene is slightly interactive where you simply click on an item to move it out of the way and reveal an object. Every HOS also contain hidden gold medals which allows you to skip a challenge for every 5 you collect. Some of the scenes are timed and if you don't finish in time you have to start over. Not a bad game, I appreciate the fact that the items are bigger but it's still on the low light side, enjoy!
April 30, 2014
Challenging game
I enjoyed parts of this game very much. There was very little guidance, so figuring out where things were or what to do next was interesting. If you want to keep playing, you have to do the work. There were times, however, when I really didn't know what to do. If you go back to the intro screen there is a desk, and in the drawer there is a book that has a general outline of the game. This is what helped me a couple of times. Then you just click on the book on top of the desk to resume the game. I thought the HO scenes were pretty dark, and some objects didn't look like the names they were given. I saw a round yellow object, and when I clicked on it the word "mouse" disappeared from the list. In most HO scenes there are gold coins, and for every five that you find you can skip a mini-game if necessary. I did skip about 3 of them as they were confusing. The story was kind of interesting, but the ending was rather abrupt. In all, I do recommend this game as long as you don't mind working fairly hard for your success.
September 13, 2014
Good Game, but only one Chapter of the Story
The nice thing about this old-style game is that it is beautifully and quite realistically drawn, and next to the usual HO scenes, there are some interesting minigames. The bad thing about it is that the minigames can be difficult enough that you need to skip them, but to skip, you need to have found enough bonus coins. And there is one game you need to skip because a glitch makes it unsolvable (the tile fragments puzzle in the hut in Africa), and if, like me, you don't have enough bonus coins, you'll have to start the game over... The game also encompasses only a part of the story, so you will not hear about "the legend of the sacred treasure" in it, despite its title. That makes it short and to me, very disappointing.
July 5, 2014
Not For Me
Storyline: You are Chelsea Connor, a journalist, gone to Paris to investigate why her father never return from his trip to Africa, 20 years ago. In the opening scene, you have received a phone call (of which you only hear her side of the conversation) "yes", "okay", "I'll be sure to bring it". "It" being a fairly renowned journal/diary of someone named "Mausch". Graphics: Only ok. Definitely could be better. Very still-like, not lifelike at all. you could have been doing a point and click on a picture on a wall. Boring. Sound Quality: The opening scene was the only place where there was any voiceover and it was good, clear, easy to hear, Gameplay: Worst ever. I don't even know where to begin or how to explain. Okay, first off, after the bigger than big gray to black scenes splashed across the screen there is a desk in an office - this is where you add your profile, set your options, etc. EXCEPT, you won't know this because nothing is shown or written for you to click on because it says "profile" or "options". IT'S NOT THERE. I had to figure this out because it made no sense to me. The only direction you are given is to click on the typewriter to enter your name. Good job. You can use the spacebar on the typewriter to activate a box that allows you to type in your profile. Then you have to exit out of that. Click on the many things on the desk: pencil cup, books, telephone - just all sorts of office related things. THIS is where you will find "options", etc. But there are NO modes of difficulty to choose from. Trust me, I looked everywhere. Clicked on everything. There is, however, what I believe is a strategy guide of sorts. Open the desk drawer and you find "solutions" and it appeared to be very instructional as a strategy guide would be. There is a tutorial. However, to find it (yes, you have to find it), you click on the police officer in the middle of the screen. That's it...good for you! You do have a journal/diary which includes "journal notes", "movies" and "ruminations" (yes, ruminations - people's thoughts - have never seen this before. Well, yes I have, in different ways but never like this.) You meet and talk to characters in your game play. In other games, it would be short, sweet, to the point and informative and relative to the game. In this game, it was highly verbose (wordy) and, for the most part, inane - had nothing to very little to do with the game and buried in these massively long conversations you might find something....for instance, after your character talks and then flirts (yes, flirts) about nothing with the police officer - forever - you walk away knowing how to get to the Institute/Museum (it is referred to as both). You meet what perceives to be a doorman (although he is not), again, with whom you have an absolutely long and benign conversation only to find out where "the boss'" office is. His manner of conversation slips between mafia gang member to highly refined individual. I also thought for a moment as I was reading said conversation (no talking at all), that perhaps the bad grammatical mistakes were supposed to be a charming Frenchman trying to speak very little English. Not. Confusing. You then meet "the boss". And have another massively long, benign conversation in which you find out nothing at all, except how lovely you think her office is decorated. Seriously. My thought? Are you kidding me? You then meet a man down on his luck who will give you information (finally?) for a drink. You go back into the foyer of the Institute/Museum and get a bottle of juice. Yes, that's exactly what he was thirsty for, I'm sure. HOGs - yes, they are there - there are no sprinkles, sparkles, loud horns or fairy dust to show you where they are - they just are. You kind of have to stumble on them. Yet, in other areas there is a sparkle. The HOGs I found were on the bottom of the screen, pictures of what you must find - up to 14 items - but they are gray on gray so I had to resort to the random click, which results in a clicking penalty. There is a hint button in the shape of a pen that recharges fairly well but is fairly useless as well. Good in the HOG, however, useless outside it. If you want to know what direction to go in do not rely on the hint button - you'll lose the hint, it will recharge, and get nothing for your trouble. There are also no items for you to pick up or find along the way. As in every game I've ever played of this sort there are always things inside plants, on the street, on the streetlamp or in an office/room - on the table, something particular you need to see on a hanging picture/portrait. NOTHING. Everything that makes a game enjoyable - nothing. Therefore, you are pretty much stumbling from scene to scene trying to figure out where to go next and why, having immeasurably long winded conversations with characters that may or may not glean any information whatsoever. Ergo, the most boring game ever. This Glam-ma cannot in good conscience recommend this game. Beginners will be flummoxed, Intermediates eventually will lost interest due to boredom (as I did after only 30 minutes) and Experts - just don't put yourself through the pain. It's not a difficult game strictly for experts. I wish it were. It's just boring. But, as always, please try it - it may just be your cup of tea. Happy Gaming.
May 15, 2014
Worst Game Ever!!!
I'm sorry I wasted a coupon on this game. Some of the objects are so small you can't see them. Sometimes when you use the hint pen you can't even see where it went. I own the other games in this series and they are great games. This one is only hidden object, find the differences etc. Tons of written dialogue and then one HOS at a time. Horrible game. No fun. No challenge, except frustration trying to find miniscule objects or worse yet minisucle shadows of objects. I didn't even want to give this one star, but you have to give a star to post.
November 5, 2012