PuppetShow: Lost Town
After discovering a new system of caves, the entire town is excited to explore, until Suzy is kidnapped by a mechanical beast! Emerging from the darkness and startling the townfolk, the creature causes a cave-in behind him, leaving no trail to follow. Track the creature down and explore the mysterious caves in PuppetShow: Lost Town, a beautiful Hidden Object Puzzle Adventure game!
Immersive atmosphere
Gorgeous graphics
For a more in depth experience, check out the Collector's Edition
Game System Requirements:
OS:

Windows XP/Vista/8

CPU:

1.4 GHz

RAM:

1024 MB

DirectX:

9.0

Hard Drive:

430 MB
Game Manager System Requirements:
Browser:

Internet Explorer 7 or later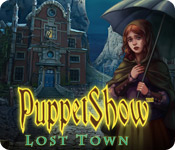 NEW299
The Big Fish Guarantee:
Quality tested and virus free.
No ads, no adware, no spyware.

Reviews at a Glance

PuppetShow: Lost Town
0
out of
5 (
0
Reviews
Review
)
Customer Reviews
PuppetShow: Lost Town
48
48
excellent
you will never get bored of all the series puppet , i enjoy it i would like they made 4th serie and i wondered if the detective will stop this felicia in the end
April 18, 2012
good game
worth the money.... follows the previous story line well
March 18, 2012
great!!!!
I love this game it is really good and fun it makes you fell like you are in the game and also you felt part of the game i thinmk the grafics are brill and come to life !!!!!!
February 5, 2012
Another Eternally Released Sequel game
Review based upon completion of the game. This is the third installment of the Puppetshow series. In a remote town, a little girl is abducted by a Puppet / Robot to an even more remote town, that has been abandoned for some reason. When you go there you find that the inhabitants have been replaced by puppets, and of course your old adversary and her spider puppet are there too. The Good: + graphics up to the developer's usual standard + items are not put back into repeated HO scenes The Neutral: o inventory only shows 5 slots o very limited interaction with the main adversary and the spider puppet (only around 4 sightings during the game) o average game time of about 3 hours The Bad: - you have to click a "Tools" button every time you want to take an item out of your inventory - no hint function outside the HO scenes Bottom Line: This game is definitely less boring than the second part, but overall nothing to really write home about. I would classify it as your typical average game that this developer churns out regularly. If you played the first two games, play it to know the continuation of the story.
May 16, 2013
Fell asleep at my computer
I couldn't wait to get this game since I ABSOLUTELY loved the others. This one seriously disappointed me. It literally bored me to sleep. The story was pretty much non-existent, the puzzles were way too easy and the back and forth between areas got old really fast. Kinda felt like I wasted my money, but I got it free. Will definitely try the next one. Hopefully it will be at least as good as the others.
November 29, 2012
Excellent, but very macabre!
This was a very good HOG, with great graphics, story line, and HOS, the only thing that could be a detractor is that it is very very macabre. Which some folks might find unpleasant, other wise one of the best HOG I've played. Best all,
November 17, 2012
Improved Puppets - A Guy's Review
*review based on completing the game in expert mode* The third installment of the PuppetShow series is an improvement on the other two. Especially in the game play department. This one offers a bit more challenge than the previous two (which were way too easy) and has quite a bit more adventuring. The adventuring also means more back and forth between scenes (sometimes quite a lot) which I know is a negative for some. The game offers no map or quick travel functions, and there are no hints outside the HO scenes. This means that you might get a little lost at times, but for adventure fans that is seldom a negative, and adds a bit to the challenge. I still wish there was some form of map and journal to easier navigate my steps though. The graphics in this game is even a bit better than the previous game, and animations too, though the latter seems a bit blurry at times. And this time they even have voice-overs which I find a big plus. There is not too much dialog though, and after playing three of this series I still feel that there is more story to tell through the characters. There is an improvement here too though, compared to the previous installments. The biggest improvements one finds in the game play. There are still lots of HO scenes, most of which you will have to visit twice. Maybe even all of them. They have become more interactive too, but there is still room for improvement in that department. The HO scenes are usually crisp, clear and colorful, but some are darker and some items are rather small, so it can be challenging to people with poor eye sight and also be a bit eye straining on most. Not too big of a problem though. The puzzles have improved a lot, and I find them more challenging and creative than they were in "Mystery of Joyville" and "Souls of the Innocent". There also seems to be more of them than previous seen. There is still only two difficulty levels. Namely "regular" and "expert". Regular has a quick recharge of hint/skip functions and sparkles on anything you can interact with, while Expert recharges slowly and only sparkle on HO scenes. This game offers a lot of fun for beginners and seasoned players alike IMO, and I can therefore recommend them to anyone who likes these types of games. The most seasoned players will still not find it very challenging but I think most would still enjoy this one. For the guys: Still no gender bias in this game, and it should suit everyone. TJ
November 2, 2012
NOTHING OUTSTANDING
This game is pretty average as games go. It is guilty, in my opinion, of too much back and forth, my pet peeve. This was further complicated by no hint button except for the HOS. I had to have the walk through open during the entire game to be able to figure out where to go next. For a little while, things would progress in fairly logical steps, but then nothing would stand out to direct me to the next step, so I had to go to the walk through to continue. At one point, the walk through told me to back out 9 times to get to the next play area. In my opinion, again, this is way too much movement and breaks your concentration. However, this game isn't the worst I've played; there have been others that require so much back and forth, I just about give up on them. Because of this failing, I had no desire to check out the CE. All this back and forth makes the game seem long, but the time you spend actually playing is much less than it could be if you didn't have to spend so much time backing out and going forward to get to the next area of play. The storyline is good, the graphics are good, and the HOS were difficult enough to be challenging. The puzzles were a good mixture of types, but, again, required a lot of forward and backward movements to finally collect all the pieces needed to play them. Overall, an OK game, but didn't leave me with a warm, fuzzy feeling.
October 14, 2012
Another ERS Top Quality Game
Storyline: Suggest that you play at least Mystery of Joyville so that you have the gist of the series. Felicia is continuing her pursuit of being young and beautiful and, this time, she has absconded with a little girl into a cave in the mountains and her mother asks you to find her. The familiar spider-bot is back, but isn?t featured here. Most of the town is deserted or its residents dead, but you do run across several puppets that remain but haven?t been functioning for some time. The town isn?t very large but, once you get into the caverns, there are a few times when you have to trek clear across town to get one object. Graphics are stunning, as usual, and the music follows in the wake of its predecessors (it?s actually grown on me). This time, you get to finish one of the puppets and fix a couple others to work. The animation is astounding. HOS are nicely sized and easily identifiable. Although you do repeat the HO scenes, not everything is returned to the way it was originally. So if you broke something the first time, it may still be broken when you revisit the HOS. You will need a lot of objects to help you on your journey, so there are a lot of HOS to provide them for you. Puzzles are beautifully-crafted; many are unique. Some are quite challenging, especially toward the end, but there is a skip button available. This is another game by ERS that is top-notch in everything.
September 7, 2012
My Fav hidden object games
I love this series of puppet shows. Each one is truly the best. I would recommend this game to everyone I know. The story is good and the puzzles more difficult then some of the other hidden object games. I find myself not being able to quit playing.
August 23, 2012
The Apple logo is a trademark of Apple Computer, Inc.