Our Worst Fears: Stained Skin
Can a mysterious tattoo cure a phobia or will it turn Victor into a victim and make him crave for death? After waking up with no recollection of his past, Victor must figure out where the tattoo came from. Help a rugged detective solve this puzzle and save the day in Our Worst Fears: Stained Skin. Use your Hidden Object Puzzle Adventure skills to work your way through this incredibly spooky game.
Spooky gameplay
Mysterious storyline
Can a tattoo cure a phobia?
Game System Requirements:
OS:

Windows XP/Vista/8

CPU:

600 Mhz

RAM:

256 MB

DirectX:

7.0

Hard Drive:

149 MB
Game Manager System Requirements:
Browser:

Internet Explorer 7 or later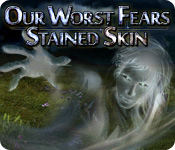 NEW299
The Big Fish Guarantee:
Quality tested and virus free.
No ads, no adware, no spyware.

Reviews at a Glance

Our Worst Fears: Stained Skin
0
out of
5 (
0
Reviews
Review
)
Customer Reviews
Our Worst Fears: Stained Skin
38
38
Different, but good
Some of the reviews seemed concerned about the suicide aspect, but it is instigated by someone else, and this is a mystery game. Would have rated higher, but way too many sparkles. I like to figure out some things on my own. HOS mostly clear, some interactive. Good storyline. No VOS. You can do HOS in 3D puzzle mode. Fair length (about 6 hours on casual mode). Worth buying, especially if it is on sale, as mine was. Good graphics.
April 5, 2012
Not bad!
Quite an enjoyable game, and i spent an afternoon of quiet bliss playing this game. Great storyline and the hint system is great of you get stuck.
May 21, 2012
fun but hard
i had to go back once or twice to the walkthrough and get help. it is a good game, though and worth buying.
May 7, 2012
A different style of HOG play
Nice game - nice change of pace. Interesting storyline. Isn't hard but keeps you playing to see the finish. Enjoyable way to spend a couple hours on a rainy day. The 2.99 fair value.
March 31, 2012
Strange, unique game!
I'm torn about this game...awful or genius?? I haven't played a game quite like this one before. The gameplay takes a while to get used to. It can be confusing at first. But even then I found myself using the hint button a LOT, more than any other game I've ever played. The main problem I have with this game is the graphics. They were mostly fuzzy and blurry making it hard to discern objects. But strangely, the graphics of the character's faces were crystal clear. Most of the puzzles were unique and I enjoyed playing them - one involves plasma ribbons. But some of the puzzles that involved walking around and finding objects were either super easy or frustratingly hard. I guess that might be from multiple people working on the game. The story was good, very different, involving tattoos, suicide, and murder. The writing was obviously done by someone with English as a second language. It wasn't bad though, and didn't detract from the gameplay. If the developers can clean up the rough edges they could make a really great game in the future! Overall, I'm giving this game 3 stars. I recommend it if you want to play something very different from most of the games on here. It can be frustrating at times, but has some very nice original touches as well.
March 7, 2013
Our Worst Fears : Bad Writing
Our Worst Fears: Stained Skin has a very dark theme that I found more sad than spooky. I am a reader and given a journal or a cutscene with dialog, I'm not going to miss a word. I usually love games with ghosts and goblins, murder and mayhem, but this one left me feeling flat. I don't mind if a game asks me to suspend belief, bend logic, or make a leap of faith, but bad writing takes what might have been an interesting plot and chokes the life out of it. Imagine the worst short story written by a high school student taking Creative Writing because Drama Class was full. Call the Guidance Counselor, PLEASE! If writing were not such an integral part of this game I would have given it a much higher rating. It has some innovative puzzles and gameplay. Hidden object scenes have a puzzle mode that is very interesting and can be toggled on and off. I thought the artwork was very well done. Each chapter of the story has a distinct environment that cuts down on the amount of backtracking you have to do to complete tasks. The hint system in casual mode is helpful but I have to admit I was outsmarted several times. You really have to pay attention to each scene in the chapter, but competed areas are clearly announced to help narrow your search. The plot actually has some surprises and I did enjoy the puzzles so this game wasn't a dead loss. It held my interest until the bitter end. I would recommend it to happy, well adjusted players or those who don't bother to read dialog.
April 24, 2012
Confusing and Mushy
I have no clue what reviewers were looking at when they posted that the graphics were beautiful. Must have been a different game?! The first time I finished this game, I was a noob at HOS's, and found the game to be fun. Today, going back over it, I am amazed that I got all the way through it. Horrible graphics, just okay puzzles, and I'm thinking that it was put together by a group of people who said, "hey, we can make a game!" Really? Shouldn't have done it.
January 31, 2013
A mediocre game
The authors appeared to have an original idea and may be on to something, but the execution left something to be desired. The end result was a mediocre game with little going for it other than originality. The original part is that the HOS can be played normally or through the application of matching silhouettes to portions of the scene; after the silhouettes are placed, the HOS will have sparkles showing exactly where everything is. One may switch back and forth between modes if needed. That is original but flawed in execution; it just did not seem quite ?finished?. There are very many puzzles, which I abhor; fortunately several of the puzzles are solved by the application of intelligence while the rest are rote puzzles which I skipped. The graphics are a bit crude and the cut scenes are good, but long. Dialog is always written and not spoken. The plot is weak, but just interesting enough to make you follow it. The game is certainly not bad, and is probably, for most people, worth buying, it just doesn?t stand out as an excellent game or even as a very good game. It is mediocre, not particularly good but certainly not bad.
April 11, 2012
Definately Different
Review is based upon purchase and completion of game (getting to be rare!). Purchased as a FB special, worth the price. There is no map, you don?t need one you work in a limited amount of scenes per chapter hence, there is very limited to and fro. There were approx. 4 chapters I believe. Graphics were ok, not great. Background scenes were done well while characters were one dimensional. There were no voice overs just bubble text. Music was non-descript. There were times I checked my volume as there was no sound at all. I am not a fan of HOS. However, this was done rather unusual. If you like to take a break from your usual point and click I suggest you try this. Because it was done differently it was not as unpleasant for me. There is no click penalty (bonus). There is some interaction, some fragment, you can even go from a normal HOS by clicking on a pair of goggles at the top of the screen and you basically float the ?puzzle? piece over an area and it will expose the HO, different and a refreshing change. Story line is weird, (best I can use to describe it) but it moved along at a good pace. Overall, not great fanfare, but on a slow day it was entertaining and the HOS were refreshingly different. That said, I can't really recommend it...there are better games out there.
April 24, 2012
Where are we going with this?
Sorry, but did not care for the storyline. If it weren't for the hint button there would be no direction to this game. The sparkling "prehints" that actually show you where the item you need is was a no-brainer. Ghosts? What made them appear all of a sudden? I will say the HOS weren't too bad, though. The artwork was decent, although lack of voiceovers was awkward. The journal reading like a novel was different.
April 15, 2013
The Apple logo is a trademark of Apple Computer, Inc.