Bistro Boulevard
Turn one modest diner into a promenade of five-star restaurants! Hire staff, pick the menu, and decorate your restaurant to impress your customers. Experiment with ingredients to discover new recipes. Upgrade your kitchen with high-end equipment to cook fancy recipes and speed up your service. Personalize your dining room with hundreds of decorations. It's all you to up in Bistro Boulevard, a fun Time Management game!
Fast-paced gameplay
Unique upgrades
Build your own restaurant!
Game System Requirements:
OS:

Windows XP/Vista/8

CPU:

1.0 GHz

RAM:

1280 MB

DirectX:

9.0

Hard Drive:

112 MB
Game Manager System Requirements:
Browser:

Internet Explorer 7 or later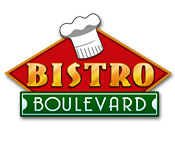 NEW299
The Big Fish Guarantee:
Quality tested and virus free.
No ads, no adware, no spyware.

Reviews at a Glance

Bistro Boulevard
0
out of
5 (
0
Reviews
Review
)
Customer Reviews
A "dash" game that doesn't force you to micromanage.
This is a great beginners' "dash" style game. You're the manager of a restaurant (the game takes you through several restaurants with varying themes). You hire and train staff, learn recipes and procure the ingredients for them, arrange tables and decorations for guests to enjoy, and equip your kitchen. Every day, you get advance notice of what sorts of ingredients your day's guests will want; you arrange recipes to meet as many of those ingredient preferences as possible. Each restaurant theme gets different dishes; a "family" restaurant gets the hamburgers and shrimp cocktail, while the "Italian" one gets lasagna. But unlike other "dash" games, you're not forced to sit there and cook every single dish. Once you buy the ingredients for dishes once, you're done for the whole level. Discovering recipes are mini-games in themselves; people who already know how to cook will be at the advantage here since ingredients are pretty much what they are in real life. Nor must you direct each waiter and chef as they go about their duties. Once you've bought your furniture and decorations, once you've trained your staff, once you've decided what your menu is for the day, you set it up to go and then sit back and watch. All you do during the actual day is decide where to seat the customers who come into the restaurant. As you advance through training and building up your restaurant, you get more "stars," which unlock more objects. The better trained your staff, the happier guests will be and the faster they'll be served and out the door to clear up table space--and the more money they tip. It's all very neatly interconnected. If you like "dash" games but don't care for the micro-management aspects of them, or if you've never played a "dash" game and want to try one, you may like this game.
August 20, 2012
Tycoon game
I ended up buying it :-) Just wish it had more levels. Where's number 2?? : D
August 14, 2012
Fun and Different Game
I absolutely love time management games and especially loving being able to find one that is original. Your goal in this game is to open and build restaurants up. The game is easy to learn and each restaurant offers different challenges to accomplish. I have found myself playing this game over and over again for hours at at time. If you are looking for something different and fun, this is definitely the game for you!
August 14, 2012
Awesome
I only wish there was a Bistro Boulevard2
August 6, 2012
Download This Now
What a fantastic restaurant simulation game. Very challenging and realistic. Different types of ethnic restaurants are available. One of my favorite games. Combines business management and cooking. Amazing programming.
August 4, 2012
Great Game
I really enjoyed this game. A little different from some of the other restaurant games. Game play was pretty easy and had some creative designing of the different places.
July 18, 2012
i enjoy this game over and over
i like Bistro Boulevard a lot. i play it to completion, then leave it for a few months, then i start all over again and enjoy it as much as before. i just wish some sequels would be produced, or other games that are more similar to Bistro Boulevard than what's already available.
July 1, 2012
needs getting used to, but brilliant thereafter
After I finished the 60min Try out I was very confused and not hooked at all. This game is different than other games and I was not sure how much I would really like it. Towards the end of the 60min I kind of understood how to play it and I enjoyed it more than in the beginning, but nevertheless I kept waiting 1-2 months before I actually bought it. I used either a game credit or special sale price, I don't remember. Today I gave it the second shot, and played the game for the first time after I had bought the game recently. And now I am loving it, I think it's brilliant! It is not really a time management game, but rather a strategic game. You can take as much time as you want for setting up all conditions, and once you start the game all you have to do is to seat the arriving guests and everything is out of your control, but the game outcome depends on the parameters you have chosen before the start of the game. The challenge is that you have limited money in the beginning and need to decide wisely where to spend it, you need to buy recipies and special ingredients, hire waiters and cooks, train them to cook better or wait faster, buy kitchen equipment, guest tables and chairs and decoration material of all kinds. I love to decorate the restaurants, floor and wall paper are for free and you have a wide selection of decorated tables and chairs. The decorations are fun and you can choose between flowers, statues, pictures and other standing or hanging objects to give your restaurant a special look. The more decorations you have the more happy and patient are your customers. For the recipies you need to guess what ingredients it contains which is a fun game. The food falls in different categories and the cooks can be trained in those individual categories. The better they are trained the better they will cook and the more satisfied the guests will be and the more money you will earn. If you earn more money you can invest more and succeed faster. Since you are limited with money in the beginning you can not train the cooks in every category and you have to choose and then select which cook will do the best to cook a specific recipy. The customers have special food requests and according to those you can choose max 4 recipies (if you have 4 cooks available). If you have more expensive kitchen equipment your cooks will prepare the food faster and the customers don't have to wait so long. If the food takes a long time until served because the cooks are too slow the guests get impatient, but also they are occupying the tables for longer and you can't seat new arriving guests. I have just completed 2 levels so far but can't wait to play the others, this is one of my favourite games now, who would have thought after such a rough start in the beginning.
June 2, 2012
Fun Game!
In this game you get to decorate your restaurant, hire staff, pick the food for your menu, This game is a favorite of mine....I love games where I can buy upgrades, decorate, put things where I want too...OK so maybe I am a little bit of a control freak...and in this game you get to control a lot of factors and I loved that. I also like in this game that you get a chance to upgrade several different kinds of restaurants. This game is a good one to play over and over!
June 2, 2012
fun
this game was great, hooked me for hours
May 30, 2012
The Apple logo is a trademark of Apple Computer, Inc.