Haunted Legends: The Queen of Spades
Exclusive
Captain Gerard Froussard has reached out to you for help. After Lieutenant Pierre Disparu disappears searching for a missing young lady, its up to you to investigate the haunted mansion. Discover the secrets behind a magical deck of cards in Haunted Legends: Queen of Spades! Find The Countess and stop her curse before it claims another victim in this astounding Hidden Object Puzzle Adventure game.
Game System Requirements:
OS:

10.4

CPU:

1.4 GHz (INTEL ONLY)

RAM:

1024 MB

Hard Drive:

497 MB
Game Manager System Requirements:
Browser:

Safari 4.0 or later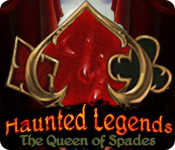 NEW299
The Big Fish Guarantee:
Quality tested and virus free.
No ads, no adware, no spyware.

Reviews at a Glance

Haunted Legends: The Queen of Spades
0
out of
5 (
0
Reviews
Review
)
Customer Reviews
Haunted Legends: The Queen of Spades
73
73
H.O. Lovers' DREAM!!!
This could have been a 5 star, but for the HOs.!!!!! When every time I turn around and have to find HOs, I AM NOT HAPPY!!!!!! Only reason I gave a 3, was because the storyline was good! No fun, no real challenge. The HOs was the game, and they were ugly!!! (The kind that hurt your eyes and give you a headache) I think there may have been 4 'real' puzzles!!! If you like HOs, this is for you; if you like puzzles like I do, move on and don't stop!!!! I'm recommending this "only" for HO fans!!
October 8, 2012
RUN-OF-THE-MILL
BASED ON COMPLETED GAME ON EXPERT LEVEL In a nutshell: Neutrals: Graphics are nothing special HOS and Puzzles are the usual type and difficulty Story has been told many times before Music is adequate Pros: Lots of scenes and areas Diary Voice overs are well done Fast paced Easy to advance in the game Liked collecting the cards Cons: Most scenes are shades of brown=boring Graphics not very crisp making some objects almost impossible to see Abrupt ending, dissatisfying All of the areas look the same, brown run down places with junk No hints No map Potentially offensive to some: Human body parts in jars Using human body parts in experiment Dead bodies Bottom Line: There is nothing awesome or awful about this game, but I wouldn't buy it. I got it as a freebie. That's about all I'd recommend it for. Good for a rainy day.
October 8, 2013
An OK Start - A Guy's Review
*review based on completing the full game in expert mode* This is the first game of the Haunted Legends series that by the time of this review just released the third installment. In many ways it is good, but compared to today's standards it is nothing more than OK. Everything in this game is hand drawn in quite a quirky and strangely beautiful way. But on my rather large monitor it seems rather pixelated which means it is not of particularly high resolution. Most of the locations are also rather dark, and I feel a bit more color and light would have done this game good. The little animation there is in this game is also OK. The storyline seemed similar to something I have played before. I did not research what came out first, but either way the novelty of it automatically disappears. Very little story is told through the game though, and mostly progresses through with help of small notes and through the journal. There is little or nothing to make you get to know any of the characters and what the motivation for the "investigation" is. Supposedly you're supposed to locate and save a police inspector, but I can't say I ever did see him again. I think they somewhat lost their focus on the story and forgot something to tie it all together in the end. Either that or the conclusion only exists in the CE version of the game. The game feels a bit clunky to play as well. Movement through scenes are sometimes more difficult than they should be and certain scenes that you have to pass through several times has some slow going animations to make the traveling even slower. There is quite a bit moving back and forth through the world without really knowing what to do next. Usually I am OK with that, but I miss having some sort of guidance at least to point me in the right direction. The hint function does not work outside the HO scenes either, so there is no help there. Neither is there a map. It all seems a bit clumsy and clunky. There are quite a few adventure elements of picking up here and use there, but sometimes these are a bit clunky again. You can notice a few places where you have to use items in a sequence to make it work, and if you try putting anything out of the right sequence it won't let you. Sometimes that made no sense at all. Why can I not tie a hook to a rope until I have tied the rope to a door pin? When I clicked at the rope it told me that I should tie a hook to it. That was just frustrating. I figured it out, but still, clumsy and clunky. Some places you could interact with were hard to notice too, but most adventure and HO fans are thorough when they go from scene to scene and will find them. You'll also come across a few puzzles on the way. Nothing too fancy, and several usual ones. Seemed most were variants of sliders. My least favorite kind of puzzle, but we all have different tastes. It does offer other types of puzzles as well, so there are variations. I'd call most of them easy to mediocre difficulty. Not much of a challenge to seasoned players. Most of all there are HO scenes. Lots of them, and you have to do them all twice. They are hand drawn, so at times it is hard to identify certain items. Most of the scenes are also darkish/greyish which can be challenging on the eyes and patience. A few of them have mild interactive elements to them, but it is in no way marked which items on the list is, or in which scenes. Confusing to look for an object only to find out that it is hidden behind something else. I feel the interactive items should be marked someway so one understands that one has to do something to get to it. But that's just me. I noticed a couple of items being a bit off to. Clicking on one object led to nothing and I could not find anything else in the scene. I used the hint function and it pointed me to the object I had tried from the very beginning. I clicked it again and nothing happened. Clicking around a bit in frustration I finally got the item by clicking all the way to the one side of it. A couple of other items you had to be very exact. I also once had to find a "bug". A lady bug was sitting in the middle of the screen, but apparently that was not considered a bug here. That is a bit lazy IMO. There were also a few translation issues, or at least some strange names on certain objects. None of these flaws were game breaking in any way, and easy to get around, but it adds to the frustration and also the opinion one gets of the game. You can play this game in two difficulty modes. Regular: -Quick recharge of hint/skip function -Active zones and objects sparkles Expert: -Slow recharge of hint/skip function -No sparkles except on HO scenes The game seemed rather easy to me, so if you are looking for any kind of challenge, make sure to choose expert mode. *BEWARE: SLIGHT SPOILER* You collect a complete deck of cards through the course of the game, and it seemed they were for a slot at the very beginning. Yet, entering the final scene where you "card battle" against SG (the bad "guy") finishes the game and you have no chance to return to that slot. I wasn't gonna play through the game again just to find out what that does, so be sure to do that before entering the last room. All in all it is an OK game, but nothing more. I feel it is a game worth playing, but it is not going to be memorable. It could be a great game for beginners to the genre. For the more seasoned ones it offers little. It could be OK if you need something to kill some time. Look for it as a DD or other type of discount. For the guys: I did not notice any gender bias in this game. Should suit both genders.
November 26, 2012
Could be better.
One of the more challenging games (so not recomended for beginners.......perfect for intermediates) and not necessarily the most fun. The story line was ok but could have been better......visuals were very good, music i turned down as i found it a little distracting. The puzzles fell into either hidden objects (which were not too challenging although if i have to find any more bells or scissors i am going to scream......) and mini games which varied from the annoying to the unadventurous. The one quite fun card game at the very end you could only play once and i would have loved to have been able to play more mini card games. I presume theres more in the collectors edition as i completed the game leaving one puzzle unsolved which i personally found frustrating as i like to fully complete my games. It could have done with a map as there was a lot of backing and forwarding and i did get a little lost one or two times because i had not looked fully in an area and had missed something and i would have enjoyed a bit more detail in the story. Having completed i dont think i would replay (hence the rating) and it wasnt the most enjoyable game ive played but it was suitably grim and a bit dark but could have been much better if the puzzles had been cleverer and more frequent; the cards were utilised more; and the storyline was deeper, darker and longer.
February 23, 2012
fun game
am stuck cannot figure where to go next wish it would have a help button
November 16, 2011
Nothing special
Played about half an hour, then got bored with all the running around and not really making any progress. There really is no rhyme or reason to where you need to go or what you do when you get there; needed items are found in the most unlikely places, several scenes removed from where they will be used. That means a lot of backtracking. Also a bit put off already by gathering body parts; I don't even want to think of what I'm supposed to do with them later. No hints, other than in HOSs; no map, even with all the backtracking. At the same time, too much hand-holding. "A windlass should go here." "Maybe I should use a hacksaw here." Some items cannot be picked up until other actions are completed, even though they can be seen. Even when an area is cleared, it will continue to sparkle. Would I recommend it? Yeah, but not wholeheartedly.
August 4, 2013
Rather Annoying
This HOG was okay, but it was rather annoying to me. I've played other HOG's where you have to go back to the same place more than once, but this one was ridiculous!!! There was no sense of direction at all and got old rather quickly going back and forth so many times. Everything else in the game was alright, but it could have been outlined better. You may want to purchase the demo first before purchasing this one for this reason.
September 2, 2012
Frustrating, exhausting, gruesome
This isn't a BAD game, but it's tiresome to constantly wander back and forth through scene after scene, hoping to spot some sparkles or new information. I've resorted to keeping the Big Fish Walkthrough at hand and consulting it frequently, which I hate to do. I love a graphic, grim tale, but this one is filled with dead, mutilated bodies which one has to walk past again and again and again. I really don't like the fact that the many scribbled notes one must collect throughout are copied to the diary, but are also still on the scene and highlighted, as though there is something yet to be done there, while there is not! I guess the Collector's Edition offers gameplay hints and other benefits, but I'm not encouraged to spend any more on this game. Recommending it, but with reservations.
August 29, 2012
Didn't quite like it
Haunted Legends: the Queen of Spades is another game from ERS and that means, similar graphic style and music can be expected. I am confused at the beginning of this game. Is there even a hint? I don't remember because I don't bother replaying this game. I hate the concept of having an evil dwarf running around, much like the dwarf robot in Puppet Show series. It's getting boring and if you wish to buy this game, I suggest you to try the demo first.
June 9, 2012
Stopped playing
This is a good game with great graphics but there is no map, no hints, and no Strategy Guide. I am now stuck and trying to figure out what to do next but there's no hint to help. I'm spending all my time going back and forth to places clicking everything over and over again. I unfortunately bought this - wouldn't do it again.
May 13, 2013
The Apple logo is a trademark of Apple Computer, Inc.
The Windows logo is a trademark of Microsoft, Inc.