Dark Ritual
Step into the shoes of a detective who has been approached by the FBI to take over a terrifying case and stop a Dark Ritual! Explore Dr. Seymour Brown's spooky mansion and see what the crazed scientist has been experimenting with! Track down your missing sister and help Agent Johnson stop the insanity that has taken over Blackwood Mansion in this intriguing Hidden Object Puzzle Adventure game.
Game System Requirements:
OS:

10.4

CPU:

800 Mhz

RAM:

256 MB

Hard Drive:

180 MB
Game Manager System Requirements:
Browser:

Safari 4.0 or later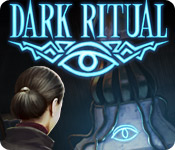 NEW299
The Big Fish Guarantee:
Quality tested and virus free.
No ads, no adware, no spyware.

Reviews at a Glance

Dark Ritual
0
out of
5 (
0
Reviews
Review
)
Customer Reviews
Only If You Like HOGs
Most games that bill themselves as HOG / Adventure / Puzzle usually have a good mix of all three. This game definitely favors the HOSs. I found the HOSs more challenging than usual. That being said, I thought that this game had more unfair objects than most. By unfair object I mean the kind of object that you could stare at for days and not recognize it. Sometimes it was the graphics, sometimes poor translation into American English and sometimes it was that the object was too close in color to the background. Although they got less emphasis than the HOSs, the adventure and puzzle aspects of the game were not bad. I don't usually give much weight to storyline since most of them are the same. (Something evil wants to take over the city / the kingdom / the universe). Same with voiceovers. ("You'll never stop me hero / heroine. Mwa-ha-ha-ha.") Granted, this game didn't have voiceovers, but the text in the cut scenes had the same effect. In those respects this game was very average. However, I hated the soundtrack, particularly the part that was clanging all the time. Very annoying.
May 3, 2013
neverending
Okay, this is first time I leave an unfavorable review. Graphics were not thrilling, no voice over, I stuck it out till the end and it didn't get any better. I thought I liked HO's but this goes to extremes every minute a new pile to go through. If you like a lot of cut scenes and constant HO'S this is for you..me I uninstalled it the second I got done, which took awhile because I could only take small doses at a time. I cannot recommend this game.
February 3, 2012
MEH, JUST TOO MANY HOS
I've just completed the game and quite honestly I'm exhausted from all the HOS - which were every step I took. You can play on either casual or advanced modes. There were no voiceovers but there was dialogue. You also have a diary. The graphics were very old, quite faded and very grainy. Some scenes were alright but the majority I found hard to make out some items. There were too many HOS which are played twice. I found that I couldn't take more than two steps without having to do one. Normally I'm okay with them, but found that they were too cluttered and grainy to make out some items - some of which were hidden behind other items. The mini-games are very easy and don't take long. There is nothing I haven't seen before but I didn't mind doing them. All up the game took me about 3 hours playing on Advanced mode. I had to use the hint a bit because I just couldn't see items well enough to grab them. Oh well, never mind. I would definitely recommend that you trial the game first before buying it to check that you are comfortable with the graphics first.
January 15, 2015
Bad choice
I can't even remember why I bought this game. The storyline and the setting are very murky. The HO scenes are hideously ugly and if you can even remember why you are looking for anything, you're doing better than I did. Some of the later scenes are impressively atmospheric, but for the most part, this game made me feel claustrophobic and bored. I was glad when I got to the ending, which was rushed and ludicrous.
July 15, 2013
Waste Of Time!!
I love Big Fish games but this was so boring i almost fell asleep! it was just so tedious and i couldn't wait for it to finish to be honest, much better games out there.
February 1, 2012
Too Many HOS
The amount of HOS took away my enjoyment so much that I hardly remember the plot. Very industrial look and feel which is not my cup of tea. Luckily, the hint system was fast because the HOS became tedious and I just wanted the game to end.
May 5, 2012
Was this the first HO/Adventure/Puzzle Game Ever Made?
I'm not sure when this game was made but if it's not from the first generation it has a terribly outdated feel to it. -There are no voice overs. -There's no animated animation (cartoonish characters don't walk from one place to another, they reappear each time, slightly closer to their destination) -The cursor is very large arrow. If you see something to investigate, the magnifying glass is inside the arrow. If you see something to add to your inventory the hand is inside the arrow. While the arrow is large, the hand and magnifying glass are very small and the area in which they illuminate is very small so you can easily miss it. -The puzzles were crazy easy. -The story line is not unusual (again, though, if this is a really old game, then maybe it was ahead of its time). There's a mad scientist. He captures someone. The hunt is on. This still doesn't qualify as an adventure. -Challenge: the challenge was to continue playing. If I weren't so obsessive I'd have stopped. OK. Is there anything good? Well at the beginning I thought that the HOS were good. Items were well designed and very well hidden. There were also a few interactive items. After about the 1/3 point of the game there were no more interactive items. If you really like HOS you might well like this because there is an abundance of them. I suspect even the greatest fans of HOS will tire of the repetition. Each scene was used several times and had many, many items which could have been the object of the hunt without using them again. Unfortunately, I had to find many ashtrays (ashtrays?), pencils, cigars, books...over and over again. If you want a blast from the past and one HOG after another then perhaps you'll like it. I'd run the other way.
June 6, 2013
Boring
There was only one reason I've actually finished the game - few interesting puzzles. Some of them I've seen in this particular kind for the first time and that was nice. Graphics, music were OK but the idea for the storyline has been used so many times before, that I was bored. There wasn't much locations to visit so player must deal with the same HO scene once...twice...sometimes even more often. I hated it.
October 29, 2012
Do love to hunt for HO? Then this is your game!
I don?t like when people review a game based on only playing the demo??but, I really have to warn you. What starts out as a fascinating story quickly descends into a low budget HOG. This game should never appear in Adventure games with HOS. After less than 5 minutes of an intro story and a few scenes the game quickly turns into a HO hunt. I had 3 HO scenes in a row, and I had another one in front of me but I refused to go to it instead I went hunting for something else to do instead. After the 3rd HO scene I caught myself trying to remember what the story was and what I was supposed to do! This game had the potential to be good. I really appreciate the work that must go into making a pc game, but story writing is definitely not their forte in this game. Instead of providing us with the opportunity to find objects along our travels/investigation a HO scene is thrown in. And they are a mess. Ever remember your mother saying, ?Clean up this mess you can?t find anything in here?, well there ya go. No map, you don?t need one, music (when there is some) is rather good and appropriate. Sometimes there is no sound what so ever, what?s with that? Lots of to and fro. If you love to hunt for HO, this is your game. If you like to think about where to go and what to do next, it?s not.
April 25, 2012
UGH ho ho ho, hurry up and do 1 interesting thing so u get another HO
Almost all HO, very little challenge, and the HOs were horrible to boot!... find a puzzle piece and solve something only to open yet another horrid HO as your reward!... I hated this game. Never wrote a review before if that tells you how much I disliked it lol... I have no idea how far along I am in this game but I played it for at least a couple hours and I can take no more! DELETE!!!
May 4, 2012
The Apple logo is a trademark of Apple Computer, Inc.
The Windows logo is a trademark of Microsoft, Inc.