Dark Ritual
Step into the shoes of a detective who has been approached by the FBI to take over a terrifying case and stop a Dark Ritual! Explore Dr. Seymour Brown's spooky mansion and see what the crazed scientist has been experimenting with! Track down your missing sister and help Agent Johnson stop the insanity that has taken over Blackwood Mansion in this intriguing Hidden Object Puzzle Adventure game.
Game System Requirements:
OS:

Windows XP/Vista/8

CPU:

800 Mhz

RAM:

256 MB

DirectX:

6.0

Hard Drive:

194 MB
Game Manager System Requirements:
Browser:

Internet Explorer 7 or later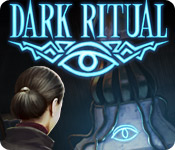 NEW299
The Big Fish Guarantee:
Quality tested and virus free.
No ads, no adware, no spyware.

Reviews at a Glance

Dark Ritual
0
out of
5 (
0
Reviews
Review
)
Customer Reviews
Great Game
This is a great game, with a really good storyline. Graphics are good and puzzles challenging. The hidden object scenes were fairly clear, but I still had problems locating some objects. While there was some backtracking, it wasn't so much that I lost interest. This game held my interest until the end, which had a surprising twist. I usually don't like the cut-scene endings, but this one was well thought out and very well done. And maybe leads us to new adventures involving the evil Dr. Brown...........
February 3, 2012
Lots of reading!!
This is really a four star game if you consider plot, puzzles, HoS and graphics. It's thrilling and not too scary. The problem is it's way too much reading and although voice overs in the cut scenes, books, notes and articles you find are not read aloud. Neither talking to characters you meet. And boy, do they talk sometimes! I played this with my husband, who is a slow reader while I'm a speed reader so we ended up me just giving him a briefing of the most important details in like for example four (4!!!) pages in a book. I still recommend this game but you shouldn't buy it if you don't like to reading because if you skip that you will miss the plot and important clues.
May 8, 2012
More HOG than adventure - A guy's review
*review based on completing the full game in advanced mode* The premise and the basic storyline is quite interesting, and could have been a top contender if they followed through with it. The story gets broken up by so many HO scenes that one loses track of the story itself, and ends up making the story itself very short. Yeah, at first I found myself a bit captivated by the plot, but before getting far into the game I started thinking to myself "oh no... YET another hidden object screen. There are many of them, and not only that, you visit each one twice. I guess that is a good thing for pure HOGists, but I missed a bit more adventuring and other things to do. Thankfully it does get broken up with a couple of puzzles once in a while. Non too difficult, but the change of pace is welcoming. I found the graphics to be good, not great, but definitely not bad. The many HOG scenes are cluttered scenes, not too overcrowded, but many items are way off true size and in dimensions to other items, and this might be off putting for some. Some of the first HO scenes are mildly interactive, and items already picked up from the first visit, comes back the second time. Even the puzzle related ones that you have picked up and used elsewhere. The music and few sound effects are maybe where the game shines the most. It really reflects the atmosphere quite well. The animations are cheaply done and this game would have done much better with some voice overs. I think they are trying to be somewhat spooky, but the lack of voice overs and slow moving animations makes all of that non existent. I also found it annoying that after reading the text it was not enough to click the button to continue. No, you had to click, then move the cursor to the top right corner to click next. The game has two modes: Casual: Helpful sparkles, hints/skip recharges faster Advanced: HOG scene sparkles only, slower recharging. The game/HO's/puzzles are not the most challenging and the game is not very long, so expert players might want to stay clear unless getting it on a nice deal Not recommended to others than the ones who appreciates HOG more than adventure and find themselves comfortable in a beginner/intermediate difficulty rating. For the guys: There is nothing girlish about this game except for playing a female character looking for her sister. The storyline touches an interesting subject, the little story there is. TJ
May 27, 2012
Just okay
This game took me several days to play, not because it was hard but because I kept getting bored with it after an hour or so. The back and forth between the same ol' scenes was rather repetitive, the characters were flat, and the story wasn't very compelling. It was okay, but nothing special.
January 31, 2012
Loved It!
This is an excellent game. Thanks BF for offering this for $3.00! I don't know how I missed this game the first time. The developers had a complete vision. The music, sync sound FX, story, and stereo atmospheres were so well blended. At first I thought "Oh no! Not another lost sister story!" - but this game breaks all the rules. Don't be fooled - don't treat this game like so many others that look like this one! READ all notes and DON'T skip any dialogue! clues,clues,clues! Yep, there are a ton of locations - but you don 't need a map - the Hint does it all. Speaking of maps - the map in the subway car can be used to skip to another location even before the map is complete! Cool! This is a keeper!
April 28, 2012
It's all OK for me!
The storyline truely lacked in keeping me interested, it all seemed to familiar to other games. The graphics were mediocre at best, no VOs all reading and it goes so slow you dont know whether its done or not. The puzzles pose no challenge they are so easy. I guess I am glad I got it on sale! It was however a decent game for a quick break between my more challenging games and so I still recommend the game!
May 8, 2012
Best One So Far
This is the best game I've played so far. I loved every part of it. Great story line, excellent puzzles, lots of HOS. But what impressed me most was the quality of the hints. When I wasn't sure where to go next, the hint actually told me where to go, instead of just giving a canned response of "nothing left to do here". This was a great help and I did not have to use the walk through or strategy guide at all. The game was so good, I played it all night and could hardly wait to get back to it. Hope I can find more games this good.
August 2, 2012
Middling and rather boring
Dark Ritual is a very mediocre HOG. Many of the HOS are very good but just as many are dark with virtually invisible items. The good news here is that random clicking is not punished and therefore does work well on the impossible to find items. The artwork is well below average in many of the HOS so the authors simply made everything very dark in those HOS. That contributes to the overall feeling of mediocrity. The game is long and very often boring. I found it easy to leave it after an hour or less and come back another day. Working only until bored, it took me 5 days to finish the entire game. The puzzles were fairly simple and I worked out most of them. The bright spot in this HOG is that the puzzles all come with instructions; you actually are told what the objective is, rather than blindly try to figure out what you are doing. That made the puzzles much better than several of the HOS. I skipped one long puzzle that seemed pointless, and accidentally hit skip rather than the objective on another. I wish every HOG puzzle clearly defined the objective up front. The cut scenes were stills rather than animations, so you had to click through them. The sounds and music were annoying, so I turned off the sound completely. If there were voices, I didn?t know it. This isn?t a bad game at all, just long and boring.
May 5, 2012
UGH ho ho ho, hurry up and do 1 interesting thing so u get another HO
Almost all HO, very little challenge, and the HOs were horrible to boot!... find a puzzle piece and solve something only to open yet another horrid HO as your reward!... I hated this game. Never wrote a review before if that tells you how much I disliked it lol... I have no idea how far along I am in this game but I played it for at least a couple hours and I can take no more! DELETE!!!
May 4, 2012
Not bad to pass the time away
The game itself was pretty good though there are better games out there. The HOS were pretty clear and not too clutterd, The storyline is similar to other games that ive played and you can pretty much guess what happens next. Though the crypt scene game me a bit of a jump :D
April 1, 2012
The Apple logo is a trademark of Apple Computer, Inc.