Jet Set Go
From Montreal to the Mayan Riviera, work with April to take your travel agency to new heights. Put together dream vacation packages in the agency, fill up your charter flights, and travel with customers to a variety of exotic locations to ensure they experience the time of their lives. Serve cheesecake in New York, take photographs at the Grand Canyon, or dance the Congo on a cruise ship in the Caribbean in Jet Set Go, a fun Time Management game!
Gripping gameplay
Exciting action
Go on a dream vacation!
Game System Requirements:
OS:

Windows XP/Vista/8

CPU:

1.0 GHz

RAM:

256 MB

DirectX:

9.0

Hard Drive:

485 MB
Game Manager System Requirements:
Browser:

Internet Explorer 7 or later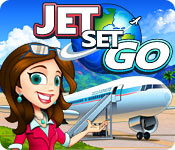 NEW299
The Big Fish Guarantee:
Quality tested and virus free.
No ads, no adware, no spyware.

Reviews at a Glance

Jet Set Go
0
out of
5 (
0
Reviews
Review
)
Customer Reviews
FUN Travel Time-Management Simulated Business Game!
This is a really fun time-management simulated business game in the travel industry. You create a travel agency and try to grow your business. Cater to your clients' needs, upgrade your agency, go to interesting destinations, help entertain them. It's fast-paced, there's strategy involved, fun graphics and sounds, very challenging. Only downside is wanting it to continue after completing/winning!
November 20, 2011
Loved This Time Management Game
I loved this game! It had all the fun of a traditional time management game, but it also mixed things up by letting you visit the different places. You complete a variety of mini time management games at all of the locations, which I thought was really cool. I really enjoyed it.
November 22, 2011
LOVED it! LOVED it! LOVED it!
I honestly thought this game was either going to be VERY boring, and VERY aggravating. I was SO wrong. I've played MANY time management games on here, and a LOT of them I felt were either TOO boring, or VERY aggravating (too many reasons to list why I felt they were that aggravating). But after I started the tutorial, I was thinking this game was actually REALLY fun, and REALLY addictive. But I thought maybe it too would be like other games, where you'd play most of it on the tutorial, and then after you buy the game, that most of it was done during the tutorial, and so it wasn't really worth the money for having had that happen to me. This game was SO not like that. After I bought the game, and noticed that there are SO many levels to play (and accomplish), I got more and more addicted, and more and more loving this game. I actually hope they come out with a sequel to this (same type of things - buying things to make things go better and faster and easier), but with NEW places to go to. That would DEFINITELY be a game that I would purchase too. So, if you love time management games, and like things with more levels, and things, purchase this game. The graphics are good, the music is fun, and the characters are cute. Oh, and they have option levels for beginner intermediate and advanced. I chose beginner, where nobody leaves mad. I'm now going to retry it, on a more timed and harder level.
January 25, 2012
My favourite game!
This is my favourite game along with Ranch Rush 2! So much fun to play with. I think this is the best game because of the variety, you get to be the travel agent and help the customers with hotel bookings, flights, tickets, activities, choose their meal for the plane and fun upgrades to the shop. You then get to travel with your customers and help them on the trip. Lots of variety and entertainment, the dancing on the ship is so cute and the sound, graphics and storyline are fantastic!
March 17, 2012
Jet Set Awsom!!!
Unlike other T.M games this on has no expert or goal socore. It also has no day counter like most other T.M games. Great game all around!
February 5, 2012
Jet Set Go?
Jet Set Go is a game where you run a travel agency with your partner: Alice. You go on the travels to make sure your customers are happy and you upgrade the furniture in your Travel Agency shop. The customers will tell you what they want and they only have a level of patience, which can be hard to control. However you do the same things on the same holiday destinations and the same things in the travel agency shop. Therefore this game is very repetitive, but for some reason you get addicted to it. The graphics were ok but they didn't contain much detail. This game is simple and easy but it is a game were you can relax so you dont get annoyed with it. I would recommened this game.
June 7, 2012
Ingenious time management game with many varied games in one...
From the travel agency to the vacation itself, this game takes you on an adventure and provides you with many different time management games, from helping travelers pick and book their vacations to serving up food or helping them soak up the sun on their vacation. This game is cute, fun, and highly addictive. The graphics are fairly crisp and detailed and the music is upbeat with a club flair. There are different levels with which you can play, from casual to expert or you could just play "Time Attack" whereby you play endlessly until you lose 3 customers. The mini-games are great and the goal is to continue to build your travel agency to five stars with upgrades you can purchase from your earnings. There is much variety with this game and it's fun and interesting to play. I definitely stand behind the 5 stars I give this game. It's definitely a great buy!
January 29, 2012
Fun game to Play!
I have played this game and I love this game! It's a lot of fun and I love the fact that there's no timer on it. You can do everything at your own pace!
January 14, 2012
Fun Little TM Game
If you're a fan of Sally's Studio or Spa Mania, you'll enjoy this time management game. You run a travel company and not only will you get to help people plan their vacations, but you get to go with them. Of course, you'll still be working, but hey, serving food in Paris is okay by me. I enjoyed most of the travel destinations with the only exception being the dancing ones. In those, you will have to click arrows that scroll at the bottom of the screen, at the right moment, to get everyone to do the dance move (they did something like this in Avenue Flo). Watching it scroll by, and only being able to use the mouse to click arrows, drove my eyes crazy. They should have allowed keyboard arrows at the very least. I do have to say that the silliest/weirdest task you'll have to do is flip people over on their beach towels. You don't want these lazy vacationers to get an uneven tan. :oP With that said, the graphics were nice, I did turn the music down as it gets old after a while and the game isn't so challenging that you'll be pulling your hair out. In fact, it will be fairly easy to get expert on most levels. Play Again?: Yes, when I just want something easy going and non stress inducing. Grade: B
March 5, 2012
Great Way to Escape
Developing a travel agency by catering to clients, issuing tickets, selecting hotels rates, and employing others - what else can one ask for! The game itself is a rather unusual TM game with its minigames, trophies, and upgrades. The fun factor continues all the way to the end, which makes me want another game like this one! There are two levels to set the characters' patience levels, but neither one is so timed that it's stressful and impossible to do. Trophies are awarded at various intervals and you can opt for moving through the game quickly or spending time developing into a 5-star travel agency. As each travel agency is developed, another one is started. It's a great game, but it won't take days to complete! I only wish there were more agencies to develop!
January 9, 2012