Mystery Trackers: Raincliff Collector's Edition
Exclusive
After a group of young students go missing, the Mystery Trackers are called in to search the city of Raincliff! Tackle this difficult case and unravel the strange mystery to save the students! Explore the entire town and discover who is watching your every move in Mystery Trackers: Raincliff! Use your Hidden Object talents to carefully dissect scenes and piece together perplexing puzzles!

This is a special Collector's Edition release full of exclusive extras you won't find in the standard version. As a bonus, Collector's Edition purchases count toward three stamps on your Monthly Game Club Punch Card!

The Collector's Edition includes:
Bonus gameplay
Integrated Strategy Guide
Wonderful Wallpapers
Stunning Screensavers
Game System Requirements:
OS:

Windows XP/Vista/8

CPU:

2.5 GHz

RAM:

1024 MB

DirectX:

9.0

Hard Drive:

1048 MB
Game Manager System Requirements:
Browser:

Internet Explorer 7 or later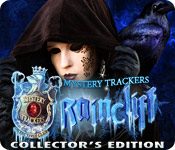 The Big Fish Guarantee:
Quality tested and virus free.
No ads, no adware, no spyware.

Reviews at a Glance

Mystery Trackers: Raincliff Collector's Edition
0
out of
5 (
0
Reviews
Review
)
Customer Reviews
Mystery Trackers: Raincliff Collector's Edition
58
58
Well done Big Elephant
Yes, another all nighter I had. I played on 'Detective' and loved every minute of it. This game is a lot of fun and the HOGs and puzzles challenging, so get comfortable. I loved that I had to run all around everywhere and to remember where things were. Good for the brain (and a notebook!). Visual and sound were brillent. What I thought was great was that it was quite a long game which we could really get our teeth into. Can't wait for another one to come. Well done.
May 28, 2013
Keeping track of back-tracking?
What I enjoy the most about any Adventure HO games is figuring out what you need to find or what you are suppose to do with inventory items; and mini-games need to be a challenge. This game had more then one twist. Some inventory items were not used with-in the "customary" amount of game play time. Some of the mini-games were different that they provided a reasonable challenge. The game provided a refreshing change from the usual and customary adventure H.O. game. What I didn't care for was the constant back-tracking. I think this was a little too much over used in this game and decreased the fun factor. The graphics were stunning and visually appealing. Personally I did not like the story line but didnt feel the overall rating should suffer as it is creative and different.
September 4, 2012
Loved it!
I played the entire game plus the bonus game and found it to be worth the extra money to buy the collector?s edition The wallpapers were very nice as well as the concept art (which I love) but the bonus game was like the ending to the game that you don?t get with the standard edition Easy H0S Hints both in Hidden object scenes and out Brilliantly captivating story line This is my favorite game on Big Fish The Mystery Trackers games are very interesting.
July 30, 2012
Fantastic game
Awesome game! The graphics were sooooooo beautiful (loved the falling snow and scenery) and the music was good. There are achievements to accomplish (no hints used, 3 hidden object games played without hints, puzzles not skipped etc.), I was not able to earn all achievements which means I will have to replay in the future. You also collect frogs which can be found throughout the scenes and in some hidden object areas as well, if you collect at least 50 you earn an achievement. I thought the game was a bit challenging playing on advanced mode, there is a lot of back and forth, some of the puzzles I had to skip and I had to use the hints now and then as well. Good long game, good story, good bonus, this was an awesome game. Many thank you's.
March 7, 2012
A GREAT BUT LONG GAME
I loved this game for many reasons. The HOS were just chanllenging enough, some of the mini games were more challenging than others. I loved the frogs that had to be collected. I rate this game right up there with Ravenhurst and MCF collectors editions
February 26, 2012
A great game
I really enjoyed the previous Mystery Trackers game so went straight for the CE of Raincliff when it came out. But played it before we could write reviews so I thought I'd catch up now... The plot is intriguing and makes you want to keep going. I liked the use of short film clips to help things along too. The graphics are excellent and the music is ok (this is praise from me as often I can't stand the music in HO games). I thought that the mini-games fitted in well to the plot development and the various puzzles were fun to play. There were also some twists and turns in the plot which were unexpected. I like games where it takes a bit to figure out what you're supposed to do next and how to use the various objects you pick up and this certainly did that. The bonus chapter for the CE version was worth it too and I'd recommend it for that. HO object scenes were appropriate for where they were and the atmosphere of the whole piece was good. I don't really think there was anything I didn't like about this game, it was slightly different from many and very enjoyable to play.
December 21, 2011
An Amazingly Challenging Game
This game is superb. It has everything, an intriguing, mysterious story that makes sense, a great environment in which the story is played out, magnificent graphics and a Bonus Chapter which compliments the original game. I?m so pleased I bought the C/E. I actually bought this game in May, started playing in Casual Mode and decided it was too easy, too many sparkles and too much hand holding, so I put it aside. Last week I decided to try the game again (hence the late review). This time I chose Hard Mode. Oh Boy! this game is hard and I loved every minute of it, (all 720 of them). Story Line, Great, unusual, intriguing 5 stars Graphics, Exquisite 5 Stars Bonus Chapter, Superb 5 Stars Cut Scenes, Beautifully rendered 5 Stars Characters, Well Developed 5 Stars. Well done Elephant Games, Thanks BFG
December 7, 2011
Love this series & this game!!!
OMG ... This series is simply, one of the best. The Raincliff storyline was simply awesome and intriguing. I just LOVE the Mystery Trackers game series. There is only one small detail, that I did not like in Raincliff ... It was having the Video Collection, instead of a Diary or Journal, so that you know, what your tasks are, for completion. Yes, there are pages of the Brown history, throughout the storyline, but, I would have preferred that, they were in a Diary or Journal, where you could review them. I also, must mention that, for those who really only care to do HOSs ... They are in here, but, this is also, an Adventure game, as well. This is why, there is a lot of going back and forth, to achieve goals and to advance your game. I found that, Raincliff seemed to have a bit more "back and forth", than I prefer, but, that did NOT stop me, from playing the game!!! I am one of the "best detectives" that the Mystery Trackers has and I love it. :) I love that I can stop the game, when I need to and when I go back to playing, I am right where I stopped. No having to going back, to get back to where I stopped. This is really, really nice, when you are playing a lengthy game. Raincliff is one of the longer HOAs, that I have played and I enjoy it. Since, I did purchase the Collector's Edition, I used the Strategy Guide a couple of times. The Guide was well written and I understood what it was, that I needed to do, to complete the "puzzle." Again, when it comes to the "math" puzzles, I either skip or use the Guide. About the only thing, that I saw in Raincliff, that was part of the first game, The Void ... Is the friendly Hint Frog. He is so cute and is very useful. Otherwise, the two stories are completely different and are not "connected", except for using a Mystery Tracker Detective. I hope, you have as much enjoyment, as I had, playing this game. I do recommend this series and game, highly. I am now, set and ready to play the next game, in this series Mystery Trackers ... Black Isle Collector's Edition.
July 7, 2014
Now I understand why Mystery Trackers has so many fans!
This review is based on a complete playthrough of the game + bonus content. First off - the Bonus Content (or "Why should I pay double for this game?"): The main game ends conclusively. The bonus is a new mystery, with a new cast of characters, in the same locations, supposedly happening three hours after the main game ends [somebody was very busy for those three hours]. The BC story isn't nearly as good as the main game - lasts an hour and half or so. The plot's been done to death, and there are no twists or new angles on it. The usual achievements, frogs to collect (there are extra so don't sweat missing a few), artwork and the usual swag. OTOH, the main game is one of the best HOPA's I've played. It kept you moving, you always knew what you were doing and why, and there was some real suspense and sense of urgency going on. I'm not going to say it's my favorite game, but it's up there - and that's after all these years (2014 now). This is the third MT I've played and the best so far. You're still 'the detective' for an ancient order (one Ogdoadic star in game if you look for it) jumping headlong into a mystery. On to the review: THE GOOD: The storyline - it picks up right from the start and never lets go. I had to stop playing for a couple of days and when I came back, after two hints I was right back into the swing of it. The characters were introduced gradually, and you learned more about all of them as the game progressed. Graphics were top notch - still great even by today's standards. Cutscenes are all replayable in game. The sound effects helped bring that icy chill through while you were playing. I don't think there was music for a lot of it - if there was it was very much in the background. The puzzles are challenging, varied, and interesting. The AI for the 'fox and the hounds' puzzle is a little off (I won from a lost position), but still challenging. The Strategy Guide won't help you with the keypad puzzle once you've tried to solve it yourself - check the forums if you're stuck. THE BAD: Girl, you better have some sneakers on cause you're gonna do some walkin' !!! You are going to run back and forth between two places that are probably geographically next to each other but you need to go through more than ten locations each way. You have no map to help you - and this game could've used one (a 'jump' map would not have been amiss). No journal. This could go into either good or bad depending on your personal playstyle. If you're used to keeping notes from Nancy Drew or similar games, you'll do fine - if you aren't: well, keep a pad next to you while you play and write down where everything is and what it 'needs'. Might want to make your own map, too. THE UGLY: The aforementioned issues with the 'bonus game'. It just wasn't up to the high standard the main game set. BOTTOM LINE: If you can get this on a CE sale, I'd say it's worth it. You won't go wrong getting the SE either though.
March 10, 2014
What a joy to play!
I am not a hidden object fan. While this game had them, it was not one of those junk piles that make me go blind. The puzzles were fun and not too hard. I had to skip a few "slidey" puzzles. The story line is well done. At the end of the regular game, there was a "loose end" that is resolved in the bonus game. As soon as I get through typing this review, I am getting another Mystery Tracker game. :)
March 4, 2014
The Apple logo is a trademark of Apple Computer, Inc.