Mystery Chronicles: Betrayals of Love
After the Countess is discovered dead, it's up to you to follow the clues and find her murderer in Mystery Chronicles: Betrayals of Love! After Commissaire Jean Bertineau asks for your help in this high-profile murder, you travel to France and hope to get to the bottom of this gruesome murder. Upon arriving, you discover that the Count has gone missing! Get to the bottom of the case before the Count ends up being the next corpse you discover in this dark Hidden Object game!
Beautiful locations
Tricky puzzles
Find the Countess's murderer!
Game System Requirements:
OS:

Windows XP/Windows Vista/Windows 7/Windows 8

CPU:

1.0 GHz

RAM:

256 MB

DirectX:

7.0

Hard Drive:

146 MB
Game Manager System Requirements:
Browser:

Internet Explorer 7 or later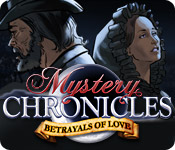 NEW299
The Big Fish Guarantee:
Quality tested and virus free.
No ads, no adware, no spyware.

Reviews at a Glance

Mystery Chronicles: Betrayals of Love
0
out of
5 (
0
Reviews
Review
)
Customer Reviews
Mystery Chronicles: Betrayals of Love
32
32
Good Hidden Object Game
Unlike some of the other reviews, i liked that the hidden object areas were challenging. The graphics were good and it was quite easy to find my way round the various areas. I liked that the sparkles weren't too obvious as well. However, i finished the game and discovered i still had things left in my inventory. So i consulted a walkthrough and i'd missed a chunk out but still managed to get to the end. Felt a bit cheated as i could have played for longer if i hadn't been "allowed" to get to the end scene.
May 31, 2012
If you download the trial, plan to buy the game...
that's what I did and it's worth it!
October 18, 2012
Not the best...
I like murder mystery games so I was disappointed by this offering. The game had no voiceovers but thats ok in a standard edition game. It had nice music that made sense in the overall theme of the game but there was only one game mode and it had sparkles but even with a challenge mode, Im not sure this game would have been any better. The hidden object scenes were terrible. A lot of the items were dark on dark making it impossible to see and some other items were in the very corner of the screen underneath the diary! how in the world would you find that without a hint? The good news is the hint button recharges pretty fast but the fact there are sooo many hidden object scenes and the objects are just so hard to see made this game very tedious and boring. The few mini games were not very challenging but maybe that was to make up for the hard hidden object scenes. The other thing about this game was that it was glitchy. When I trialled it, I had no problem with it but after I bought it, it ran kind of weird. For example, every time the first screen would load, it would flicker. One time it told me my profile was corrupt and I had to start over, luckily I had just started but each time it flickered again and I would cross my fingers that my game would be okay (it was). The overall story in this game lost me at some point too. Im not sure if it was the slow pace of the game or the hidden object scenes putting me off but when I found out what happened, I didn't care and it didn't make sense. And I felt like this game was never going to end. Near the end, I thought I had everything I needed to complete the game but it kept sending me back to the same scenes I had gone to previously where a hidden object scene magically appeared in the same spot for the 3rd or 4th time. That does not make a game fun in my opinion. Its definitely not the worst game Ive ever bought and played but its not really one of the best either...I don't recommend it.
May 1, 2012
A Great Game for HO Lovers With A Touch Of Adventure Lite
GAME COMPLETED SEVERAL TIMES Story: The Countess has been murdered, and the Count has disappeared. The French Commissionaire calls you in to solve the baffling mystery... Developer: Lazy Turtle Games Release Date: May 2011 Extras: None I enjoyed playing this game today, though I haven?t in the past. It?s a bit dated in its style and the graphics are odd. Sometimes they seem almost photo realistic, at others more like cartoons. But they do this thing with the water that looks excellent ? enough to make you thirsty. It?s gameplay is quite good. There is a story that carries itself and gives motivation to the considerable running around needed to find clues and talk to suspects. This process involves a lot of HOs and very little else, yet maintains that feeling of being in the story that similar HO games can?t manage. There were only a couple of puzzles, and very few ?found? items for inventory (everything came from HOs), except 16 torn pieces of paper which act much like collectibles and are needed to solve the final mystery. A good afternoon's entertainment.
February 26, 2013
Better than I expected
Having read other reviews I wasn't expecting much from this game, but as I have Mystery Chronicles: Murder Among Friends, I wanted to give this a try. I'm not sure if I would've purchased it, had it not been the Daily Deal, but it is still quite a good game. I found the HOS to be challenging, and the mini games that I did in the trial were a little incomprehensible, so I found myself skipping them. I'm hoping that I won't be doing that throughout the rest of the game. I liked the storyline, and it had me intrigued enough at the end of the trial to purchase the game. The hint button takes a while to recharge, so use it sparingly.
May 12, 2012
On Betrayels Of Love
Being an artist, I always look at graphics..and I liked this in game, so kudos for the artists..but sadly FINDING objevts is at times impossible :(( That took the FUN away for me as I HATE asking hints..but truly, in comparrison with many other games I played, well...the fun got lost by getting articles..pity...
December 22, 2011
YOU GOTTA LOVE HOGS
Story: A countess has been murdered and her husband has disappeared. [Mystery readers beg the question: Did he kill her?] An unfortunate fisherman who found the deceased is being charged with her murder. But the police lack enough evidence to convict, so have called on you to investigate. As you determine who the suspects are, you stumble across the answer. Ending presents closure but is a little surprising. HOS/PUZZLES: I would classify this as a HOG with a little adventure thrown in, because it seems that almost every time you turn around, there?s another HOS. [Really, like a new HOS every 2 minutes!] They can be quite challenging. Although they are not too cluttered and most items are not too small, the difficulty is that the objects are blended into shady backgrounds so well, and I am taking a star off for that. There are a few standard puzzles, some with a clever presentation - nothing too challenging. HINTS: Outside of the HOS, the Hint system will tell you where you need to go and what you need to do. If you choose not to use it, prepare to wander aimlessly until you find a HOS and then figure out where to use whatever inventory item you get. This would be a good candidate for an interactive map that tells you where actions are possible. Graphics in the numerous locations are appealing; music and cutscenes adequate. Gameplay is not linear. Story is nothing new, nor are the HOS and mini-games. However, it is a nice solid HOG.
September 4, 2012
Really not a bad Weekly Catch.
A pretty much straight forward HOG, so if you're into lots of HO scenes this one is definitely for you. Now, this game is quite old, so don't expect it to be perfect in terms of graphics and sound. No voice overs and the hint system recharges quite slow. I haven't come across any puzzles, but I only played about 15 minutes and forgot to quite the game after the phone rang, so I lost the rest of the demo :-S. The storyline is ok, a countess got murdered and her husband disappeared. Your role is the one of the investigator. The locations I saw are nicely done. Had this game been released today, then I would find plenty of things to nag about :-), but due to its age, I really can't find anything wrong with it. It being the Weekly Catch I'd buy it if I'd need one more punch to complete a punch card and at some point would play it all the way through. I always find these older games to come in very useful when I want to play something that isn't too demanding.
May 31, 2012
Definitely not a keeper
I bought this on the $2.99 weekly special and so glad I didn't pay more. Another reviewer used the word "tedious" and that sums this game up exactly. The story line was weak at best. The music was OK but kept coming and going. Not cutting out so much as just stopping for awhile then restarting. Graphics were pretty good in that the many, many HOGs were easy to see but still very difficult to do. That was the one aspect of the game I was really impressed with. I had to use hints through 90% of the HOGs to get them all because they were that cleverly done. When items were pointed out my general response was, "well duh!". They were so well blended and incorporated into the scenes that it really was a challenge. What ultimately turned me off and just frustrated the heck out of me was all of the to-ing and fro-ing. It could take a dozen steps to get into a building just to find one clue, usually with no idea what to do with it. Or after those dozen steps you get into the building and oops, you need to go back out and look for this and this as well. And there was no rhyme or reason as to where you needed to look, you just ultimately had to continuously go from scene to scene looking for the sparkles. Tedious with a capital T!!! The hint button would tell you where you needed to go next and what to look for once there. Ultimately I probably would never have bothered to finish if it hadn't. If you like lots of difficult and cleverly done HOGs with absolutely no interest in the story line then this is the game for you. If, on the other hand, you like games you can reason through by using your brain, that challenge you to think, give this one a wide, wide berth.
June 5, 2012
Waste of $2.99....do not listen to other reviewers!
I tried this game, and really liked the HO scenes. They are more difficult than usual, but in no way impossible. It was more like a real life junk scene, rather than contrived. That however, was all I liked. I bought this game because everyone said it was very long, which is a main factor for me. IT IS SHORT!! Maybe 3 hours, and that's with minimal use of hints in HO scenes, which take up the majority of the time. If you do get this game, you will want to use the hint button when you are through with a task; it will tell you which HO to go back to. Otherwise you spend your time looking at every location every time you need a tool. The story was ok, but it had potential to be so much more. Like many HOPAs, it is really just a HOG, which I find extremely disappointing. There are a few puzzles that are very easy.
October 23, 2013
The Apple logo is a trademark of Apple Computer, Inc.