Rescue Team
Control the rescue workers who rebuild three islands in the wake of devastating weather! Remove debris to free trapped workers in Rescue Team! Repair damaged restaurants, houses, and sawmills to produce necessary resources. Race against the clock to collect gems, put out fires, and save stranded swimmers! Rescue Team is fun, gripping, and unlike any other game you've played!
Awesome bonuses
Unique minigames
Rebuild three islands!
Game System Requirements:
OS:

Windows XP/Vista/8

CPU:

1.0 GHz

RAM:

512 MB

DirectX:

8.0

Hard Drive:

46 MB
Game Manager System Requirements:
Browser:

Internet Explorer 7 or later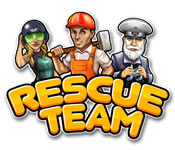 NEW299
The Big Fish Guarantee:
Quality tested and virus free.
No ads, no adware, no spyware.

Reviews at a Glance

Rescue Team
0
out of
5 (
0
Reviews
Review
)
Customer Reviews
Fast-paced, challenging, but not too complicated!
I played Jack of All Tribes and loved it and this was a suggested game that was like it. I enjoyed the story and visuals of Jack of All Tribes more, but this game is far superior in the level of challenge and fun it provides. You are there to help rebuild after a disaster. You build sources of food and wood, build houses (which provide income) and transportation, rescue citizens and workers, put out fires, and collect gems. Each level has certain tasks and a time goal for gold and silver. The basic concepts of how to make things happen are quite easy. Getting gold can be quite hard on some levels, but not impossible. I'll admit I gave up before achieving gold on all because you don't have to get all gold to complete the achievement tracking section (rebuilding all parts of a house to make it shiny and new). My two main issues: 1) you can't queue up actions and you have to wait for the worker to run back to home base, which made it harder to move quickly; 2) there is a good set up, but very little story stringing together the levels.
May 26, 2012
Fun "Time Management/Builder" Game
I had a great time with this game. It isn't my favorite in the category but... I'm happy with my purchase. :) The length was great (60 levels). I had to replay several levels (some of them several times) to get "gold". You really have to be on-the-ball to finish before the clock on many levels. The reason I didn't mind replaying some of the levels was because it wasn't as difficult, as some games in this category, to figure out a different strategy. Some people don't like that the repairs on the house were, typically, completely well before the end of the game. That didn't bother me at all. Some people also don't like that you can't "advance queue" your workers. That didn't bother me either. That's part of the challenge of the game. I don't know if it's something I did, or maybe I just missed it completely but... after I had finished all 60 levels (all gold)... The next screen that came up was the map. I didn't see the little arrow telling me what level was to be played next so I assumed I was going into bonus levels. Not the case. It took me back to level 1. I didn't get a screen telling me how wonderful I am to have saved all these people and places. ;) If you're looking for a game with a "doable" challenge that isn't completed in a couple of hours, give this one a try.
August 26, 2012
Rescue Team
I really enjoyed this game. Unlike so many of them that can be completed in a few hours (which to me is a waste of money) this one continues on for some time and is one I would like to play again. It does have its downfalls though. The house was completed way to early and for most people it would "whats the point now?" but I got hooked on completing the levels. They make you think and I like that. I just found out there is a second one, so I'm going to give that a go.
May 30, 2012
Addictive time mgmt game
With 60 levels it took me awhile to complete them all and each one offered a different challenge requiring me to develop a strategy. I went back and replayed any level that I didn't master and still had fun doing it. My only complaint was that I finished the repairs to the house early on and there was no further incentive to keep playing, other than my own obsessive nature :-) This is a good one for time mgmt fans.
May 25, 2012
Rescue Team
I do not like how the game intentionally keeps you from ending with a gold trophy as it seems purposefully.
June 11, 2012
Not much variety
Pretty standard game of this type. The issue is although it has many levels they are all basically the same. Getting gold on each level was not difficult - for passing time it is ok but for challenges and variety it just simply is not here.
May 16, 2013
a decent attempt if you like TM games
This is a slightly more remedial attempt at TM games than Roads of Rome, Gnome's Home and Kingdom Chronicles. The graphics are cartoonish and the levels are more repetitive, but it's still an ok game. Mousing over tasks will show you exactly what you will need to complete them, however resources won't show you a status bar, which is usually helpful. Also I would have liked some sort of confirmation that I clicked a task, the only indication was that I was unable to click it again... there was no sound or graphic to indicate that one of my little workers was on his way. The levels varied in difficulty, but the strategy remained the same through about 99% of the game. There were 2 levels where you have to build something bigger, a resort, a power plant, etc, but those were 2 levels out of many. I would have loved to have built upon that instead of going back to the same tedious tasks over and over. Lastly, the main goal of rebuilding the house was achieved too quickly, I was done with that 3/4 of the way through the game. I give this so many stars because despite it's many downfalls, it is better than many other TM I have tried. I purchased the second installment at the same time and will try it as well.
December 21, 2012
need more time for gold
the game is good but there are two problems first the timers go to fast so it is hard to get first.second there is no relax mode this would be good for kids ages 6 to 9 that play this gane
November 18, 2012
Could be better
I like the music and graphics. My biggest complaint with this game was that you had to wait until the helper got back to the main tent before you could assign the next task. I just started playing these time management games and most of the ones I've played allow you to click on the next assignment so whichever worker is free can go to the next job right away. The time allowed to get the gold ranking was too short. If you get the gold you would get $10,000 to repair your house, but if you got the silver you only got $1000. I got gold on the first level, but on none of the others. It frustrated me how quickly the time ran out for the gold award. I didn't even finish playing the demo.
November 11, 2012
It was ok
I really like a lot of these time management games, however I don't like them when you can't chain the actions and have to wait for the "workers" to return to the base before you can click a new action. It seems to take away from the excitement and the challenge of the game leaving me feeling like I'm always waiting. So because of that, this really isn't one I am interested in owning.
October 13, 2012
The Apple logo is a trademark of Apple Computer, Inc.