Rescue Team
Control the rescue workers who rebuild three islands in the wake of devastating weather! Remove debris to free trapped workers in Rescue Team! Repair damaged restaurants, houses, and sawmills to produce necessary resources. Race against the clock to collect gems, put out fires, and save stranded swimmers! Rescue Team is fun, gripping, and unlike any other game you've played!
Awesome bonuses
Unique minigames
Rebuild three islands!
Game System Requirements:
OS:

Windows XP/Vista/8

CPU:

1.0 GHz

RAM:

512 MB

DirectX:

8.0

Hard Drive:

46 MB
Game Manager System Requirements:
Browser:

Internet Explorer 7 or later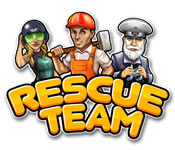 NEW299
The Big Fish Guarantee:
Quality tested and virus free.
No ads, no adware, no spyware.

Reviews at a Glance

Rescue Team
0
out of
5 (
0
Reviews
Review
)
Customer Reviews
I can't stop to play
I just love it. I got golden in all levels
September 29, 2012
Challenging, cute, fun TM game
I'm not the biggest TM game fan, but there are a few I really like and this is one of them. If you've played and enjoyed Roads to Rome, you'll probably like this one too. There's some strategy involved here, figuring out what to do when and if you really do need to remove all the obstructions or if there might be another, less expensive way to reach your goals. The levels aren't necessarily increasing in difficulty as the game progresses; some of the lower levels took several tries for me to finish at the "gold" rating and some later ones took only one try. There's not much in the way of storyline, but I play adventure games for that. The graphics and sound are maybe a little childlike, but not annoyingly so. The workers say "happy!" when one of them or a citizen is rescued. I find myself saying "hurry hurry hurry!" as the last worker is running along if I'm very close to beating the clock. The game is engaging and fun to play. A quibble: I wish the circle indicating where I'm clicking to assign a task to a worker would NOT be green if I have no workers available. It's red if the way is blocked or there aren't yet enough resources available. But I did get used to keeping an eye out for worker availability. Definitely worth an hour of play to see if you like it; I think you'll enjoy the challenge.
May 16, 2014
Clean up an Island... very fast!
Final review after finishing the game: The Story: A hurricane has hit an island. go, clean up! Marsh! Marsh! The Good: + 60 levels + interesting idea + challenging (missed gold on 10 levels by just a few seconds, thus motivating you to improve just a little) + apparently you can move on to the next level even if time runs out - never came even close to that + rebuild a (your?) house The Neutral: o only three levels with "special goals" (= rebuilding other structures than an inn, a sawmill or a house) o how did all those people get stuck on a cliff??? o and how do those gems fit into the general rescue theme? Couldn't they have found something else? o I have been rewOrded at the end! *lol* The Bad: - the house was finished by level 41... - ...thus my motivation took a nosedive... - ...and I didn't bother finishing with all gold (in the end I had 50 of 60 Gold levels) Bottom Line: If you like games like My Kingdom for the Princess or Royal Envoy try this one.
December 16, 2011
Fun Time Management Game
I really like playing time management games, so when I saw Rescue Team I decided to give it a try - and I'm glad I did! In this game a major hurricane has hit and it is your goal to clean up, rebuild and rescue citizens one level at a time. I found that since each level doesn't start until you select something for a worker to do, it is a really good idea to look at the scenario and strategize the best way to complete each level - especially if you want to earn the gold "trophy" for all of the levels. Overall, I would definitely recommend this game to those who like time management games and enjoy a challenge.
March 26, 2012
silly but addictive fun
a silly but fun time-management game with cute graphics, and a reasonably believable storyline. the storyline: a hurricane has destroyed an island community. your goal: rebuild this community, a small portion at a time, within a specific time period to win a gold, silver or bronze trophy for the level. (so of course, if you are like me, then your personal goal will be to earn all gold trophies -- not so easy for some levels.) you are awarded points based on how quickly you complete each level, which you "spend" to repair your own home. to complete each level, you send workmen out to collect food, wood and stone that they use to rebuild the community's roads, buildings and bridges. you also send helicopters to rescue people, and as the workmen fix things, they also collect gems. hang on, they collect gems? gems? yeah, i know. that's weird. why did the game developers choose to have your little workers collect gems? they could have had them collect people's pets or something that makes sense within the context of a disaster zone. the graphics: cute. who ever knew workmen and rescue workers could be so adorable? the music and sound effects: non-intrusive, and the "yahoo!" cries of rescued people and workers is cute. my complaint: the game does not allow you to queue up actions, so if you get ahead of your worker supply, tasks that you thought you'd assigned go undone. annoying! my interaction: i purchased this game after the one hour demo had concluded. if you are a time management fan, or if you want to play something that's silly and fun, then this is the game for you!
May 28, 2012
Fast-paced, challenging, but not too complicated!
I played Jack of All Tribes and loved it and this was a suggested game that was like it. I enjoyed the story and visuals of Jack of All Tribes more, but this game is far superior in the level of challenge and fun it provides. You are there to help rebuild after a disaster. You build sources of food and wood, build houses (which provide income) and transportation, rescue citizens and workers, put out fires, and collect gems. Each level has certain tasks and a time goal for gold and silver. The basic concepts of how to make things happen are quite easy. Getting gold can be quite hard on some levels, but not impossible. I'll admit I gave up before achieving gold on all because you don't have to get all gold to complete the achievement tracking section (rebuilding all parts of a house to make it shiny and new). My two main issues: 1) you can't queue up actions and you have to wait for the worker to run back to home base, which made it harder to move quickly; 2) there is a good set up, but very little story stringing together the levels.
May 26, 2012
Rescue Team
I really enjoyed this game. Unlike so many of them that can be completed in a few hours (which to me is a waste of money) this one continues on for some time and is one I would like to play again. It does have its downfalls though. The house was completed way to early and for most people it would "whats the point now?" but I got hooked on completing the levels. They make you think and I like that. I just found out there is a second one, so I'm going to give that a go.
May 30, 2012
It will keep you going
I love this game, you have to use some stradegy on a few, but it is fun.
June 17, 2012
Good game, but
Good game, but the time runs out too quickly to master the levels. I also haven't heard of a game having such odd completed by times. Developers, add a little more time and this game would be great!
November 18, 2011
Rescue Team
I do not like how the game intentionally keeps you from ending with a gold trophy as it seems purposefully.
June 11, 2012
The Apple logo is a trademark of Apple Computer, Inc.