Snark Busters: All Revved up
Snark Busters 2: All Revved Up tells the incredible story of Jack Blair, a world famous racecar driver who puts his career on hold to catch the Snark. Join Jack as he jumps between the real world and the inverted realms inside of mirrors in an attempt to catch his quarry. Solve whimsical puzzles, explore worlds of exquisite detail, and keep your eyes peeled for hundreds of cleverly Hidden Objects!
Incredible locations
Fantastic puzzles
Can you catch the Snark?
Game System Requirements:
OS:

Windows XP/Vista/8

CPU:

1.0 GHz

RAM:

512 MB

DirectX:

9.0

Hard Drive:

379 MB
Game Manager System Requirements:
Browser:

Internet Explorer 7 or later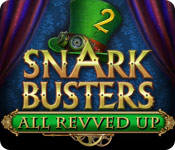 NEW299
The Big Fish Guarantee:
Quality tested and virus free.
No ads, no adware, no spyware.

Reviews at a Glance

Snark Busters: All Revved up
0
out of
5 (
0
Reviews
Review
)
Customer Reviews
Snark Busters: All Revved up
43
43
Good, Clean Fun :)
I really enjoyed this game. :) It's all good, clean fun, nothing dark or grim. The setting is whimsical, and the music fits it nicely. Actually, I love the music in its own right! :D I got stuck once, and had to go to the walk-through, but generally speaking, the puzzles aren't too hard. Not too easy, either! You get the fun and satisfaction of working things out, but don't end up tearing your hair out! :D I was surprised that they didn't continue the story of the character from the first game, but I like this character, too. He's a bit full of himself, but amusing with it. :D I have a few mates like him... :D My only real niggle is that it didn't feel quite as "Steampunk-y" as the first game. But that's a minor point, and probably a matter of personal taste. :) All in all - well done, guys! More of this, please! :)
December 22, 2011
LOT OF FUN,GREAT GAME, JUMPED RIGHT INTO THE PURCHASE , hoping continued episode...yeah!!!
I was in a great creative comfort zone with all aspects of the game. Everything is right before your eyes, hints are fast and accurate, and actually tell you what you need to know but does not give away to much and spoil the seek and find fun. Hidden pieces promote seeking abilities to be used, and you do find the pieces without that feeling of crazy frustration, colors are accurate and pretty, story line is there and good, relax, get with the story and go for it. Just don't jump ahead of things to far and you will love this game. One time it would not permit me to go ahead. I thought it froze. But it had not. Just needed to hunt a little harder. I thought this to be a good idea. Keep up the hunt for pieces. In otherwords, it is up to you to play the game and have fun without going nutty. No blood and guts, thank goodness for a change.. I am waiting for the next episode..Yeah!! The music was boring to me. But not bad. You have to try it and you will play more of the "SNARK BUSTERS" games. This is my second one. Cannot go wrong on this one. And i am! picky. But always willing to give a game a try. 60 minutes is a must for me.
May 16, 2012
Addicted Snark Buster member
I have to admit to being totally addicted to the Snark Busters Club. The graphics again are wonderful, the music campy and fun, the storyline as much fun as the first, and the game play entertaining. Unfortunately, no voice overs or modes of play. This is a FROG game with interactive play in each scene. Most pieces are easy to find, some hidden requiring another piece be placed or an action. There are some puzzles, easy but fun. Very much like the original but with a new character, Jack Blair, race car driver. This is a great game for any level of player who just wants a fun play. Great to play after a long day or on a dreary day when you just need something to chase the blahs away. I highly recommend both Snark Buster games!
February 4, 2012
Good HOG, if more style than substance
Cheerful music and charming scenes make for a enjoyable hidden object game as you follow young Jack, automobile racer extraordinaire, on a snark hunt on through steampunk inspired scenery. A bit of wit and snarkiness are a nice change from the doom and gloom HOGs. Not a particularly challenging game (I got over half way through on the demo), but just the thing (with a cup of tea) after a stressful day.
November 26, 2011
I Want to Go to a Place Like This!
Oh my gosh! What a blast! From the get-go, the visually attractive graphics are superb. The colorful scenes are incomparable and the sound effects are perfect. Such a fantastic world, so rich in beauty; it very much reminds me of the extraordinary artwork found in high-end fantasy calendars. I have never played a HO like this and I found it thoroughly delightful! The games are varied, fun and leave you smiling - nothing too difficult, nor too easy. The imagination that went into each scene, puzzle, every twist and turn, and the game play's other-worldly ins & outs was eye-popping. I did not want to leave - this is a place I would LOVE to go to in real life. Some of the interplay was wonderfully engaging - if allowed, I would have stayed and played several of the mini games repeatedly. (Perhaps the makers could add an award, whereas the player may go back and play some of those games to their heart's content, once they complete the game.) Good, clean fun, of the highest order. What a fine way to escape. The creators have allowed the player to be transported to an exceptionally fantastic world. This was a treat! I have not played the first game in this series. I have downloaded it and I hope it is as exciting as this one.
January 30, 2012
Fun steampunk game (but not as good as the 1st one!)
I really love the graphics, storyline, music and ideas of Snark Busters games. However, after playing Snark Busters (the first one) I was disappointed that they developers did not bring Kira (the main character) back in this game. However, it was still a fun storyline and a good game. I only gave it 4/5 bars for fun factor because it wasn't as good (IMO) as the first one. But still 5/5 stars for overall!
December 3, 2011
BRILLIANT!
This is the 2nd of the Snark Busters and its just as brilliant as the first, I love the story line, I really like the graphics and the puzzles cant wait till they bring out more games and the story continues...bring on the Snark Im waiting!
November 30, 2011
Another great game
Like the first Snark Busters, I really like this game though it has a bit different of a feel it's still gorgeous. Screenshots don't do these games justice. You have to play them to really get the feel of them. I did wish it was a bit longer though and can't wait for the next one to come out.
November 22, 2011
a quirky, whimsical and imaginative steampunk adventure
are you tired of murder, vehicle crashes, creepy spooks and imprisonment in mental asylums? would you like to play a game that won't offend your parents? if so, then this quirky, whimsical and imaginative game is just what you have been looking for. the art is gorgeous and the soundtrack is refreshing and both perfectly fit the delightful but improbable storyline. in this fragmented hidden object puzzle adventure, you are Jack Blair, a world famous racecar driver who puts his career on hold to catch the mysterious snark. what is a snark? it's an elusive creature few people have seen and no one has caught. your pursuit has you jumping through mirrors (inspired by Vonnegut?) into strange quirky Dali-esque worlds to capture your quarry. graphics: wonderful! the art is richly detailed and lusciously colourful. hidden objects are actually fragments of just a few objects, and most of these fragments are hidden in plain sight (no junk piles!!) throughout the game, although a few of the hidden fragments require some interaction before you can obtain them. the puzzles and mini-games require some thought but they're so pretty and fun that you?ll want to complete every one on your own. cutscenes are scripted and mostly are television news reports. music and sound effects: effervescent music, almost like something you'd hear in a comedy film. minimal sound effects, no voiceovers. storyline: absolutely and completely unbelievable, and not very complicated; just light good old-fashioned fun. gameplay: this game has only one mode of play: PLAY! hints recharge very rapidly (30 seconds?) and hints can be used to directing you from mirror to mirror. no overclick penalty. no map, no journal (neither are really necessary), smooth scene loading, no cursor freezes. my interaction: one hour demo. the only reason i didn't purchase this game after just five minutes of play was because i couldn't rip myself away long enough to do so. however, reality rudely interrupted my fun so i did purchase it moments after demo ran out. wonderful fun for the entire family! this engaging game is yet another "daily deal" that is more appropriately thought of as the "daily steal"! thank you so very much, big fish, for bringing this sweet little game to your fans!
June 23, 2012
A delightful, witty, challenging game!
This game was very enjoyable. It is so delightfully different from the usual HOG, yet quite challenging and engrossing. At first I got confused about going back and forth through the mirrors, but I soon learned to click on the hint button to get directed to the proper place. Each of the chapters was a complete game of its own and the end of a chapter was a good place to stop. The game is long and lots of fun.
August 4, 2012
The Apple logo is a trademark of Apple Computer, Inc.