Hidden in Time: Looking-glass Lane
After using your Ancestor's Mirror to explore Castle Fairwich, you are sent back in time on a brand new quest! Your grandmother's grandmother, Emma Willow, has built a time machine that has sent an entire train into the past! Solve Emma's puzzles to save the people on the train and make it back to your own time in Hidden in Time: Looking Glass Lane! Explore Emma's home and work your way through this incredible Hidden Object Puzzle Adventure game!
Beautiful graphics
Perplexing puzzles
Go back in time and save lives
Game System Requirements:
OS:

Windows XP/Vista/8

CPU:

800 Mhz

RAM:

512 MB

DirectX:

8.1

Hard Drive:

233 MB
Game Manager System Requirements:
Browser:

Internet Explorer 7 or later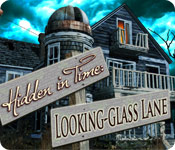 NEW299
The Big Fish Guarantee:
Quality tested and virus free.
No ads, no adware, no spyware.

Reviews at a Glance

Hidden in Time: Looking-glass Lane
0
out of
5 (
0
Reviews
Review
)
Customer Reviews
Hidden in Time: Looking-glass Lane
22
22
Not fun at all
I had profoundly disliked the first installment and I had hoped this sequel would reconcile me with the series. It might have, up to a point.... - had I not been obliged to use my super magnifier to find the tiny, tiny, well concealed objects; - had I been able to visit the locations freely. Hard luck, the game baby-sits you right from the start. The HOS's: although neatly crafted, they are extremely eye-straining due to the dwarf size of many objects and the invisibility of several. Fortunately, the hints recharge fast and you can get a few more by finding the hidden mirror in each scene. The useful objects: there is no inventory; you have to find, or are given, two objects and only two per scene; not only that, you need to use them immediately. The scenes: when you are in one, you cannot exit the one you're in until it's fully completed. then the game pushes you to another scene, and you don't have a choice but to go there. The adventure: well, there isn't any. The game is a pure HOG with a few minigames The puzzles: the only feature that aroused my interest; some of them are a bit original, and I liked the one that consists in connecting railroad tracks -a variant of the pipeline- except that this particular puzzle comes up 9 times in all ! A bit too much even for me. Pity, I would have liked to solve the others. The cans: the only other feature which I did not dislike. It's simple, you shoot a tin can when you see one. That said, I have a few FPS which are much more fun to play and replay. The modes: there is a "mirror" mode, but since it was locked in the demo, I'll never know what it is or does. As for the challenge, I haven't seen much of it. Finally: the graphics are okay, there is no voice-over, no music, no originality save in a couple of minigames and several gadgets in the scenes that serve no purpose at all. I understand this Hidden in Time 2, with its 12 long Chapters, may satisfy Hidden Objects fans and pipeline lovers, even though far better games are now plentiful at BFG's, but, on me, it simply had the opposite effect and I exited the demo after 40 minutes.
December 20, 2011
Take a stroll down Looking Glass Lane and become Hidden in Time
This game was a good afternoon waster. I enjoyed the hidden object scenes (there were more H.O.S then puzzles) and the storyline. Graphics were alright and I loved the background music. It was mostly subtle throughout the whole game. So, if you are mostly into H.O.S. then this game is for you. Enjoy!
January 14, 2012
Cans of Fun!
I really enjoyed this game because it was more than just a hidden object search. The only aspect I wasn't into was the side game of connecting the railroad tracks to form a complete circuit. *shrug* Either way, I loved the story line and found the graphics detailed and of excellent quality.
November 29, 2011
MOSTLY HIDDEN OBJECT SCENES
This game is made of 95% hidden object scenes and 5% of mini-puzzles and to be honest, I liked the mini-puzzles more than the rest of the game. A year or so ago, I probably would've been thrilled with this game as I'd never played games before then but now, I guess I've outgrown straight hidden object games and am more into hidden object/adventure games now. I STRONGLY feel that this game would be perfect for a beginning gamer as it does alot for you and you basically just "follow the arrows" and go from scene to scene with very little thinking or effort involved. BTW, don't forget to shoot the tins and find the mirrors marked with question marks; the question marks are your hints, if you need to use them; I ended up with so many that I stopped counting but kept forgetting to look for all the tin cans.
February 13, 2012
It takes a certain type of player to appreciate this game
I think there are two reasons why I liked this game. First, I LOVE picking up diary papers, notes, newspapers, etc., when I'm playing a game, and I'm a sucker for a good story and a journal packed full of information. And this game has plenty of notes scattered around to pick up which adds to the storyline. Second, I love having to look really hard to find a hidden object and this game has plenty of that. Many objects are very well hidden and many are very tiny, which make them hard to find. For me, this makes the game more entertaining and the game-play much longer. So this is a perfect game for someone that doesn't mind small objects, doesn't mind taking their time, and loves looking at notes and newspaper clippings, as well as the journal. Aside from that, the graphics are so-so. It could be due to my wide-screen that they appeared a bit grainy and stretched. And you do revisit a lot of the same locations. There is not a lot of adventure to this one, but one thing it is NOT lacking is a comprehensive story. If you cannot stand small objects and hate reading journal entries, then you'll probably want to pass on this one. Otherwise, I recommend giving it a try. For a pretty straight-forward HOS, it's done quite well, and there is plenty of humor involved.
March 10, 2012
Hand-Holding to the Max
I don't remember why I bought this without playing it first; a decent sale or a credit about to run out, maybe. Either way, I regret it. This would be the perfect game for a raw beginner or someone who wants to be babysat, because there is no strategy involved whatsoever. The game takes you by your little hand and leads you through it. You go where it says to go, and do what it says to do. There is no exploration allowed and no thinking needed. The mini games are all exactly the same: connect train tracks together by rotating curved areas of the track. Ho-hum. There's a journal with the plot and notes, but it was fairly useless and boring. Useless because you don't need it for strategy; boring because it lays out a rather ridiculous story and there's an excessive amount of documentation that you pick up all over the place. I stopped even looking at it after awhile. An example of how ridiculous the storyline is: There's a train wreck, and all the passengers go missing. So the authorities decide the best possible course of action is to...shut down the entire town near the wreck! So no one is allowed to be in town anymore! Yes! That makes PERFECT sense, right?! There are many, many, MANY hidden object scenes, which to someone who loves them would be good news. Except the objects are, for the most part, extreeeeeeeemely tiny and/or mostly hidden behind other objects. I played on a 17" laptop, and most of the objects were no more than a few centimeters wide. Had to use the hint quite a lot, at which time I'd often think, "Oh, so THAT'S what that was supposed to be." I only played about two hours (hoping it would get better), but so far there have been only a few different scenes to explore, most of them three or four times. Not that you're actually "exploring," since you are given no choice where to go next. All in all, one of the more disappointing games I've ever played.
January 29, 2012
Shoddy quality
I had Mirror Mirror on my iPad and wasn't overly impressed. Hoping they had either upped the quality or they had limited experience with iPad graphics, I tried the demo of this game on my computer. Again, I was unimpressed, and couldn't even finish the 60-minute demo. The plot seems OK but most objects are way too "clear" and completely stick out from the scenery. I was able to click on items without looking at the item list, just based on guessing that an item that stuck out like a sore thumb would probably come up. Not fun at all! If you're looking for a great quality game, try the Drawn series or the Mystery Case Files series and skip this one. It's definitely not worth your money or your time.
November 19, 2011
Good, engaging storyline
This was an intriguing time travel mystery story which held my interest and I actually cared about helping the protagonist get her time machine working again to save her granddaughter and all the other train passengers. It is a ghost story, but not frightening or spooky. Perfect for moms and daughters to play together. I give it 4.5 stars. THINGS I LIKED: Find and shoot the tin can in every HO scene. Find the mirror to gain extra hints. Solving puzzles without skipping also gains you extra hints. I appreciated the well-thought out adventure and how it all comes together (even if it was far-fetched!). The story has a logical flow as you move around town accomplishing your tasks. You do not have freedom to explore wherever you wish, but you do enter every building and room in town sequentially, as it is appropriate to your quest. Some places you do revisit. The graphics are nicely done: pretty scenery in a ghost town setting. I also appreciated the good use of spelling and grammar when reading dialog, notes, and journal pages. So refreshing! I did not find the objects in the HOSs tiny or overly hard to find. They are easily recognizable and I never got frustrated. In fact, I only had to use 2 or 3 hints in the entire game to find objects. But I tend to be very patient and don't like to rush through my games. The HO scenes are interactive---some items are completely hidden under or behind other things, so you may need a tool to uncover them, but the cursor changes shape and makes a faint click noise as you run it over those objects, so it helps you find them. You can also use your hints if needed. If you unlock the "Mirror-Mirror" gameplay at the end, all it does is replay the exact same game all over again, only everything is facing the other way, as if you held a mirror up to your screen and saw the scene and house from that perspective. I assume this should probably add to replay value. Otherwise, all game play remains the same. THINGS NOT LIKED: If I had anything bad to say about this game at all, it would be the many HO scenes. For those who love them, you are in luck. Regardless of their number, the HOSs and mini-games were fun and not overtaxing...no penalties and lots of hints, so I still found them enjoyable. A satisfying game overall.
April 3, 2012
Entertaining
Really a fine game, fun story and fine locations
November 19, 2011
hidden in time: looking - glass lane
excellent challanqage, i'm a hidden game freek and this is the best game barring none
December 12, 2011
The Apple logo is a trademark of Apple Computer, Inc.