Gravely Silent: House of Deadlock
Save your sister from the grave! After receiving a troubling phone call from your brother-in-law, you're off on an adventure! Investigate the troubling scene and discover the truth in Gravely Silent: House of Deadlock. Scour gorgeous Hidden Object scenes for valuable clues and unravel the mystery behind your sister's disappearance.
Amazing gameplay
Fantastic graphics
For a more in depth experience, check out the Collector's Edition
Game System Requirements:
OS:

Windows XP/Vista/8

CPU:

800 Mhz

RAM:

512 MB

DirectX:

9.0

Hard Drive:

284 MB
Game Manager System Requirements:
Browser:

Internet Explorer 7 or later
Blood and Gore
Violent References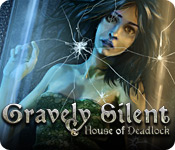 NEW299
The Big Fish Guarantee:
Quality tested and virus free.
No ads, no adware, no spyware.

Reviews at a Glance

Gravely Silent: House of Deadlock
0
out of
5 (
0
Reviews
Review
)
Customer Reviews
Gravely Silent: House of Deadlock
86
86
Interesting and challenging game!
The story reminds me a bit of bluebeard, but with a twist. I played in challenge mode, so hints take longer to charge. - The graphics are a bit grainy and some of the objects in the HOS are quite hard to find. That disturbed me the most in the game. - The puzzles are quite easy. - There is no journal, just a task list. You can have either the whole task list or only the tasks for the location where you are. - There is no map, and it's sometimes difficult to remember where you have to go. - There are not too many dialogs, which is good. The game length is good; it took me 3 1/2 hours to finish. All in all, if you don't mind the graphics, a game with many things to do!
August 1, 2012
Some annoyances, but fun anyway
The graphics are pretty, and the story was ok. The ending, I felt, was abrupt. It really annoyed me that it would ask for something in the H0 scenes, for example a bug, and there would be 5 bugs in the scene, but they don't say which one! Then they penalize you for over clicking. Sigh. Some of the mini-games were a lot of fun, so I enjoyed it.
December 22, 2011
Just not for me
I just could not get into this one. Did not seem to hard. I do not like it when the hint button just says nothing here. This would be a good 1/2 price game.
November 22, 2012
A pretty good game, but with some negative factors
When I first started playing this game, I thought I would really enjoy it, as it seemed to have all of the elements that I like: a good storyline, some challenging mini-games, and ornate landscapes. However, my patience started flagging halfway through the game. For one thing, there were too many hidden object puzzles and not enough brain teasers. It seemed that finishing a hidden object screen and moving on to the next area just took me to another hidden object game. Another problem with the hidden object challenges is that the graphics, while colorful and imaginative, were not sharp. That made some of the hidden object challenges very difficult as it was next to impossible to see many of the objects without hints. Being a spooky game, most of these scenes were dark and some of the objects occurred in areas that were just too dark to see (I didn't want to adjust the gamma setting of my screen, as it is perfect for all of my other programs). The music was just plain monotonous as the same theme just kept playing in every scene. And finally, the ending was one of those abrupt finishes that leave you saying, "That's it?".
April 24, 2012
Gravely dull
I really wanted to like this. It started well, but finished quite abruptly. As usual the ordinary edition had nothing in terms of extras and so the gaming experience was ultimately unsatisfactory and i didnt feel like id achieved anything at the end of it. PLUS:-Task list easily accessible on screen with a 'to do' list which came in handy (and was room specific so you didnt get lost.) Nice graphics, especially the rings, keys and statues, fast hint recharge, basic but interesting storyline with individual characters. MINUS:- No map. some hidden objects were impossible to find.....either hidden right at the bottom of the screen or under water and invisible, the matching pairs games was a bit dull, story felt like it was dragging towards the end, the puzzles werent very inventive. Could have been so much better......for me the game ultimately is not replayable. Pity as it had started well. What a shame.
April 8, 2012
Disappointed
I had high hopes for this game after the other excellent reviews but I found it irritating and tedious. It is a good length so there is value for money in that. However I found the story uninteresting, the Ho's dark and cluttered, the to and fro annoying and some of the solutions to the use of inventory items weird. I do not want to do a spoiler but the use of the strawberries had me scratching my head!! Looking for a 'dark mark' as an HO in a scene that was dark anyway had me irritated. And as for the ending ....... well words fail me. Three stars for the length of it but I will not be rushing to play this one again
January 12, 2012
OK game, but....
This is a fairly long game with an interesting story. The hint system only tells one what, if anything, to do on that scene, not what else to consider. There isn't a map, but the running back-and-forth is fairly minimal. The VO is written text only. I would have rated the game higher except for the very poor HOS. Get your magnifying glass out and make sure you aren't color blind. This is probably one of the worst set of HOS I have seen. If you can put up with this, I recommend the game.
May 21, 2012
Much More Than It Seems
GAME COMPLETED MANY TIMES I own another game (Bluebeard?s Castle) with an almost identical story ? sister marries charming husband who fails to mention his previous wives, and then she dies/disappears under mysterious circumstances. In both games, to save your sister you must set the spirits of his previous wives/victims free. They are both good stories, but the similarity ends there. This game is a simple and straightforward HO ADVENTURE. The PUZZLES are FAMILIAR & FEW. I skipped a couple, but only one struck me as actually difficult. Likewise, the story moves the ADVENTURE along SIMPLE LOGICAL lines, rarely detouring from the obvious. The HO games are INTERESTING & VARIED. There are mildly INTERACTIVE LISTS, MULTIPLES & FIND PAIRS. Sometimes in combination. You will redo some of those HO SCENES a second time using a different type of search. The game is NOT overly LONG. There is NO MAP, NO real HELP from HINT, NO JOURNAL. And of course, in a game this simple, NO COLLECTIBLES OR ACHIEVEMENTS. What turns this game into an unexpected LITTLE GEM is the ARTWORK. Using colour, symbolism and humour, the artists create a SURREAL NETHERWORLD in which each of the wives is trapped until you free her. They are a DELIGHT to the MIND as well as the EYE, even though not the best GRAPHICS I?ve seen. As well, the MUSIC is wonderful, and worthy of an ear, just for itself. I won?t pretend that this game is the best I?ve played ? it?s not. But it is RELAXING, ENTERTAINING, and just DIFFERENT enough to make it INTERESTING.
June 10, 2013
It was ... OK.
I got this game because I like dark, spooky games. Well, this game wasn't as spooky as I had hoped. The game is somewhat linear; there's very little backtracking. The visuals were wonderfully done. The music was great, although at times it reminded me of the theme music from the TV show "Dexter." The storyline was unique and I liked that I had to solve several murders in order to rescue my sister from death. However, the hidden object scenes were basically junk piles and many of the items were difficult to find. You would visit each HOS at least twice. Some were easy while others had items that were too small or not readily visible. There were several times where I had to use a hint. The mini games were not exceptionally challenging, but they weren't extremely easy either. They were simple enough to figure out, which was good because the HELP button wasn't readily available in Expert Mode. You had to let it fill up just the same as the SKIP button. The game is of a decent length, but the ending is a little disappointing, but somewhat interesting at the same time. While you do get to find the culprit, you don't really get to interact with him at all. Overall, I would recommend the game, but not to beginners. While the storyline is enough to keep you interested in playing, the HOS are difficult enough to turn you away at times.
November 30, 2012
Some good some bad . . .
I thought the game played well in some sections, but some of the HO games were absurd, with completely hidden objects or objects so tiny you wouldn't associate them with the searched for object, example a rubric's cube not much bigger than a pea w/ only three colored sides to identify it? Many of the puzzles were OK, but no explanation as how they were to be played, I had the walkthrough up the entire game to figure out what I was to do in the puzzles, and finally a lot of unrelated looking for the step in the game with no hints as to where the step would appear in the maze of rooms. Sadly I wouldn't recommend this game:( It came so close to being very good.
May 22, 2012
The Apple logo is a trademark of Apple Computer, Inc.