Gravely Silent: House of Deadlock
Save your sister from the grave! After receiving a troubling phone call from your brother-in-law, you're off on an adventure! Investigate the troubling scene and discover the truth in Gravely Silent: House of Deadlock. Scour gorgeous Hidden Object scenes for valuable clues and unravel the mystery behind your sister's disappearance.
Amazing gameplay
Fantastic graphics
For a more in depth experience, check out the Collector's Edition
Game System Requirements:
OS:

Windows XP/Vista/8

CPU:

800 Mhz

RAM:

512 MB

DirectX:

9.0

Hard Drive:

284 MB
Game Manager System Requirements:
Browser:

Internet Explorer 7 or later
Blood and Gore
Violent References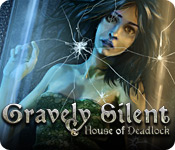 NEW299
The Big Fish Guarantee:
Quality tested and virus free.
No ads, no adware, no spyware.

Reviews at a Glance

Gravely Silent: House of Deadlock
0
out of
5 (
0
Reviews
Review
)
Customer Reviews
Gravely Silent: House of Deadlock
85
85
afternoon frog
Not the best game I have played .But passed a rainy afternoon enjoyably . Disappointed with abrupt ending .
May 20, 2012
Yes, but no, but yes, but!
My first review It was a really good long game, the side puzzles were enjoyable but for me it was ruined by searching for tiny tiny objects I would've enjoyed this game more had the HO not been so minute, i found that really annoying and hope that in future they take on board that there's a difference between challenging and down right frustrating and even with the hint i struggled at times I would recommend this game only if you don't mind sitting for ages trying to find tiny objects I don't play with the music on so i can't comment on that
April 3, 2012
If you do not like games then this isn't the game you want to buy!
Almost everytime you turn around there is another game to be played. If you like that sort of thing, then you will love this game, if not you will find like me it gets old really fast and puts a drag on the game.
June 19, 2012
Not without a Strategy Guide!
Your hint provides you with this, "There's nothing to do here now. Try exploring another scene. So you run around trying to find something you might have missed. Takes the fun out of the game for me. Lots of match items and find like ten pieces of mirror vs. hidden objects. If I had purchased the collector's version, I might have a different opinion, but I like hints that actually move me forward. If you want to spend a lot of time looking for the next step, you might enjoy this, but I've learned to read the reviews...worse ones first instead of all the great ones that sometimes don't seem to match the game play!
July 22, 2014
everything is great except the HO's
I enjoyed the searching around areas for items and all the non HO puzzles but the HO puzzles had way to many objects that were impossible to see. They were either way to small, hidden in dark spots, or in really glaring light spots in a couple places or they didn't have enough of the item visible to recognize. Plus the description was way to vague. One screen I was looking for a star, there were 2 stars clearly visible (plus the sun which is a star) but nope, it ended up being an 8 sided star, more of a spike. another scene wanted 7x candies but evidently the candy cane isn't a candy, another one wanted nuts but the pistachios didn't count. Same with bugs, voodoo dolls and many other items. Also some things you find are the right ones but you have to click on them 5 times for it to accept. This is UNACCEPTABLE , I could go well over 4 stars for everything else but the annoying HO's bring it down to below 3 stars. I'm being generous on my rating. Also, the music gets a bit tedious after a while. need more ambient sounds.
August 16, 2013
Not Quite
When I first started playing this game, I thought I would really like it as it had all the elements of a good game. However, by the middle of the demo, I couldn't wait until the demo ended. It seemed that as soon as I finished one cluttered, dark, miniscule HOS, another popped up. And then another. And then another which I needed to use a flashlight for. There is a misclick penalty which made it worse. The inclusion of that many HOS took away from the entire purpose of what I was supposed to be doing in the game and I totally forgot the storyline.
March 25, 2013
Good game, though not outstanding
A variation on Bluebeard story, without much value added to the storyline. Graphics are good, music too, games and hidden objects scenes are okay. Actually, this game is not bad at all, but there is nothing quite surprising to make it stand out from other games of the genre.
October 21, 2012
good long game
This game was longer than usual. The story line was good, spooky without being too scary. The ending was quick but I had fair warning, and the main part of the game was enjoyable. There were a ton of new locations to explore, interesting puzzles and most of the HO scenes took some time and effort. My major gripe was with the misclick penalty for HO scenes, I've never seen one so quick! If I want to click around, let me click around! Especially since the HO were difficult and some items were nearly impossible to find. On the positive side I liked the clever use of the flashlight, and the missing items weren't placed back into the scene. Graphics were typical, and the task list was very helpful. I wasn't a fan of the "netherworlds" since they were so nonsensical, I'm more of a fan of logic and reason. But overall I liked the game and it held my interest.
July 1, 2012
Wanted to tear my hair out by the end
The storyline in this game was excellent and intriguing, which is what made me keep playing. However, by the end, I just wanted to be done! My problems with this game were: 1) Way too many hidden object scenes, and toward the end, you had to find multiples of at least of third of the items. It felt like a lot of filler. 2) A lot of very tiny objects, mostly hidden objects (as in they're tucked away behind other objects and unidentifiable in hidden object scenes), and a lot of overly camouflaged items. 3) The first half of the game was way better developed than the second half of the game 4) Many of the puzzles were just plain tedious, and, like the hidden object scenes, felt like filler. By the end of the game, I was using the hint button, walking away and doing other things, then coming back to use the hint button again, just because I was so sick of the hidden object scenes. I also skipped a lot of puzzles because I just wanted the story to reach its culmination, not rotate another set of objects into the correct slots. Granted, I'm not the biggest straight hog fan, so take this review with a grain of salt. Also, while it is not a straight hog, there wasn't a single area that didn't have one, if not more, hidden object scenes.
April 7, 2012
There are many other games on Big Fish better than this one
Not awful, but not good either. Even in advanced mode, sparkle indicators are plentiful. Puzzles/mini games are so easy that they are not really puzzles ? more like boring reorganizing exercises. And now for the hidden object scenes: (1) images are poorly illustrated and somewhat washed out, (2) interactive objects (using one object to reveal or create the one you need) are not reasonable or clever or logical, and (3) when you finally give up and use the hint, you see that the object was so buried or dark or unrecognizable that you never would have found it on your own. Overall, the game is playable, but there are so many better games out there that this one is not worthwhile.
June 22, 2012
The Apple logo is a trademark of Apple Computer, Inc.