Bistro Boulevard
Turn one modest diner into a promenade of five-star restaurants! Hire staff, pick the menu, and decorate your restaurant to impress your customers. Experiment with ingredients to discover new recipes. Upgrade your kitchen with high-end equipment to cook fancy recipes and speed up your service. Personalize your dining room with hundreds of decorations. It's all you to up in Bistro Boulevard, a fun Time Management game!
Fast-paced gameplay
Unique upgrades
Build your own restaurant!
Game System Requirements:
OS:

10.5

CPU:

1.0 GHz (INTEL ONLY)

RAM:

1024 MB

Hard Drive:

110 MB
Game Manager System Requirements:
Browser:

Safari 4.0 or later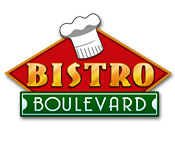 NEW299
The Big Fish Guarantee:
Quality tested and virus free.
No ads, no adware, no spyware.

Reviews at a Glance

Bistro Boulevard
0
out of
5 (
0
Reviews
Review
)
Customer Reviews
good quality
the quality is good but not great
February 15, 2014
You get to sweat bullets.
I love this type of game. Similar to TM, but with no time pressure. Yes, there is a timed section, where you have to seat people when they show up, but the problem is not your speed, but whether there is a table. You can buy tables, of course, but you need money, and not only that, tehre is no point in seating them if they are going to walk out before eating. The beginnings are always hairy. You only have one cook, who knows only one recipe, and not too well. One waiter, who is not the best, slow cooking equipment,and sometimes some equipment is missing. You have to earn the money to rectify all this, to let your cook learn new recipes, to train him or the waiters so get new cooks, to get faster kitchen equipment, to get more tables. Well, no matter how you spend your money,the first days will be disastrous, you will lose more customers than you keep, half of what the customers want you do not have, the cooking is slow, the customers are impatient and more than wllling to walk out. You can hire more cooks, but they still have slow equipment, and the more people you hre, the more salaries you have to pay. You have to strategize then, Do you seat large parties, which birng you more money, or small ones that get served faster, and thus do not walk out? when seating, pick the people at the back of thequeue, because they are not getting impatinet yet. Sitting someone already losing patience might meant their walking out angrily. At some time you might run out of money. This is when your kidnly aunt gives you $500.00 to keep on going. Spend it wisely. Then you finally learn the final recipe. You can give custmers what they want, and you can use the money to improve the speed, by hiring more cooks, or getting faster equipment. Still, you will lose customers Start planning for decoration, and for training your staff. If you add tables, add waiters too. And before you know it, after sveral disappointing days, you start acheiving stars. Decorating is a lot of fun. There are some things that you need to get, and be careful with floor decorations (and tables). You may put them in the way, and wll have to be moved so that people can go through. I confess that I made a mess out of the decoration. I gave a chinese restaurant a Mexican floor, for example. But still, it is very pretty (this develper has good aesthetic sense). And then you get to have a Perfect Day, wehre everything works just fine... It is a great game, with a lot of fun.
November 19, 2013
Love This Game
Wow this game was great and i am so going to by it!
September 16, 2012
needs getting used to, but brilliant thereafter
After I finished the 60min Try out I was very confused and not hooked at all. This game is different than other games and I was not sure how much I would really like it. Towards the end of the 60min I kind of understood how to play it and I enjoyed it more than in the beginning, but nevertheless I kept waiting 1-2 months before I actually bought it. I used either a game credit or special sale price, I don't remember. Today I gave it the second shot, and played the game for the first time after I had bought the game recently. And now I am loving it, I think it's brilliant! It is not really a time management game, but rather a strategic game. You can take as much time as you want for setting up all conditions, and once you start the game all you have to do is to seat the arriving guests and everything is out of your control, but the game outcome depends on the parameters you have chosen before the start of the game. The challenge is that you have limited money in the beginning and need to decide wisely where to spend it, you need to buy recipies and special ingredients, hire waiters and cooks, train them to cook better or wait faster, buy kitchen equipment, guest tables and chairs and decoration material of all kinds. I love to decorate the restaurants, floor and wall paper are for free and you have a wide selection of decorated tables and chairs. The decorations are fun and you can choose between flowers, statues, pictures and other standing or hanging objects to give your restaurant a special look. The more decorations you have the more happy and patient are your customers. For the recipies you need to guess what ingredients it contains which is a fun game. The food falls in different categories and the cooks can be trained in those individual categories. The better they are trained the better they will cook and the more satisfied the guests will be and the more money you will earn. If you earn more money you can invest more and succeed faster. Since you are limited with money in the beginning you can not train the cooks in every category and you have to choose and then select which cook will do the best to cook a specific recipy. The customers have special food requests and according to those you can choose max 4 recipies (if you have 4 cooks available). If you have more expensive kitchen equipment your cooks will prepare the food faster and the customers don't have to wait so long. If the food takes a long time until served because the cooks are too slow the guests get impatient, but also they are occupying the tables for longer and you can't seat new arriving guests. I have just completed 2 levels so far but can't wait to play the others, this is one of my favourite games now, who would have thought after such a rough start in the beginning.
June 2, 2012
fun
this game was great, hooked me for hours
May 30, 2012
Bistro Boulevard
Great game! I highly recommend it to everyone who likes to build his/her own restaurant and be in favor of other people :)
May 25, 2012
Unique gameplay
The type of game this is most similar to is a Tycoon game; however, the gameplay is unique. Every day, you set up the day and add a bit more to the restaurant you're playing (of which there are six types). You learn recipes, you choose which things you'll cook each day, you train your chefs and wait staff, and you decorate. Once all this is complete, you start the day and watch your staff work The most unique part is the interaction during the day, which is more than any tycoon game I've played: You have to seat your customers, which means you need to squeeze all the tables you can into the restaurant during the setup phase (which can be challenging) and make sure you don't get distracted, as your clients will get frustrated at waiting. All of this leads to how many stars your restaurant has - You start with zero and can get up to five. I'm enjoying playing the game. It's a bit more relaxed of a pace than I am used to, so the challenge-level isn't so bad. If you do poorly, then nothing really happens ... you just go into your next day. The layout of the restaurants is a bit frustrating, as there isn't much space and I feel like I'm putting a jigsaw puzzle together. But it's fun learning new recipes, setting up the menu, and seeing my staff get better at running the restaurant.
November 29, 2011
Good but not great
I like this game, even if it is rather easy. It has a way of capturing the player that I really like. You're building a restaurant. Needing to hire and skill up chefs and waiters. Desiding how the restaurant should look like and have a variaty of wallpapers, flooring and decorations to do so. As well as discovering receipes and having to build better kitchen. I'd wish for more levels, or at least a chance to choose beginner/expert. And more than that I wish for a bistro boulevard 2!
November 22, 2011
DIfferent type of gameplay.
This game is not extremely challenging, but the gameplay is unique enough to keep my interest for the entire game. It has some potential for repeat gameplay, but i did not find it challenging enough the second time around to play for very long.
November 27, 2011
Enjoyable Way to Spend an Afternoon
I'm sure I'm late to this party. This game feels older, which has a few drawbacks, but all in all, it's fairly timeless. On the upside, unlike other time management games, this one only has you seat the guests in the restaurant. The staff does the rest, and if you've trained them properly (ie: spent enough money on them), they do the job quite well. I like it this way better...none of the ENDLESS point and click, point and click! Great! On the downside, as I mentioned, this game feels older. The graphics aren't "all that", and I hate that I can't see the entire restaurant at once, I have to pan around, which drives me nuts. But, I still played it all the way through, and enjoyed it a lot.
March 1, 2012
The Apple logo is a trademark of Apple Computer, Inc.
The Windows logo is a trademark of Microsoft, Inc.