Shadow Wolf Mysteries: Curse of the Full Moon
Exclusive
Called into a small city from the capitol, you have been put in charge of solving a string of mysterious murders! Around the same time as the murders, a wolf has been appearing around town and spooking the townsfolk. With rumors of a werewolf swirling, it's up to you to get to the bottom of the mystery and set the record straight in Shadow Wolf Mysteries: Curse of the Full Moon!
Game System Requirements:
OS:

10.4

CPU:

1.0 GHz (INTEL ONLY)

RAM:

512 MB

Hard Drive:

506 MB
Game Manager System Requirements:
Browser:

Safari 4.0 or later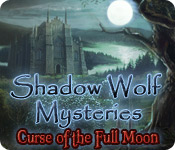 NEW299
The Big Fish Guarantee:
Quality tested and virus free.
No ads, no adware, no spyware.

Reviews at a Glance

Shadow Wolf Mysteries: Curse of the Full Moon
0
out of
5 (
0
Reviews
Review
)
Customer Reviews
Shadow Wolf Mysteries: Curse of the Full Moon
61
61
Curse of the Abrupt Ending
This is a good game that falls short of being great and it is a shame because of all the things it does so well. Before I begin grumbling, let me be clear, I fully intend to continue supporting this series and look forward to playing the sequel! The graphics are terrific, but some of the beautiful scenes are barely used. You go in, get what you need and get out. Fortunately this is not always the case. There is quite a bit of traveling between locations but I found it pretty easy to navigate and I am directionally challenged. Most of the puzzles and tasks make perfect sense within the context of the story but a few seem unnecessarily complicated. I resorted to a walkthrough at one point and was still left scratching my head. I appreciated the voice acting but how did Scarlett O'Hara wind up in jolly old England? The biggest disappointment for me was the final scene is gone in a flash. Hey! All that drama leading up to the big moment and suddenly the credits are rolling. For shame. Even standard editions should come to a satisfying conclusion. I will give the next game in the series a try. I just hope it will not become the bane of my existence.
January 20, 2012
It is one of my favorite game
I really love the storyline of this game, the hidden objects scene is great, not that easy, you need check carefully for them. The end is a little hasty, and the background music is fantastic, I would have bought the CE.
January 1, 2012
SHADOW WOLF MYSTERIES;CURSE OF THE FULL MOON
EXCELLANT GAME LOVED EVERYTHING ABOUT IT I JUST PLAYED THE DEMO BUT I PLAN ON BUYING THE FULL VERSON ITS WORTH THEMONEY YOU PAY FOR IT. I REALLY ENJOYED IT ESPECIALLY THE WOLVES. HOPE YOU MAKE MORE OF THESE KIND OF GAMES THEY ARE VERY ENJOYABLE AND FUN. ITS VERY EASY TO PLAY I HARDLY USED THE HINTS AND IM NOT AN EXPERT AT ALL. I WOULD DEFFENTLY RECCOMEND THIS GAME TO EVERYONE.
March 20, 2012
Chase the wolf through a great game
A well done and interesting game, worth the purchase for a howling good time!
December 29, 2011
Fun & Good Graphics
Considering this was not a "Collectors' Edition", I was amazed at how enjoyable this game was. It didn't feel as though it was shorted on anything.
February 26, 2013
Amazing hidden object game
This game really does work your brain and help with memorization.
December 13, 2012
It could have been just a wee bit better.
I really wanted to give this game 3.5 stars but since it isn't possible, I bumped it to 4 since it isn't bad enough to warrant only 3. However, the game played very slow on my computer. I expected more from the developers of this game since the later games in this series run much better for me. Even an old game like Dire Grove runs perfectly on my computer and that one requires much more speed, memory and hard drive space, so I can't understand why this one dragged so much. Even the forums have many complaints on the slowness of this game and no fix has been made for it as far as I can tell. I'm surprised that so many people say that this is a short game but I can only surmise that it's due to the fact that it ran so slowly on my computer so it seemed like a long game to me. Other than that, there's a lot to like about it. I loved the moody soundtrack, which was appropriate to the different settings, and the ambient sounds of the outdoors were eerie and realistic. And I absolutely loved the fact that there's no in-game hint system available other than for the hidden object scenes. This is a true adventure game like the way a real adventure game is supposed to be. Gamers today are too spoiled by the always available hint button (and I'm guilty of being spoiled too), but playing this game takes me back to the adventure games of old when there were no graphics and everything was text based. You had to use your imagination to think outside the box of where to go and what to do. This game provided that and I enjoyed it immensely. I did have to consult the walkthrough twice but most things made sense as to what to do next. The backtracking wasn't too bad because the scenes looked different enough from each other so that it was easy to remember where I needed to go next. The hidden object scenes were minimal and uncluttered, and the hint system filled quickly within them. The artwork is gorgeous and colorful, and I especially liked the animation with the characters as they talked and moved. Some people say the fortune teller's accent was terrible but I was more bothered by why the narrator's was Australian! I thought this story takes place somewhere in the UK or even the US but not Australia. Other than the slowness of the gameplay, I found the plotline to be a bit confusing. Trying to remember all the characters' names and their individual stories was difficult but maybe it was because of my frustration with the slow fading in and out of each screen that I didn't pay enough attention to the details. And I hated the audible sigh that occured constantly each time you acquired an inventory item. It is unnecessary to the game and is just annoying. The only glitches I found within the game is the journal, which provided clues to things long after I'd already found them myself. It seemed to have the pages going backwards instead of clueing me in as to where to explore next, so I found the journal to be largely unhelpful. And there were a couple HO scenes where the objects in yellow were supposed to be hidden behind something else but were out in plain view. This is a minor glitch but if it's supposed to be hidden, then hide it! The puzzles/minigames were an easy challenge, not too difficult, but many required patience which added to the game length nicely. The skip button was always there and filled quickly for those who can't wait. Like others have already mentioned, the ending just sort of comes at you like an assault and it's over. There's no climax to the story and there's not enough time for any anticipation to build up when, all of a sudden, the end scene plays out showing all the details in about 30 seconds flat. That's no way to wrap up a story like this, as different as it is for one about werewolves, but I just think it could have been fleshed out more.
December 5, 2012
Good Game, but Inconclusive - A Guy's Review
*review based on completing the full game in expert mode* At the time I'm writing this review there are three games to this series, and this was the first one released. Having all three games I wanted to play them in sequence, but found it hard to figure out which one came first. I wish Big Fish could include release dates on their game info pages, or that the developers could number them in the title. Well, let's concentrate on the game itself. You play as a detective set to investigate some disappearances of the townsfolk and rumors about a werewolf. The storyline is quite alright and is told through a narrator, characters you meet and through pages in your journal. The characters and narrator are all voiced, and the quality varies. The narrator and the prefect is done quite well, but the fortune teller is done horribly bad. The story ends abruptly and rather inconclusive and kind of ruins the satisfaction in the end. I don't know why they did this, or if there is a conclusive ending in the CE? But to end a game like this is just bad. The music is not bad, but it becomes very repetitive. Sound effects are actually not very good. I wish they had put some more time and effort into this. Luckily, game play holds the entertainment levels up. You get a good mixture of adventure, puzzles and HO scenes. The adventure elements is typical inventory play. Pick up here, use there. It of course involves a bit of back and forth moving through the locations. A few times quite the distances as well. And you have to do this without the help of any map. That is unfortunate, but to be frank, it didn't feel that I would need it that often. The puzzles has a varied mix, and though most felt rather easy, there were a couple that offered a bit of challenge (at least to me). Most puzzles I had seen similar or same ones before, but luckily for me most of them were of the kinds I like. The HO scenes too were quite typical. Clutter scenes (but not too cluttered) that had rather dark/grey areas to find items in. It might offer some eye strain for some. It is all hand drawn, but mostly not hard to identify objects. They are mildly interactive as well, and you have to visit all of them twice. There is a misclick penalty, and with very little/no aura on the items they might be hard to get sometimes. There are also a few flaws in translation, but nothing you can't figure out if you put some will into it. You can choose to play one of two difficulty levels: Regular: -Quick recharge of hint/skip -Sparkles on active zones and objects Expert: -Slow recharge of hint/skip -No sparkles except on HO scenes I played it in expert and found it rather easy, so if you are looking for some sort of challenge be sure to chose the expert mode. I found the lack of a map a minus with this game, but also the fact that there is no hint function outside the HO scenes. I did however find the journal of use, which often it isn't. Traveling through locations can be a bit clunky at times, so can interactions with certain objects. If I wasn't absolutely sure that one item had to go somewhere and had to find the exact right spot to use it, I would not have been able to get through without help from some guide or something. There are some odd flaws here and there throughout the game (like flickering in the animation every time you click continue in conversation and shaky mouth animations when characters are talking) but they are easy to ignore, and do not ruin the game. If I was to grade this game purely on game play enjoyment it would probably end up with a 4 star rating, but because of horrible ending, some horrible audio and a handful of flaws I can not give it more than 3. I'd still recommend this game to anybody who enjoys HO adventure games, especially in the beginner to intermediate stages. If you are an expert and is looking for a challenge you might have to look elsewhere, or at least try it before buying. For the guys: You seem to be playing a male detective in this one. If you are into werewolves and such, it should suit you either way. TJ
December 2, 2012
Good game, but....
This is a well-produced game with good artwork and VO. The story is pretty good and well-presented. The HO scenes are cluttered, but most are. There isn't a penalty for random clicking. The puzzles are OK. I would have given this game a higher rating if there were in-game hints. There isn't a map, either, so I was left wandering around a lot. I ended up using the blog walkthrough out of frustration. It's a good game if you don't mind this.
November 21, 2012
Great game
My favorite part was the storyline. It was great solving a murder mystery dated somewhere in the 1600's. The characters were well developed and the voice overs were well picked. The visuals were fun, brought a lot of dark atmosphere. I enjoyed the mini games; just enough complexity to be fun yet not annoying. I was surprised at the end though. Makes me want to play the rest of the series!
November 17, 2012
The Apple logo is a trademark of Apple Computer, Inc.
The Windows logo is a trademark of Microsoft, Inc.