Dream Chronicles: The Book of Water
Lyra has found her way home… only to find her town hit by a devastating storm. In search of power, the evil fairy queen of Dreams has cast a terrible curse over all of Wish. With her father gravely ill and her mother missing, Lyra must find a way to break the spell. Journey through beautifully enchanted places, solve challenging puzzles, and seek answers to save Lyra's hometown in Dream Chronicles: The Book of Water!
Game System Requirements:
OS:

Windows XP/Vista/8

CPU:

1.2 GHz

RAM:

1024 MB

DirectX:

9.0

Hard Drive:

236 MB
Game Manager System Requirements:
Browser:

Internet Explorer 7 or later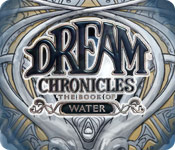 NEW299
The Big Fish Guarantee:
Quality tested and virus free.
No ads, no adware, no spyware.

Reviews at a Glance

Dream Chronicles: The Book of Water
0
out of
5 (
0
Reviews
Review
)
Customer Reviews
Dream Chronicles: The Book of Water
17
17
dream chronicles book of water
I love all the dream chronicles editions they are fantastic games and i love how they dont have hidden object sceens but you find everything as you go there needs to be more games like this LOVE IT!!!!!!!!
December 31, 2011
DEAF? I DOUBT YOU'LL BE ABLE...
I am a hard-of-hearing person and I found it very difficult to play the mini-game involving the grammaphone. It is similar to a "Simon Says" format BUT instead of the tiles lighting up and then you clicking the correct sequence, you have to click on the grammaphone and LISTEN to the sound and THEN click on the tile (1 of 6) that you think matches the sound. You have to do this 6 times BUT if you're incorrect with any 1 of the tile guesses, then all highlighted tiles lose their illumination and you've got to start over again. In addition to that, the grammaphone will play a DIFFERENT sequence of sounds which means that you'll not be able to remember what you clicked on before as the sounds are randomly chosen by the grammaphone each and every time you play this mini-game. It took me 8 attempts before I was able to accomplish this feat and move on with the game. Personally, I LOVED this game because I was able to follow the story (with written comments from the narrator),and when I got stuck, I was able to click the "text" question mark and it informed me as to what I needed to do and if I was STILL stuck, I was able to peruse the walkthrough for this game -- which is not listed here on the BigFish website; don't know why not. Though I've purchased the other Dream Chronicles games, I've not yet started nor finished any of them so I'm unable to compare them to this one but for me, this game had just the right amount of difficulty without my getting hysterical over AND without my having to race to the aforementioned walkthrough to ascertain what to do or where to go next every few minutes.
January 24, 2012
I like the storyline
I really enjoyed the book of air and water. This game wasn't very hard that is true - but the rope puzzle was fabulous, and I guess the few good puzzles (was the walnuts in the air book) and the storyline will keep me playing the rest of the series. The toy shop was alot of fun. So ignore the speaker telling you exactly where to go and when and just enjoy playing the puzzles.
February 26, 2012
Needs more substance
Like others here, I have to agree that this game was too short. I love the first few Dream Chronicles games, but this one seemed like an afterthought. It even recycles several locations from previous games. Maybe it should have been combined with another DC game! The puzzles were okay and the visuals are as beautiful as ever, but there just wasn't enough here to make it worthwhile.
April 23, 2012
It was just ok
The first few games in this series were so good, that it's just hard to play a sub par one. Still pretty graphics, but the charm is missing.
January 21, 2012
End of series
So I just found out the maker of the games PlayFirst has decided to end the series with Dream Chronicles: The Book of Water even though at the end of the game it says it will go on with the book of fire. They want to focuse more on mobile/tablet games. The reason why this one is less cool compared to the others is because they backed out mid way through this game and the other company Kat(something) had to finish it by themselves. Very upset. Trying to email them but can't seem to find a email spot on their page.
October 31, 2012
What happened with Dream Chronicles?
I was a big fan of Dream Chronicles and I own all of them but because I have so many games and so little time to play I just finished playing the Book of Water released in 2011. I have to wait patiently for this game turn in my list by date of purchase to play it but I got so disappointed with it! The story line, the graphics, the repetition of some graphics or pictures of previous games, everything was wrong with this version. It seems that the next one will be "Dream Chronicles: The Book of Fire" since the mother didn't return home and in the character vision she is in a volcano. PLEASE developers. Go back to the standards of the first two Dream Chronicles games released. The Book series are weak!
July 16, 2012
Sigh.... disappointing - especially for this series....
I've played all the Dream Chronicles games up to now, but this latest in the series was very disappointing.... WAY too easy, too short, too little substance.... just an average game in a series that, up to now, has been exceptional. I really enjoyed the games up to and including Book of Air.... I sure hope the developers take note of all the comments here and put the cleverness and detail and fun and length of play back into the Book of Fire that are sorely missing in Book of Water... I really wish they'd go back to the formula that worked so well in the very first Dream Chronicles - subtle, clever clues but no hint button... or at least, as in Book of Air, offer the no hints version in a "challenge" option... This was just a waste of my money unfortunately.... If the games get back to their former excellence level, I'll be glad I got it just to continue the story line, but still.... sigh....
June 22, 2012
Again I was kind of disappointed
Another very short instalment in the Dream Chronicles series. I was disappointed with Book of Air, and Book of Water was again short and quite simple. The dream pieces were very easy to find and once you've filled your spells, the pieces just add to your final score. The puzzles weren't very difficult. I believe that the developers really should've released these 2 games as one - having played the first 2 games, and found them exciting and challenging, I purchased Book of Air and Book of Water without even trying the demos. I truly believe that the developers better lift their game, or any future releases will again be a disappointment, and they will lose their followers.
April 13, 2013
NOT REALLY A DREAM GAME
There are only few things to do in each scene and too much speaches between each action. Not enough funny for me...
November 18, 2011
The Apple logo is a trademark of Apple Computer, Inc.