Insaniquarium! Deluxe
This action puzzle adventure will have you buy fish, upgrade your weapons, and unlock secret pets as you explore this captivating underwater world. Spectacular 3D graphics, rousing sound effects, an original score, and ruthless alien beasts make this a can't-miss game!
Four game types to choose from.
Create your own aquarium screensaver.
Name your own fish in a custom tank.
Game System Requirements:
OS:

Windows 2000/XP/VISTA/7/8

CPU:

600MHz or faster Processor

RAM:

128 MB
Game Manager System Requirements:
Browser:

Internet Explorer 7 or later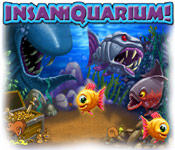 NEW299
The Big Fish Guarantee:
Quality tested and virus free.
No ads, no adware, no spyware.

Reviews at a Glance

Insaniquarium! Deluxe
0
out of
5 (
0
Reviews
Review
)
Customer Reviews
Insaniquarium! Deluxe
35
35
Insaniquarium still satisfies!
I am so excited to find this game again! I had Insaniquarium and my daughter and I played the heck out of it, until my computer crashed and I lost the game. That was many years ago and we had forgotten all about it until stumbling on it again here! The graphics are a bit dated, but the gameplay is still amazing! There are 4 different gameplay modes: You will progress through many levels in Adventure Mode, unlocking tank helpers and battling baddies all along the way. There are also Time Trial and Challenge Modes where you can earn extra cash to use in the fourth mode - your own VIRTUAL TANK!! You can interact with your fish here as well as name them!! I am so enjoying this trip down memory lane, playing a game that still stands up to some high standards!
August 14, 2012
Timeless Classic
It's old. It's an arcade game, it's a time management game, it's just a pile of fun. You can play for hours or for a little bit whenever you feel like it. The bulk of all of the games is to feed your fish, keep them alive, and fight off aggressors. But there is so much more to it. The game has 3 main modes: - Adventure Mode: This is the main game. There are four sets of tanks, each with a different set of fish and aggressors ("aliens"). After each level, you gain a new special fish ("pets") that you can bring with you into the tank. You are limited to 3 pets, and each one has a different skill to help you. For example, one slows things that drop, some pick up things for you, some are aggressive towards aliens, and more. Each tank in the set is harder than the last, and at the end there is a mini-game to help you get more coins. - Time Trial: Once you have you completed a set of tanks you can go back into the tank and try to get as many coins as possible in a set amount of time. There are extra upgrades available! - Challenge: After completing the Adventure game, you can enter each of the tanks and, while trying to reach a goal, get thrown harder and harder aliens. There is also the Virtual Tank. You can buy various fish in a store (with all the coins you get from playing) and feed them, or just enjoy them. You get to take up to 3 pets with you there, too. You can buy other upgrades for your tank, as time and money goes along, including "aliens" (they don't kill your fish) and expensive specialty fish, some of which are rare. The fish in the store change daily, and after you buy them you get to name them yourself (except for the rare ones, they usually come with names). There's some skill involved with the games, and some luck, and some strategy. It's always a little different, and it is something you just don't get tired of. That's how it's still selling after all these years. If you haven't yet, give it a try.
August 10, 2012
Great Game!!
This is a great game! Children and adults a like would love to play!! The fish are cute and fun. The graphics and sounds are amazing and some of them are really relaxing. The bosses put a challenge to everything, and the power ups seem to have no end! I would recommend this game to everybody I meet!!
November 20, 2011
I LOVE THIS GAME!
This is a perfect and awsome game!Everyone in my family loves this game.They have beat it a lot!I love it and maybe you will!
July 15, 2012
This Game HOOKED me from the beginning!
Many years ago...ok about four or five...my daughter bought this game and tried to show her "ol lady" how to play. While standing over my shoulder...yelling "Click click click" I played my very first computer game. So now 200 purchased games later - this is still one of my favorite! I love BFG and especially arcade games and platform games. HOs seem to be the big thing so I miss the games like this. Not sure why they never came out with Insanequarium 2. Love it - buy it - you won't be sorry! And don't forget to "click..click...hurry...click".
August 11, 2012
Best video game EVER
Okay maybe not the best video game EVER, but definitely my favorite time-management game. Played it in grad school several years back & I still haven't found anything more fun & exciting since then, despite the hundreds of new games that come out every week. Get it. You won't regret it. Fun for all ages.
September 12, 2012
Classic and Awesome!
Insaniquarium is a game that I bought long before I was a member of Big Fish Games, and it's a game that has moved through 4 computers with me. I am sure that I will be downloading it and buying it on BFG when I have a spare credit as this is one of my favorite games of all time. PopCap's amazing game design is evident throughout the whole game. What appears to be a simple aquarium game at first soon turns into a challenging Time Management and puzzle game. You manage an aquarium full of fish that can multiply rapidly. You earn coin since your fish so kindly drop them, and you defend your tank from aliens! Okay, so this sounds a little bit weird, but it all works together to form a great, fun little game. You will see several familiar faces as well as Stinky the Snail (from PvZ) originated in this game. The Bejeweled Jewel also makes itself known here. A great purchase. Lots of fun!
November 13, 2012
Fun game
This is a fun little time consuming game!
June 24, 2012
Fun for ALL
Me my Dad,Sis and Mom played this game and loved it!!! There are 4 tanks in the main part of the game(adventure)and at the end of each tank there is a bonus round in which you collect shells.Each tank has different aliens(octopus is the worst) that kill/eat your fish... See if you can survive and get all the fish!!! You'll see what I mean...
November 3, 2012
Classic
I love this games, and have played it often throughtout the years. I may play a lot of different games, but sometimes I just feel the need to come back to this one. :)
January 30, 2012