Escape from Thunder Island
Join the more-brave-than-brilliant aviatrix Rita James on a quest to rescue her kidnapped father in Escape from Thunder Island! Rita and her small crew land on the dangerous island city of Zenadoo, a place filled with jungle killers, flesh-eating monsters and never-before-seen bloodthirsty beasts of the Underworld! Take on this Hidden Object Adventure game and save Rita's father!
Terrifying creatures
Incredible action
Rescue Rita's father!
Game System Requirements:
OS:

Windows XP/Vista/8

CPU:

1.2 GHz

RAM:

512 MB

DirectX:

9.0

Hard Drive:

206 MB
Game Manager System Requirements:
Browser:

Internet Explorer 7 or later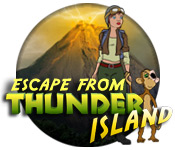 NEW299
The Big Fish Guarantee:
Quality tested and virus free.
No ads, no adware, no spyware.

Reviews at a Glance

Escape from Thunder Island
0
out of
5 (
0
Reviews
Review
)
Customer Reviews
Escape from Thunder Island
29
29
What a Wonderful Surprise!
I don't get to say that too often but this game certainly was a wonderful, pleasant surprise. I'm not sure how I missed it when it came out, but I did, lol. Luckily, I corrected that mistake and decided this game looked good, I was going to download it and give it a whirl... The Intro was great - I was ready to sit back and watch the movie. The cutscenes are also very good. This game had a real storyline with a beginning, a middle and an end but most importantly, stuck to the storyline throughout the game. I don't remember there being any unaddressed issues left hanging out there as is so often the case. There was a lot of humor which I always welcome and appreciate - poor Marbles the Monkey, lol. The graphics were very nice. For the most part, I didn't have any trouble finding objects except for a handful. The hint system worked nicely. Each chapter was different than the others and if you played to the end of a chapter, it would be a lot easier to leave if you must and come back at a later date to begin a new chapter. The puzzles were interesting and some (I'm thinking the jigsaw puzzles), could be quite difficult. I had to find a walkthrough and take a picture of the finished puzzle in order to finally solve them, I'm ashamed to say - and I LOVE jigsaw puzzles. I've played this game twice now and am ready for a third time - it's that good. I'd gladly recommend this game to anyone who is a fan of adventure/hidden object games.
March 9, 2012
A very good journey
I liked the scenes , the hidden objeccts and wandering through that mysterious world. Some puzzles were too difficult and were only to solve by trial and error...there is no " skip "for the puzzles. I recommand this game because I enjoyed it very much. From winterflower
February 5, 2012
the great adventure
As my title says this is an adventure, not really a game as such. Everything was just fascinating, however the only shortcoming were the puzzles. They were so hard to solve. Better pictures could have been used so we could fit the pieces in better. Could you personally thank the one who thought up this story and also thank Bobby James for his splendid music. I just love, love, love the music. please provide a strategy guide ok?
April 1, 2013
ONE OF THE BEST CHALLENGING GAMES EVER !
THIS WAS ONE OF THE BEST GAMES I'VE EVER PLAYED. THE PUZZLES WERE EXTREMELY CHALLENGING. HIDDEN OBJECTS WERE DIFFICULT TO FIND.. I HOPE THERE ARE SEQUELS TO THIS GAME
November 29, 2011
Loved this game!
Can't wait for the sequel on Shangri-La! This game is great fun! It's the first one I actually turned off my tv -- normally, I watch tv while playing a game, but this was such fun, I turned the tv off and just totally immersed myself into playing and enjoying the game's entire experience.... The characters are fun -- a kind of Indiana Jane meets the chimp from Jungle Boy... I love the characters, the voice-overs are some of the best I've heard, and the music is similar to a movie score, which fits in perfectly with the theme of old movie serials from the 30's and 40's... This game is totally enjoyable.... The puzzles are tricky but not impossible.... there aren't too many HO scenes (a huge plus for me).... in fact the balance in the game is great. The story line is done so well, even tho you've seen similar plot lines, this will keep you entertained from beginning to end. You can skip the cut scenes if you want, but why would you? You'd miss out on so much if you did! ;) And for those of you who are tired of the occult themes in so many of the games, you'll find this a really nice change of pace ;) The map is your best guide in the game. There's not too much running back and forth. And the game is a really good length (tho I would have liked for it to go on and on). I really enjoyed this.... Can't wait for the next one in this series!
June 19, 2012
Better than I expected.
I really enjoyed this HOG, although at first glance I was skeptical. The cut scenes were not great, and the story line was weak, but the game itself was surprisingly challenging with lots of features rarely seen in other HOGs. There is a hint button which will reveal a hidden object as expected, but when I wanted help on how to solve a puzzle or where to go next, the hint button only gave me very general directions. This made the game challenging and made me think. I found that I was soon able to figure out the puzzle and the next step. The MAP feature was VERY helpful telling you what task needed to be done in each location and also telling you when that location was finished. The game lasted longer than I expected and I was pleasantly surprised each time a new chapter began. There is NO skip button for the puzzles, but there is one for the cut scenes. Usually I hate games with no skip button for puzzles, but these puzzles were challenging yet NOT impossible. I found that a little logical thinking led to the solution quickly enough. Hope you enjoy it as much as I did.
June 20, 2012
Marbles the monkey!!!
I love these Rita James games! They are so much fun, with hilarious cutscenes throughout the games. The only negative is the graphics quality. It's a bit fuzzy and hard to see things sometimes. But I would rather play a fun game like this one with lesser graphics than a "pretty" game that is boring! We need more Rita and Marbles adventures!!!!
June 9, 2013
Fun throwback to 30's serials.
This is a fun game, with a storyline that is not to be taken too seriously. There is always a tension between a game storyline and the minigames, and HOS. The minigames are supposed to be fun,a nd they are, BUT, if the storyline is too gripping, they can be irritating. There are two solutions. One keep a good storyline, and make the minipuzzles and HOS easy, and relevant, and another, concentrate on the minigames, and make the storyline less compelling. This storyline, is never meant to be taken seriously, what with the protagonist being always rescued by her smart monkey, and her attributing it her "luck", and with cliffhangers out of 30's serials. That allows you to enjoy solving the puzzles, which are a bit more challenging that you'd think. A good fun game for everyone.
September 26, 2013
Pulp fiction HOG!
The story and cut scenes are straight out of pulp fiction (the genre, not the movie), which I enjoyed. I also loved the humour in the hovers/tooltips throughout the game, and the running gag of the monkey constantly having to save the completely oblivious humans. The hidden object scene graphics were pretty ugly, but not in a way that bothered me, if that makes sense. The location graphics looked pretty good, though. The game is organized into chapters of 5-10 locations each. I appreciated that there were variations on the hidden object scenes, including find X of a certain type of object. I also liked that sometimes there were riddles in the word lists, instead of just the name of the object. You can refer to the map to see which locations still have actions to take (hidden object scene, puzzle, inventory item, etc.). The map goes a step further than other games as you can hover over locations and it gives you a more specific hint about what needs to be done there. It's essentially a built-in strategy guide. The puzzles were actually pretty fun, though nothing too difficult. In many ways this game was pretty average, but the fun pulp fiction story and feel bumped it up to 4 stars for me.
May 7, 2012
A nice game for beginners
This is the prequel game to Rita James and the Race to Shangri La. This is a cute game, not overly taxing. Casual players will enjoy it. It does contain HOGs but the story line and other puzzles are distracting enough that you won't mind the HOGs if you don't particularly like them.
March 31, 2012
The Apple logo is a trademark of Apple Computer, Inc.