Nancy Drew: The Trail of the Twister
University grant competitions usually bring out the best in innovations, but inventor P. G. Kholmeister suspects that someone is sabotaging his Canute College tornado tracking team. That's why he hired you, as detective Nancy Drew, to go undercover as a new intern! You'll need to learn fast if you want to survive the stormy rivalries and the dark, spiraling supercells looming over Oklahoma's heartland! Test your Hidden Object talents in Nancy Drew: Trail of the Twister!
Dangerous atmosphere
Mysterious characters
Apprehend a saboteur!
Game System Requirements:
OS:

Windows XP/Vista/8

CPU:

1.0 GHz

RAM:

256 MB

DirectX:

9.0

Hard Drive:

945 MB
Game Manager System Requirements:
Browser:

Internet Explorer 7 or later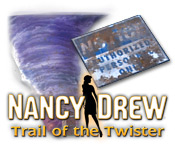 NEW299
The Big Fish Guarantee:
Quality tested and virus free.
No ads, no adware, no spyware.

Reviews at a Glance

Nancy Drew: The Trail of the Twister
0
out of
5 (
0
Reviews
Review
)
Customer Reviews
Nancy Drew: The Trail of the Twister
17
17
I really enjoyed it
This is my 5th nancy drew game apart from the dossier games so letting you know I haven't played all of them and sort of a newbie at nancy drew games! (but not at adventure games!) hint - If you are new to nancy drew games this is a good one to start on and do pick the junior level! I really enjoyed this one as it wasn't as infuriating as some of nancy drew games have been. It was easy to work out what to do next. I enjoyed having the choice to replay 2 different kinds of games (one an arcade) to collect 'pa pennies'. The puzzles were a good challenge, some really head scratching, like all nancy drew games, which surprised when I first started playing as the books are aimed at tweens and teenagers so thought the games would be easy, but boy have I been wrong about that! The thing I love about nancy drew games is that you learn quite a bit about the subject matter of the game. I loved driving the car to get to different places and trying to remember the routes, it wasn't timed or hard so that was good. (You do have a gps so you don't need to remember the routes!) Usually there is more introduction to the game as I was suddenly was looking at a twister without having a clue what was going on and speaking to the characters I was none the wiser so thought that bit was poor. (I did find out by scrolling through the phone) It is shorter than other games and I would say easier, which is good for me as sometimes I don't have a clue what is going on. But it's still way longer than any HOPA game. I liked the 'go to bed' as you didn't have to if you didn't want to and I hated the clock in the first game (haunted mansion) as I missed a vital part of the game and couldn't recreate it. So you don't have that problem here. I can see why people don't think this is the best, being shorter and not that many different areas but as I liked all the minigames and objectives were clear it was the least frustrating nancy drew game I played and the talking was kept to more of a minimum in this game so also enjoyed that. So for good puzzles, replaying 2 in game as much as you want, easier game and fun seeing twisters and learning about them it's a good solid B+ game for me.
January 5, 2012
Nancy Drew chases a Twister - for Beginners
Final pros and cons after having finished the game: The Good: + Setting - I liked the movie Twister and it was interesting to learn more about the topic. + Good riddles - the number placement to fix the camera was actually pretty easy, then again, I solved a legion of those on this site (in the Online Games section) already. + P.G. Krolmeister was very quirky. + Land Rush! + As usual, little things you find that remind you of old cases - like "Watching Waverley" on TV. The Bad: - Date and weather symbols puzzle! Had to look that one up in a walkthrough since the instructions weren't clear at all. - Phone hints not really helpful this time. "Put three blue circles in corners", or even worse, "Do not use the corners!" Yeah, right. - Scare factor: Zero. (Only one "frightening" scene, and they already gave away that one in the demo and the trailer.) Bottom line: Save for one puzzle it's actually an easy game, and might be even a good one to begin. Interesting stuff that I can recommend.
December 7, 2011
Disappointed...
Having played most the Nancy Drew games to date, I have to say this was one of my least favourite for the following reasons: *Too short- there is very little to solve and it felt like the developers were trying to spread out an already shortened story. *Repetetive and boring puzzles- There were just not enough puzzles to solve and the ones you did have to solve were repeated several times during the game. I was sick to death of the 'mouse trapping' puzzle, there was only ONE arcade game with very little variation and the 'circuit board connecting' puzzle was dull. *"Go to bed Nancy!"- I can't tell you how much that annoyed me! No sooner than you have started the day and done a few tasks, than you are told that it is 'bed time'! True- you can still go out and do other things, but it seems that as soon as you have completed the main tasks that move along the storyline that the day has to end in order to move to the next part of the story. *There is NO clock or indication to show time passing- I like knowing the time in the game and being able to set the alarm for midnight and sneak round the house! *Driving- I HATE, repeat, HATE driving Nancy round. Did they not learn their mistake from 'Ransom of the Seven Ships'? It's not as though there are any fun locations to go to apart from 'Ma and Pa's' shop. Plus it's a HUGE driving area for no reason! *Lack of Nancy's bedroom- Part of the fun in ND games is looking around Nancy's bedroom, finding clues, recieving messages from under the door, changing your outfit, eavesdropping through to the next room, waking up in the middle of the night or just being able to hold a private phone conversation which you DON'T have to go outside for! I can't believe the dev's didn't include Nancy's bedroom! Total wasted opportunity to add more liveliness to this game! *Limited ways to find coins- There are only 3 ways to get coins in this game: building circuits, playing the arcade game or finding the odd penny here and there. LIMITED and REPETITIVE! *Only 2 people to talk to on the phone, and none of them Bess, George or Ned! and NO phone hints!! This game was ok, but unfortunately I found more faults and frustrations than actual enjoyment. I give it a grudging 2 out of 5 stars.
December 1, 2011
Fun Adventure Game
Not one of the best Nancy Drew games around, but still ultimately playable. The story is entertaining, & the games contains a lot of interesting facts about Tornadoes etc. Some of the tasks were a little tedious & coming from Australia, trying to drive on the wrong side of the road was down right annoying LOL, however, I still enjoyed playing it.
November 21, 2011
second best nancy drew
This game is very fun.Good puzzles and nice challange. This is a game you should buy. Only one puzzle was hard.
February 5, 2012
Great ND Game!
Compared with the rest of the ND games, Trail of the Twister is not very challenging. The puzzles are of average-difficulty; it can be done but not after an attempt or two. Some are intellectually-stimulating while others are fun and simple. I didn't like how obvious the criminal was. Other than that, it's still a wonderful game and great for beginners to the ND games.
February 2, 2012
Very enjoyable game
There wasn't as much storm chasing in this game as I expected, but there was still a lot to do. There are a lot of extras in this game that are fun, but not required for the story. It makes you want to play it again. I didn't need hints or the walkthrough with this game to see what needed to be done next, which was nice, but I did need it once or twice to figure out the puzzles. The mini games were super fun! And the out takes at the end are great, esp. if you are a fan of The Phantom of Venice.
June 16, 2012
Sadly, not the best.
The theme of twister is not that exciting to me. Again, Nancy is driving in bird eye view and is annoying, there're so many cars in the driveway and they're all bad drivers! Pa is not nice to talk to, the others treat Nancy like she's their maid. Puzzles are very difficult and mostly chores. Definitely not my favorite.
May 10, 2012
Not a Very Good Showing for HerInteractive!
I have played 21 Nancy Drew Games and have only criticized 2. This will be the third. First, Nancy is hardly the sleuth she was in the "Great Games," viz., "The Phantom of Venice," "The Curse of Blackmoor Manor," "The Haunting of Castle Malloy," "Ransom of the Seven Ships," and on and on. No. she was nothing more than a "factotum," required to catch countless mice, fix garden equipment, a transmission, storm tracking equipment, wiring problems, transmission towers (as if she could!), and drive a car all over the place FOREVER!. There was really NO TIME for her to investigate. There was no REAL PLOT, anyway. Just a bunch of kids running around trying to track tornadoes. The puzzles and quizzes were good, but cannot justify such a poorly offered game, which, by the way, was the predecessor of another very bad Drew effort, in my opinion: "Shadow at the Water's Edge." It is my fervent hope that the developers WAKE UP and go back to making games that made this series illustious, such as "The Phantom of Venice." This game was a big disappointment.
October 20, 2012
Major DUD In a relatively Newer Drew Game!
Storyline is boring.. Locations are boring.. Driving is ridiculous even with GPS it's very difficult! Story is disjointed with a miserable (difficult) puzzle in between every so called task! HER just used them as fillers trying to make a game out of this thing?!?! No real crime solving involved as far as I got, and it was pretty far.. Nancy is just a go-getter as in.. Nancy go get this and Nancy go do this!! It seemed like HER was in a HER-Y to release something so they threw this together to fast! Misspelled words and grammatical errors? Not what you expect in any ND Game! It was so dull I had to just quit especially after I looked at the walkthrough to see how far I was and realized how many more very difficult puzzles in Junior Mode there were still to do to get to the end! I've never come across so many puzzles in a game listed under Adventure? Pro: Glad I got it FREE!! Con: The entire Game Real Con: I wasted my credit on something I have zero interest in finishing! Do yourself a HUGE favor and skip this miserable mess! That said...
February 23, 2013