Nancy Drew - Secret Of The Old Clock
The year is 1930. A fiery explosion at the Lilac Inn leaves its owner, Emily Crandall, teetering on the edge of sanity and propels you, as Nancy Drew, headlong into adventure. A will left behind by an eccentric millionaire could solve Emily's problems, and fortunately, you've got a car and can drive anywhere you want. But watch out! When you're in the trail of a desperate villain, the road can get very bumpy. Steer clear of trouble in Nancy Drew: Secret of the Old Clock!
20 hours of gameplay.
Sort through suspects.
Explore rich environments.
Game System Requirements:
OS:

Windows 2000/XP/Vista/7/8

CPU:

600 Mhz

RAM:

128 MB

DirectX:

6.0

Hard Drive:

554 MB
Game Manager System Requirements:
Browser:

Internet Explorer 7 or later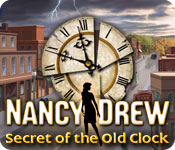 NEW299
The Big Fish Guarantee:
Quality tested and virus free.
No ads, no adware, no spyware.

Reviews at a Glance

Nancy Drew - Secret Of The Old Clock
0
out of
5 (
0
Reviews
Review
)
Customer Reviews
Nancy Drew - Secret Of The Old Clock
7
7
not one of the best but still enjoyable
This is one of the games with the awful interface that takes up a third of the screen (ghost dogs of moon lake has it, curse of blackmoor) and it annoys me intently as I feel I am playing this through a viewfinder, I am not immersed in it. It?s not one of the better ones but I still enjoyed it. It wasn?t difficult, some ND puzzles usually is hair pulling but these were straightforward though like all ND games you have to think with some. Also I do wish the journal would record everything that I need for some mini games, and I didn?t need to write things down but that is the same for all of ND games that I have played. It?s also the only ND game I have played that didn?t have a theme running through it, learning about a subject. You also don't have to go to bed or have a clock (have to do things at a certain time etc) throughout the game so that side of it was great. Even though it?s not ND first game you may think it is by the story ? 1920s young Nancy trying her hand at her first case. You have to drive around town a lot, and earn money for gas money this can get tedious. Puzzles ? -Miniature golf ? this was fun -guess what colour is in each spot ? gives flags if right colour in wrong place etc -slider puzzle, and a gears puzzle -same colour piece to go on corresponding colour tile on a board - a few decipher riddles, logic test (one of those was an old fashioned expression I hadn?t heard) - rotate tiles and place them in correct pattern to make a photo -place nuts and bolts in their corresponding correct size drawer -a variation on the old mentalist trick of ?guess what I have? by how I say something ? this was random so you work it out by process of elimination There are a few others. Pros ? -variety of puzzles -great plot Cons ? -Interface taking up too much room -Slightly too much dialogue, I can read faster than they speak so would love a skip button. I could then follow the plot without wasting time. -In options I chose not to listen to the music and not to have subtitles. It didn?t work I had both, and nothing seemed to change it. Nancy drew games I have played and the order I enjoyed them: 1)White wolf of icicle creek 2) Trail of the twister (although shorter and less variety than others) 3) Legend of the crystal skull 4)Secret of the old clock (I like puzzles and there was more variety than other games) 5) Ghost dogs of moon lake (although the graphics and adventure side was better) 5) Danger deception island 6) Message in a haunted mansion (must retry it with walkthrough as missed vital thing early on and just frustrated me so not that far through it) Overall a solid B purely on plot and I like the puzzles. It's a good one to start on. If you click on the journal and then on the icon beside it you get a hint by a to do list, if you play on junior level. (Although I play a lot of LF games I still think ND games are so different so view myself intermediate, gave myself a promotion with this game!)
February 8, 2012
Nancy's first investigation
Invited by her friend Emily, the legal heir to an Inn which, because she is still under age, is run by Jane, her legal guardian, Nancy sets off to Titusville in her sports car. As she arrives, she finds Emily quite distraught by the theft of her jewelry and witnesses a suspicious fire in the kitchen. These events are sufficient for her to decide to stay for investigation purposes. If you have already played one or two Nancy Drew investigations, you will be familiar with the first person view, the interaction with the different characters in the form of interactive dialogs which are important since they provide valuable information and clues, reading books and notes to the same purpose and picking up useful items. Naturally, Nancy will have to solve puzzles; they are all interesting, imaginative and challenging. Minigames come intermittently and are good fun to play. All puzzles and minigames bear some sort of connection with the story. A story which is clever, solid and rather engaging, like every other Nancy Drew investigation. I have played 13 of them and not once have I been disappointed by the plot. The suspense is complete till the end which is totally unexpected. I enjoyed all of them, but I found this one particularly interesting and amusing: driving Nancy's sports car around town was good fun and so were the other minigames. As for the very last part of the ending, that too was fun, but I won't say more lest I'd give too much away. The visuals are impeccable as usual, highly detailed, drawn with talent and brightly colored. Nancy's investigations are reputed for their difficulty. The Secret of the Old Clock is among the easiest and hence perfectly suited to anyone who is unfamiliar with Nancy's adventures as well as veterans.
January 17, 2012
Classic Nancy Drew
Fun for any age. Just complicated enough sleuthing, without taking weeks (and many head aches) to finish.
November 21, 2011
A Very Monotonous and Tedious Drew
Unlike the other 9 "Drews" I've played, this one just didn't cut it. All of the errand running, gas getting, tire fixing, etc, was a bit much for me. It was a downright drag, but I guess that has to be expected. After all, this was just Nancy's first case. I do not recommend this game.
March 29, 2012
Entry level for Newbies to Real Adventure games
This has no HOG's, if your wanting to try your hand at a "real' adventure game, this would be a good start. Recommend you play in junior detective mode, or you will be taking notes, and it helps to know what to do next. There are no hint or skip buttons, it's not that sort of game. There are mini games. I played golf for several hours, just to beat par and win prize, but I can be stubborn that way! There is no walkthrough on BF, but you can Google one, I did have to resort on occasion. All-in-all, an ok game however, I do like the books better, but for someone who is hungry for a true adventure game without HOG, this is a good start. I plan on trying at least one more ND.
March 11, 2012
Fun Mystery with great Roadster!
This is a mystery/point-and-click adventure game, not a hidden object game. It has colorful graphics, and good voice-over work which adds much enjoyment to the game. I enjoyed the 1930's setting with its slang, music, and Nancy's beautiful car. The puzzles are not too difficult in this game, compared to other Nancy Drew games. What will help you is taking notes, which sounds boring but actually makes the game so much more fun. If you get stuck, Nancy has a journal which provides clues as to what she should do next. If you're looking for a mystery that you get to solve, along with plenty of snooping and sneaking about this game is a good choice.
May 29, 2012
Travel back in time ^^
Through this game I could learn about American history and get a glimpse on what the people and life looks like back in the 1940s America. There are 4 characters with unique personalities, one is wackier than the other.. the puzzles are unique, sometimes weird (not sure if people really play golf in 1940s) and many of them revolves around that sport. I don't really like that we use bird eye view when driving, and there're not many places to explore.. Some of the conversations are not that useful and don't make much sense with the game, and unfortunately we cannot skip them. Still, it is an exciting game to play :)
May 10, 2012