Dream Inn: Driftwood
Restore the Driftwood Inn! Formerly Seaside's premiere resort, this old gem has fallen into disrepair. But with the help of your boisterous inn manager, Emma Gray, and her darling cat, Pris, you can bring back the Inn's Victorian era brilliance. Take a stroll in the garden and customize the Inn's exterior with upgrades to create curb appeal. Explore luxurious guest suites, collect hidden items, and transform each room into a charming retreat in this fun Hidden Object game!
Gorgeous graphics
Multiple minigames
Restore the Driftwood Inn!
Game System Requirements:
OS:

Windows XP/Windows Vista/Windows 7/8

CPU:

2.0 GHz

RAM:

1024 MB

DirectX:

9.0

Hard Drive:

256 MB
Game Manager System Requirements:
Browser:

Internet Explorer 7 or later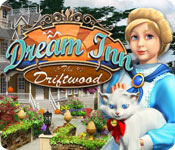 NEW299
The Big Fish Guarantee:
Quality tested and virus free.
No ads, no adware, no spyware.

Reviews at a Glance

Dream Inn: Driftwood
0
out of
5 (
0
Reviews
Review
)
Customer Reviews
Dream Inn: Driftwood
72
72
Relaxing Build Your Own Dream Hotel
This game is fantastic in terms of gameplay. You have 3 kinds of hidden object scenes in all rooms. The first one is putting back items you find in other rooms, the second is a yard sale kind of like the gardenscapes games and three you have finding X amount of one item like 15 bears etc. I found that because there was so many different aspects to this game that I never got bored! It doesn't hurt that I am absolutely crazy about games like this. You can play timed or relaxed. I chose relaxed since my mouse was a bit wonky. The best part of this game though is building the dream hotel. When you get there, it isn't really the beach side inn of your dreams but you can fix it up especially because it has themed rooms and you get 3 choices each costing a little more than the one before it to fix it up. You go through all 4 seasons so you get to see it dressed up in a bunch of different ways. I was able to change many of my decisions but still had more than enough money at the end of the game where I didn't have to keep playing to buy everything. The only issues I had with this game were the graphics and the custom cursor. The graphics were a little outdated so some things were kind of hard to spot. Also because some things in the room move or make noises, it became kind of hard to concentrate but I like challenges so it was ok. The main issue for me was the custom cursor. I could not play the game at all with it on because it was crazy slow. I am playing this on a Mac OS 10.6.8 so it could have been that but its always been slow even when that OS was brand new back in the day. Turning off the custom cursor helped immensely and the game ran pretty smoothly like that. There are some games that when you remove the custom cursor, it really kills certain parts of the game BUT this is not one of those games. You don't miss anything by taking it away. It did lag sometimes still when updating the hotel/yard BUT it was manageable. I loved this game and I recommend it to people who enjoy games like GardenScapes, Barn Yard etc or just fixing up a house or what not. I found I was very pleased with the way my hotel turned out and you can even name it too! I named mine Zen Garden because looking at it made me wish I knew a place just like it that I could go for the weekend. I wish there was another one as the ending hinted that there could be but seeing how old this game is, I really doubt it. Kudos for such a delightful game.
March 13, 2014
really good game
This games was really fun I enjoyed playing
February 12, 2014
Pretty Nice Game
I really enjoyed this game. I love HOGs but so many of them are dark.....this is just a pleasant diversion that is fun to play. I have gone back a played it a couple of times.
September 28, 2013
Great Hidden Game
I am not usually a hidden objects person due to eyes, but I love this one because you can see things and it has several different hint options. It is different enough to be intersting without having to remember where you saw the item you need on another level, or going back & fourth, it has a relax mode & time mode. Each level finishes a certain section even thou you revisit rooms & exterior. I like the idea of cleaning & fixing up the B&B & garden & having a choice of colors & items for work outdoor areas. I've only done the trial but judging from that I am going to buy it before Memorial Day
May 26, 2013
Sweet, light-hearted game
A delightful change of pace, this game has the standard HOS but has others with a twist. This isn't very difficult or terribly challenging, but it's the kind of game that I can play for a short while for a little relaxation time. I like the "dark & creepy" games, but not all the time, and this game is one that I think I'll come back to somewhat frequently when I need something different. On the negative side, the speech balloons that come up quite a few one right after the other and the repetitive voiceover get a little annoying, but these things certainly aren't deal breakers. Definitely a fun, engaging game.
December 30, 2012
Fun game
Great graphics and story. HO's are a bit difficult to find and the English accent is corny and annoying but overall a nice game to pass a few hours playing.
October 9, 2012
This game could be so much better
The best thing about this game is that every time you return to a room, you are doing something different. The setting for the game is an Inn, the outside of which you slowly get to update and redecorate as the game progresses. Each room in the game is visited three times. o The first time, you are placing items in a room. [This is skipped for the first room, for obvious reason.] o The second time, you are doing a standard hidden object scene. Some of the items you are finding are ones that will be placed in other rooms. As you collect enough items for other rooms [tracked at the bottom of your screen], the rooms become available. o The third time, you are searching for multiple versions of an item themed to the room. You can do the first two times in a row, but there is a wait until the third time becomes available. Overall the idea is cute and fun, and this could be a fantastic game. But there are major problems. - In the first part, the game will sometimes refuse to place the item, even if it's the correct spot. This can lead to frustration, because the game has the ancient "you clicked wrong too many times, so your cursor is no longer under your control" gimmick. Also, it is usually clear where items are to be placed, but not always, which means you need to waste a hint. In a few cases, the place makes no sense. - In the second part, some of the items you seek are miniscule and hard to spot, and sometimes they are mostly hidden by other items. Fortunately, there are a variety of free mechanisms to help you find items that do not count against the regular "hints". And sometimes you can click on things correctly but the game rejects it, which can also be difficult with the previously mentioned "too many clicks" punishment. The worst part of the game, however, is the sound effects. A few repeated items [tuba, clock, radio, etc.] are in nearly every HOG scene and make the same noise over and over again. But the "innkeeper" is the absolute worst. Full of trite "British" phrases ("Jolly good show!" "Most exemplary!" etc.) there are just a few phrases and it is not long before you tire of hearing them. It's not the toughest of games, though it can get fairly frustrating and tiresome. This is one of those games where I wish there was a recommendation choice of "Maybe" or "Yes, but." I wouldn't pay full price for this game -- get it on discount or use a punch-card credit for it.
January 16, 2012
MERELY A HOS GAME - NOTHING NEW
Game was a disappointment ? a pure HOG ? no adventure; no puzzles; no mini-games. Similar to Gardenscapes in that you have a dilapidated inn to restore, you earn coins and spend them on various upgrades to the grounds. Similarity ends there. The Inn manager is trying ? she follows you everywhere ? a regular busy body. HOS scenes are somewhat crowded and quite a few objects are rather small. Sometimes, the Inn?s cat is lying around ? the best part of the game is to wake it up and everything you?re looking for starts shaking. There are also magnets and poppers to help find objects. SUMMARY: If you simply want a relaxing game and find hidden objects, this game might appeal to you. Otherwise, I would pass. There are better all-HOS or mostly-HOS games out there. Three generous stars graded as a HOS only game.
November 9, 2012
It's ok
The game is ok. Many of the pieces to find are too small, hidden behind the edge of the screne, or same color on color. I had to strain my eyes to find pieces. Wish I hadn't purchased the game. This is just my personal opinion. B
May 9, 2012
Good for children
Good visual scenes. Rather simplistic and easy--may be very good for children. Not very challenging.
November 23, 2011
The Apple logo is a trademark of Apple Computer, Inc.