Voodoo Whisperer: Curse of a Legend
Mentored by one of the most powerful voodoo priestesses in the world, Lillian is learning to use her power. But, a dark force has settled over New Orleans, and Marie Leveau, Lillians teacher, has been placed under a curse. The entire town has been put into a deep, dark sleep by a mysterious evil force. Now young Lillian must find allies and uncover the dark secrets of voodoo in order to save her master and free her friends before it is too late.
Save the town of New Orleans from the curse
Dark and spooky atmosphere
Incredible Graphics
Game System Requirements:
OS:

Windows XP/Vista/8

CPU:

1.0 GHz

RAM:

512 MB

DirectX:

8.1

Hard Drive:

210 MB
Game Manager System Requirements:
Browser:

Internet Explorer 7 or later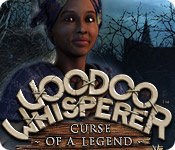 NEW299
The Big Fish Guarantee:
Quality tested and virus free.
No ads, no adware, no spyware.

Reviews at a Glance

Voodoo Whisperer: Curse of a Legend
0
out of
5 (
0
Reviews
Review
)
Customer Reviews
Voodoo Whisperer: Curse of a Legend
42
42
Love this one!
This storyline pulls you in and you're drawn into the world of magic and mystery in great old New Orleans. Say no more...get ready for spooky hidden object fun!
December 30, 2012
This is a favorite
It's one of the best one's I've played. There were certain parts where I got completely lost. Its more challenging then other games.
November 18, 2012
Voodoo Whisperer is "Great Fun"
I'm just in the middle of this game and thought I'd stop and leave a note to say this is a fun game. I love the fact that it lets you know when you've finished an area, that sure saves a lot of running around! HO's are fun and even a bit challenging, puzzles are not bad. Did have one I had to get help with. Background fx sounds of thunder storms is a nice effect as well as the nice graphics.
October 17, 2012
This game is truly awesome
All through the game, I felt so relaxed and happy to spend my time doing this, and even if I am not a real lover of HOS, the ones in this game couldn't take my pleasure away... so, I give it a full 5 stars. The graphics are neat, sharp, full of colour, light and shadows... the music and the sounds are really good. The storyline, with its clearcut division in different chapters kept me wanting to go on to the next step. No voice overs, which is kind of a pity. There is a map, but it just serves to show you in which part of the game you are, because the game is very linear: once you have finished a chapter, you can't go back to it. Hints are useful in that they point you in the right direction when you are at a loss where to go next. You have to pick up quite a number of objects that you need to use... it's all about interactive gameplay. Some reviewers say that they needed a walkthrough to get unstuck... this was not my case. I found the game to be very straightforward... sometimes, you just need to find the right object to get on with it, and the written comments provide you with the necessary information for that. The length of the game is also very good. You get chapter after chapter served and every chapter takes you quite some time to complete. This is definitely one of the better games I have played off late. Wish there more like this one.
October 16, 2012
Fun Hidden Object Advenure Game
I have owned this game for a while but just found the time to play it. The graphics and artwork are good and the story is OK. I had the sound down so I can comment on the soundtrack. For the most part the navigation is logical, but I did have to consult a walkthrough a few times when I just couldn?t figure out what to do next. I also found some the HOScenes difficult. Many times only a small part of the item needed is visible. Thankfully, the hint feature pointed out the item needed, rather than just circling an area the way it does in some games, and the hint button refilled quickly. The vexing part of the game for me was when you think you are going to need a certain item you come across in a location in the future, but you are not allowed to pick it up until you reach a certain point further in the story line. Perhaps the dev?s felt that this was better than having a large inventory, but I would rather have a lot of inventory items than have to backtrack for items that I was forced to pass over. I word of warning to potential buyers, the ending is a cliffhanger. So, if you are the type that needs a definite ending you may want to wait until the sequel is available. I?m not a fan of cliffhangers, but didn?t feel cheated by the ending. Keep your dorsal fin up Tauret
December 18, 2011
New Orleans Hit again by Evil Curse !
Delving once more in BFG's treasure trove, I bumped into this game which I hadn't noticed before. I spent a very pleasant hour playing the demo and particularly appreciated the HO Scenes because they are neat, very easy and can be quickly completed. I admit it, I am not a HOG fan, but I don't mind such scenes when theyr'e not junk piles and the HOs are not microscopic. Furthermore the number of HO Scenes is not exaggerated thus leaving plenty of room for the adventure. Like in other games, you encounter the traditional type of useful items: ladder, plank, scissors, etc.. But you also have to find other kinds, more specific to the story, as several tasks involve making magical mixtures to remove the curse. Four abilities also enable you to cast spells. All HOs fit in the 19th C context: no cell phone, no high-tech wristwatch to seach for, but and old bicycle, an antique jewel box as two examples. Of course it is an eerie adventure, with curses, magic and ghosts. Nothing frightening though, but the spookyish atmosphere is well rendered. I liked the visuals, they're gorgeous. The soundtrack is great with a music that wouldn't disparage a war movie, fits in quite well, and the voice-overs are quite good. Not many puzzles, but plenty of things to do, a variety of tasks, clear objectives and many beautiful locations to explore, which entails a fair amount of navigation, but as you don't need to travel too far remembering where things are is no problem. Besides, the game tells you when an area is clear. Always a plus. Minigames/puzzles are fairly standard on the whole, easy, with a some originality here and there, and can be skipped. The Hint System doesn't refill fast and sometimes will even hightlight something useless or point to a location where there's nothing to do. But the adventure is easy enough for you to find your way and figure out what to do next without using hints. The game apparently ends with a huge cliffhanger. I suppose the developers intend to release a sequel. But even if they don't, this Voodoo Whisperer is interesting enough to provide a few hours of enjoyment, especially if you like magic.
January 10, 2012
Good game and fun
This game was good. Not much for any voice over once the game started. Lots of reading. Graphics were ok and so was the music. Had a good flow with some going all over the place. You get lots of items to use and no place to use them for awhile. The HOS are quit easy and the puzzles are not that bad. No real map. The hint button works good BUT very slow to recharge. It would recharge even it it told you to go to another room.
May 20, 2013
Great game, bad ending!
Loved this game when i played it on my iPad last year so bought it again for the Mac and still a wonderful game though could of done with a map or a hint button that gives a little more of a clue. Loved the HOS which were crisp and clear and the storyline is great. The only downside is the ending! will people remember what happened by the time the second one is released? i'm not sure but i was not expecting that cliff hanger that's for sure. Good thing is that with such an abrupt cliff hanger it assures the developers that people will rush to buy it to find out what happens next! :-)
May 1, 2012
Demo is the best part
I played the demo got hooked and I must say the first chapter was one of the best Adventure-HO Games I played, long, lots of beautiful locations, interesting plot, and spells and alchemy provided nice addition to the game-play. And That's about it. The rest of the game is short, repeats the same pattern over and over, and it is just bland... I mean it is decent, but because the first chapter is so great it comes pale in comparison. Play the DEMO I recommend. But I would not bother playing full version. It is not worth it.
January 21, 2012
Cool game
PROS: For me this was a cool game. I liked that the puzzles weren't obscure. In a lot of games I just skip over them. I liked the part with the stained windows upstairs and the doll room connection. That was unusual and interesting. I liked the spell aspect and the way it was set up.I liked the game and loved that they let you know when you were finished with a scene. Sometimes in other games you get stuck and end up trekking around all over to see if there's a HO scene you missed. I liked the characters they seemed more real than in a lot of games and I wanted the main character to succeed. Usually I'm pretty indifferent to the outcome but this game held my interest all the way through.I liked that each scene was finished before you moved on to another location. Cons: I found the hidden object scenes too dark/monotone. Everything was gray which annoyed me as I play exclusively HO games and have seen much better scene setups than this one. Still they weren't excessive and I liked that and the objects were useful in furthering the game. I hated the end. I have only played two games like this, and they bother me. Each game should be complete in itself and if necessary the story can continue in the next one so they are related but not dependent on each other. It was a fun and engaging game though, one of the best I've played so far.
October 5, 2012
The Apple logo is a trademark of Apple Computer, Inc.