Voodoo Whisperer: Curse of a Legend
Mentored by one of the most powerful voodoo priestesses in the world, Lillian is learning to use her power. But, a dark force has settled over New Orleans, and Marie Leveau, Lillians teacher, has been placed under a curse. The entire town has been put into a deep, dark sleep by a mysterious evil force. Now young Lillian must find allies and uncover the dark secrets of voodoo in order to save her master and free her friends before it is too late.
Save the town of New Orleans from the curse
Dark and spooky atmosphere
Incredible Graphics
Game System Requirements:
OS:

Windows XP/Vista/8

CPU:

1.0 GHz

RAM:

512 MB

DirectX:

8.1

Hard Drive:

210 MB
Game Manager System Requirements:
Browser:

Internet Explorer 7 or later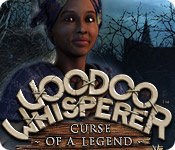 NEW299
The Big Fish Guarantee:
Quality tested and virus free.
No ads, no adware, no spyware.

Reviews at a Glance

Voodoo Whisperer: Curse of a Legend
0
out of
5 (
0
Reviews
Review
)
Customer Reviews
Voodoo Whisperer: Curse of a Legend
41
41
This one almost received one star
Review after finishing the game: The Good: + good graphics + quite good videos + hidden objects true to time period + a sizeable number of locations in each, ahem, location + magic powers (although they aren't used much, "Smash" in only 2 occurrences) + "Area clear" The Neutral: o voiceovers only during the intro o only four locations o big map could have been filled better (read: additional locations, please) o "Area clear" sign delayed in many screens The Bad: - BRUTAL ENDING!!!! - objects that you will need later on can sometimes not be picked up the first time you visit a location - BRUTAL ENDING!!!! - some dark objects hidden in dark corners of a hidden object scene, some items are very small - did I already mention that the ending was brutal? Bottom Line: Quite enjoyable until the cliffhanger end. Grab it up in a Daily Deal when the sequel is out, can not recommend it before that.
December 10, 2011
I expected more
The first chapter/location was really good. Good HOS, though sometimes the dark scene made it difficult to find an object. Overall good graphics and sound. But afterwards, I got quickly bored, it was always the same procedure... And I was disappointed by the end of the game "... to be continued" ??? and IMHO the gamelength is on the short side!
January 6, 2012
Shame about the ending
The game is set in 19th century New Orleans & you have to save your family when the town is overcome by a curse. The hidden object scenes are relatively easy and the items within them are in keeping with the era & the mini puzzles are not too difficult. There is a lot of back tracking through scenes already visited but this is no hardship as the graphics & artwork are quite stupendous; very clear & very beautiful. I enjoyed having to collect items for recipes to create potions. I love the voiceovers in the cut scene & as for the background sounds & music, they are some of the best I have found in a game of this type. but...............the moving inventory at the bottom of the screen is really annoying. When I want to back out of a scene the inventory pops up & I have to move my mouse around to find the exit. The hint button is not very useful unless you are in a H0 scene, within the H0 scene there is a magnifying glass but as the area it shows is not large it is not very helpful. Unfortunately the ending is a cliff-hanger which is a shame as by the time a sequel comes out (if it does) I will have forgotten the story
March 4, 2012
Ok Game but very short
This game was ok to play, but only 4 locations. I finished the whole game in 2 hours. More suited to beginners, not for expert players.
January 7, 2012
I'm Already Hooked
I've barely begun, just into the second chapter and already it's clear this is a keeper. Not as flashy (ie. good but not spectacular artwork) as the rest of my favourites, this game has a lot of original features as well as an interesting story. There are a few special attractions : A grimoire plus mortal & pestle that help keeping track of your ingredients for spells, as well as just being cool. A magnifying glass in the HO scenes is a wonderful innovation. The HO scenes are particularly good - relevant objects, crisp and clean, no distortions, The puzzles are innovative twist on common ones. Difficulty: Two levels available. I chose "regular'. The level of difficulty in all three aspects - HO, puzzle, quest - are all roughly the same and just about right for a goodish player. Put the thinking cap on, but no need to stock up on valium. STORY: Just finished and have to re-evaluate this review. Everything is still true, but they blew it by ending with a "to be continued", and we very much are a long way from the finish of the story. If a game can stand alone, a "to be continued" doesn't have to be bad. Not the case here. Two star demerit, developers!
May 18, 2013
Great Story, Poor Ending
Voodoo Whisperer is a fun little game that will definitely allow you to get your fill of finding hidden objects. The story is that you play a girl with voodoo powers studying under Marie Laveau who is attempting to break the curse that has impacted both her own mother as well as New Orleans in general. I really liked the idea of the game, but it's way too big in scope for a casual HO, and that's evident in the fact that there are only a few locations for your character to travel to. The process is exactly the same in each one: you will go through several scenes, collect helpful items, use those items to create a doll to break a curse, and then follow the trail of the evil behind said curse. It starts out strong with the first chapter, but unfortunately goes downhill from there. The good news is the game looks great. The cutscenes are decent, the backgrounds are nice and realistic, but it especially comes through when playing the hidden object scenes. The items have tremendous detail, and the developers do a great job in giving you a list realistic to the time but by no means easy. Unfortunately, the sound is a bit of a downgrade. There is no voice acting, and the background music is marginal at best. Still, I appreciate the time it took to make those rendered scenes. Challenge level is okay. Once you've completed the first chapter or two, you'll breeze through the next ones easily, until you reach the abrupt and unsatisfying ending. I'm all for cueing you up for the next game, but how about a bit of payoff for the time spent? Minigames are repetitive and a bit of a bore to be honest. How many matching games can you do before you tire of it? Not many. Overall, this game is okay. I'd purchase it for the highly detailed hidden object scenes and if you really like HO hunts, but the story doesn't make the execution any better. The combination of a rushed, forced ending and the failure to make the voodoo recipes anything other than a rote "get this, mix that" formula make this one a curse.
April 13, 2013
Ending ruins the game
This game had great potential. Lovely graphics, interesting challenges, clever puzzles. It felt as though they stopped half-way through, though, as the game ends on a "cliff hanger" and there's no resolution. It was maddening: we did our part of the job; the developer should do his or hers. I'd say keep your money or, at least, don't go into it looking for the story to end.
October 21, 2012
Just Okay
I played the standard version from beginning to end. It is loaded with HO scenes and I did like the magnifying glass that could be used to find objects that were really well hidden. I would like to see that in more HO games! Collecting the ingredients for spells was fun. There is an interactive map that is pretty useless, because it only takes you to general locations, not specific rooms/areas. Plus you really do not have to go back to the general areas. Once you complete them and move on, you never go back, so I'm not really sure what the point of the map is. The mini games, which are few, are really simple and gratuitous. If you don't even have to think about them, what's the point? This game could have been so much better with some real mini games and a real ending.....the ending is awful. This game is probably best for beginners.
November 11, 2013
Dissatisfied
Frustrating at times; HOS not easy to see, often items didn't show up well and difficult to find. Unhappy with ending; it hints that now if you want to find out how it ends you have to purchase part II! It was a waste of money, in my opinion.
November 5, 2012
Reasons why I disliked this game so much...
*All my reviews are on 100% completion of the game (bar one TM game)* I bought this undemoed as a DD and about the only good thing I can say is that cancer research will get $1! I am shocked this was ever a CE as the quality isn?t there. I never play on casual but after trying variations of ?GUI tool tips? on and off I had to as the navigation on this was so bad. Every time I tried to find where to back out the inventory bar came up and the side screens you had to be spot on where you clicked. So on casual mode at least I got ?sneakers? telling me where to click to move around. I did get rid of the black bars on my non widescreen laptop by changing my resolution to 1280 x 700 and uncheck full screen but changed it back due to hard to find some items but it didn?t make any difference. The graphics were actually quite good in some indoor scenes but in HOS and outside it was grainy really hard to see and a lot of time I was pixel hunting. I don?t normally use hint buttons but here due to navigation and hard to see things I did and found it to be the most useless hint button! If there was nothing in a scene it went to the back button but then disappeared not keeping showing you where to go! The couple of good things about this game were it showed ?area clear? when you were finished in it, and there was a spell book where you put inventory items and made spells. You also had ?powers? which you find during the game which you can use on items. 26 HOS (numbers are roughly, I do try my best) They were all list type, junk piles, hard to see, some tiny items. On the left hand side of the inventory bar there is a built in magnifying glass you can use but I found it annoying. A few of the scenes were all the same grey colour. All of them were covered in this cobweb and if you mis-clicked it slowly the web slowly got thicker and harder to see but you still could click and find items. You repeated most of them but didn?t have to play any more than twice. I do hate when you have to replay HOS and you?ve just played the scene 2 mins earlier! I really hated the HOS due to all above. PUZZLE 13 Type and how many times you have to play them - pipe 2, rotating rings 2, match pair x 4, billiard puzzle need to write down hard to see combination elsewhere, safe, jigsaw, combination, There weren?t many and you had to repeat them and boring. Some I wouldn?t even class as a puzzle but an interaction and most were so easy apart from the billiard puzzle. This is a pet peeve as I don?t like writing down things and feel the combination should have been in the game (in a journal or document etc that I could look at) so I didn?t have to record it. TIME- This wasn?t a long game (thankfully for me) but you don?t even get a long game even if it?s not a quality game. I was playing casual so timing will be off compared to my other games ? 3hrs 30mins. The ending was dreadful - a literal ?to be continued? but I read that the ending was the same in the CE so it?s not a ?to be continued? in the bonus in the CE version but more a sequel. I don?t have many one star games as my reviews are on bought finished gameplay but due to navigation, hard to see items, some bad graphics, boring puzzles, repeating dreadful looking HOS and there is a lot of them in a 3hr 30min period (26!) and poor gameplay this game gets it. Couldn?t even recommend it for a DD or if you got it free.
October 16, 2012