Mystery Trackers: Raincliff
After a group of young students go missing, the Mystery Trackers are called in to search the city of Raincliff! Tackle this difficult case and unravel the strange mystery to save the students! Explore the entire town and discover who is watching your every move in Mystery Trackers: Raincliff! Use your Hidden Object talents to carefully dissect scenes and piece together perplexing puzzles!
Game System Requirements:
OS:

Windows XP/Vista/8

CPU:

2.5 GHz

RAM:

1024 MB

DirectX:

9.0

Hard Drive:

807 MB
Game Manager System Requirements:
Browser:

Internet Explorer 7 or later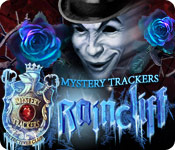 NEW299
The Big Fish Guarantee:
Quality tested and virus free.
No ads, no adware, no spyware.

Reviews at a Glance

Mystery Trackers: Raincliff
0
out of
5 (
0
Reviews
Review
)
Customer Reviews
Mystery Trackers: Raincliff
73
73
Elephant games without the extras can be irritating
I found the game more irritating than fun. Too many places to visit, too many puzzles needing elements, and when you find an element you need to hit "hint" to figure out WHERE. No one has that good a memory, and having to keep asking "what do I do with this" is too much to ask... Elephant games does that too often. We overlook it because of details like otherworldy, magical settings, or cute helpers, or just an intereting storyline. But here we keep gong from room to room, and not learning much except that we may have to backtrack somwhere else we have forgotten, or something we may need later on. And no characters to talk to us, or to identify with. Others might like it, and enjoy the challenge. I find it just annoying and I did not feel I was missing anything if I deleted it and got something else that I enjoyed more.
May 11, 2013
It was pretty good, but.......
I think this game has potential..but I spent the majority of my time lost and using the hint/help button way too much. The HO scenes were great (very challenging). I just found the overall adventure of it to be too constantly back tracking and the logics of how to use the inventory items to be too vague..(caught myself scratching my head and thinking "that doesn't make much sense). It is a game that you REALLY have to think about and can't just sit and play. I also found some of the puzz;le scenes to be rather confusing.....Having said all of that, it is definitely a challenging game...and I DID enjoy it, just required a little more brain power than I was expecting! lol Reminded me very much os Dire's Grove!
April 10, 2012
Bring along some friends...
I enjoyed the Void so much that I purchased this game sight, unseen. However, after playing for awhile, I became very frustrated with piles of inventory objects I couldn't use, and a myriad of blinking locations, requiring wandering all over the place into every nook and cranny. As I reached the middle of the game, I found myself hitting the HELP button frequently. To me, this doesn't make for a fun experience. I see that a large number of masochistic players think it is a wonderful game, but I'm with the minority that found the back-and-forth concept unappealing. I will definitely test the current Mystery Tacker game before I buy it!
March 29, 2012
I had higher expectations
THE GOOD: The artwork and graphics are fantastic!! Fairly long game. THE BAD: So much back and forth from scene to scene just to do one thing at a time. Most of the puzzles (when you finally get to them) require you to leave it to find a missing piece before getting to solve it. Some people may like this type of mouse hunt, I personally enjoy the games with more clever aproaches. The H.O.G. were challenging, but the last couple of items in each scene seemed to be impossible without using a hint, and when I did I thought to myself "I would've NVER have seen that without it". THE UGLY: Honestly, I don't care for how far down on the screen you have to click to go backwards. I know this sounds petty, but i continuously brought up the inventory box and had to wait for it to go back down until I could find the right place to position the cursor. It just irritated me a little. OVERALL: It had wonderfull images and decent story, but I guess I'm spoiled by the craftsmanship of games like the Mytery Case Files series. If you don't mind any of the things I've mentioned, then you'll probably enjoy this one alot! Otherwise, try the demo.
January 2, 2012
Wish there was a Collector's Edition
Hi All. Raincliff has a good story line. Quite a few puzzles. If you are looking for logic, it will be disappointing (i.e. you need a spring, go to a watchmaker's and no spring there?). Odd ending which is why I wish they had a collector's edition with more game play so it made sense. It took hours to play, which I like in a game. All in all it was enjoyable to play, but I have played better ones.
January 9, 2012
Mystery Trackers, not to be compared with Mystery Case Files
The reviews that the Mystery Trackers games were as good as Mystery Case Files had me excited, since MCF is my standard for incredibly awesome games. This 'Raincliff' game, however, is lacking. Unless you find yourself using random items for unconventional uses on a daily basis, you may find the item use just as confounding as I did. It got to where my froggy helper became my guide for every item use because it made little to any sense. The story is fascinating, but could have been more developed; especially considering the great length of the game #6 hours, y'all!#. Perhaps this is because I bought the SE, the CE may have a more satisfying ending. I did enjoy the main character's attitude immensely- he just can't be put down! Puzzles are a moderate challenge until the ones near the end. By that point, things get crazy and the skip button became a new best friend for me. There are MANY items to get, and they are not always obvious. HOS sites are sometimes harder to find than a prairie chicken in a grass field. If you really, really, really need a game that will kill time, and if you do not get flustered easily by nitty gritty details, you may like this. For a cleaner game experience, go elsewhere.
September 2, 2012
Long game, but not enjoyable
It was a long game but I didn't really enjoy it. There weren't enough hidden object scene. Plus using the inventory items in the manner prescribed didn't make any sense to me. And some items stayed in the inventory for a really long time. There was alot of going back and forth, and using the hint button to figure out what needed to be done next. I liked The Void alot, but this one was a bit of a letdown.
December 24, 2011
Ridiculous
I managed to traipse through the demo, barely. I love HOPA games. I loved the snowy look and the look of the abandoned town. However, finding 15 objects in the beginning that had no use at all didn't impress me at all. I'd find a tool, use it along the way, and find out, oh hey, that';s not good enough... I need another tool. That's not adventure. That's fill to make the game longer. I'd rather play a game that is 2 hours long and interesting and that makes sense than one such as this that's more like a wild goose chase.
March 28, 2013
Not that enjoyable
I really wanted to like this game, as I enjoyed the first Mystery Trackers one. But I found this game just frustrating and irritating at times. The constant going back and forth between so many scenes got very repetitive, and without a map, it felt like a waste of time. After a scene was completed, you're not locked out of it, which makes you wonder if you're actually done with the scene. The puzzles were fun, for the most part. The clues they give you though pretty much tell you what you need to do, which takes away some of the fun. It took us longer than normal to finish this particular game, since we we're not as invested in it.
December 18, 2012
Save your money....
All the puzzles were rotate three, which I hate. The tips weren't tips as much as they were directions on where to go and what to do next. I wouldn't buy this game again or recommend it.
May 5, 2012
The Apple logo is a trademark of Apple Computer, Inc.