Mystery Trackers: Raincliff
After a group of young students go missing, the Mystery Trackers are called in to search the city of Raincliff! Tackle this difficult case and unravel the strange mystery to save the students! Explore the entire town and discover who is watching your every move in Mystery Trackers: Raincliff! Use your Hidden Object talents to carefully dissect scenes and piece together perplexing puzzles!
Game System Requirements:
OS:

Windows XP/Vista/8

CPU:

2.5 GHz

RAM:

1024 MB

DirectX:

9.0

Hard Drive:

807 MB
Game Manager System Requirements:
Browser:

Internet Explorer 7 or later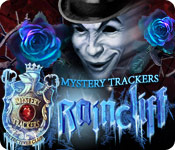 NEW299
The Big Fish Guarantee:
Quality tested and virus free.
No ads, no adware, no spyware.

Reviews at a Glance

Mystery Trackers: Raincliff
0
out of
5 (
0
Reviews
Review
)
Customer Reviews
Mystery Trackers: Raincliff
84
84
I had higher expectations
THE GOOD: The artwork and graphics are fantastic!! Fairly long game. THE BAD: So much back and forth from scene to scene just to do one thing at a time. Most of the puzzles (when you finally get to them) require you to leave it to find a missing piece before getting to solve it. Some people may like this type of mouse hunt, I personally enjoy the games with more clever aproaches. The H.O.G. were challenging, but the last couple of items in each scene seemed to be impossible without using a hint, and when I did I thought to myself "I would've NVER have seen that without it". THE UGLY: Honestly, I don't care for how far down on the screen you have to click to go backwards. I know this sounds petty, but i continuously brought up the inventory box and had to wait for it to go back down until I could find the right place to position the cursor. It just irritated me a little. OVERALL: It had wonderfull images and decent story, but I guess I'm spoiled by the craftsmanship of games like the Mytery Case Files series. If you don't mind any of the things I've mentioned, then you'll probably enjoy this one alot! Otherwise, try the demo.
January 2, 2012
Wish there was a Collector's Edition
Hi All. Raincliff has a good story line. Quite a few puzzles. If you are looking for logic, it will be disappointing (i.e. you need a spring, go to a watchmaker's and no spring there?). Odd ending which is why I wish they had a collector's edition with more game play so it made sense. It took hours to play, which I like in a game. All in all it was enjoyable to play, but I have played better ones.
January 9, 2012
Too much of a good thing...
I love Mystery Trackers, and I guess this was an early one, because a lot frustrated me that doesn't in some others... for example, the 'hint' button should really be the 'spoilers' button - when I need a hint all I need is "go to the...", not "go to the... pick this up, do this, open this, then do this..." - so I need a hint, let me figure some of it out myself!! Also, there is way too much back and forth from one end of town to the other... if you're going to do that, at least provide a map that you can use to jump to locations instead of having to click ten times to get to the next step - very frustrating, got boring towards the end, sadly. But this was definitely a good game in the genre, especially for an early work - the Mystery Trackers get better and better, and I'm really looking forward to trying the brand new ones. If you're a fan, definitely try this one out...
September 29, 2014
good, but still disappointing
I really liked the plot and the visuals, they made me jump several times, and kept me very interested in the game. However the constant backtracking and searching for inventory items and what to do with them is very irritating. I play hidden object games for the hidden object scenes and the mini-game puzzles. This one had to many times when I was staring at an inventory list and scratching my head. Plus the backgrounds and scenes may be very pretty, but having to click thru each one over and over to navigate is just another irritation. Overall, I'd say the plot, visuals, HO scenes, and lock puzzles where great, the rest not so much. I will still be checking out more games in this series, but this one is a bust.
February 24, 2014
Mystery Trackers, not to be compared with Mystery Case Files
The reviews that the Mystery Trackers games were as good as Mystery Case Files had me excited, since MCF is my standard for incredibly awesome games. This 'Raincliff' game, however, is lacking. Unless you find yourself using random items for unconventional uses on a daily basis, you may find the item use just as confounding as I did. It got to where my froggy helper became my guide for every item use because it made little to any sense. The story is fascinating, but could have been more developed; especially considering the great length of the game #6 hours, y'all!#. Perhaps this is because I bought the SE, the CE may have a more satisfying ending. I did enjoy the main character's attitude immensely- he just can't be put down! Puzzles are a moderate challenge until the ones near the end. By that point, things get crazy and the skip button became a new best friend for me. There are MANY items to get, and they are not always obvious. HOS sites are sometimes harder to find than a prairie chicken in a grass field. If you really, really, really need a game that will kill time, and if you do not get flustered easily by nitty gritty details, you may like this. For a cleaner game experience, go elsewhere.
September 2, 2012
Long game, but not enjoyable
It was a long game but I didn't really enjoy it. There weren't enough hidden object scene. Plus using the inventory items in the manner prescribed didn't make any sense to me. And some items stayed in the inventory for a really long time. There was alot of going back and forth, and using the hint button to figure out what needed to be done next. I liked The Void alot, but this one was a bit of a letdown.
December 24, 2011
Ridiculous
I managed to traipse through the demo, barely. I love HOPA games. I loved the snowy look and the look of the abandoned town. However, finding 15 objects in the beginning that had no use at all didn't impress me at all. I'd find a tool, use it along the way, and find out, oh hey, that';s not good enough... I need another tool. That's not adventure. That's fill to make the game longer. I'd rather play a game that is 2 hours long and interesting and that makes sense than one such as this that's more like a wild goose chase.
March 28, 2013
Not that enjoyable
I really wanted to like this game, as I enjoyed the first Mystery Trackers one. But I found this game just frustrating and irritating at times. The constant going back and forth between so many scenes got very repetitive, and without a map, it felt like a waste of time. After a scene was completed, you're not locked out of it, which makes you wonder if you're actually done with the scene. The puzzles were fun, for the most part. The clues they give you though pretty much tell you what you need to do, which takes away some of the fun. It took us longer than normal to finish this particular game, since we we're not as invested in it.
December 18, 2012
Save your money....
All the puzzles were rotate three, which I hate. The tips weren't tips as much as they were directions on where to go and what to do next. I wouldn't buy this game again or recommend it.
May 5, 2012
This isn't a HOP game - it is a run around blindly clicking game
This is the first time I've felt compelled to review a game after just playing the demo but it was just so un-fun I had to say something about it. Within 5 minutes of crashing in Raincliff the player is assaulted by every hackneyed cliche known to the HOPA genre: the gas tank that needs emptying but you have no container to empty it into, the ladder so high that you need a hook to pull it down to use it, the broken glass that you need some blunt object to clear out so you can reach past it, a valve for a pipe so you can get water running, an ice pick to get through a frozen puddle, and a puzzle that's lacking a piece so you can't play it. Of course even though you're a mystery tracker you have nothing in your inventory and, sadly, no explanation is given in the storyline as to why you want to empty the gas tank of your car, climb that ladder, clear the glass from an abandoned phone booth (are there even phone booths anymore?), get water running, or see the bottom of the ice puddle. The only reason you know you must do these things in order to actually get to the fun part of the game is because these areas glint and when you click on them words appear at the top of the screen telling you so. The only way to do them is to run around blindly clicking hoping to stumble on the items you need because there is absolutely no story giving you a hint as to where things might be. To top off this mess you have a lock that needs 3 keys to open it even though the location is some sleepy little abandoned town which wouldn't have such elaborate locks. In exchange for all that you get one single HO scene and no puzzle you can actually do. It seems the developer would rather just have the player blindly click around in some, admittedly visually well designed, areas than weave a storyline that allows them to figure out for themselves what to do. They also seem to think that when people are trialing something claiming to be a HOP game that what they really want is something that seems to have few HOS or puzzles in it at all. It was a complete drain pour for me after the first few minutes of this torture. If the beginning is this bad I'd be bald by the end from pulling my hair out in annoyance. Not fun.
June 20, 2014
The Apple logo is a trademark of Apple Computer, Inc.