Dracula: Love Kills Collector's Edition
The Queen of Vampires is back and is determined to destroy the world! No one, human or vampire, will stand in her way. Count Dracula is still weak from his last battle with Van Helsing, so an uneasy alliance is formed between the two mortal enemies. Will they overcome their hatred and stop the Queen? Find out in Dracula: Love Kills, a terrifying Hidden Object Puzzle Adventure game!
This is a special Collector's Edition release full of exclusive extras you won't find in the standard version. As a bonus, Collector's Edition purchases count toward three stamps on your Monthly Game Club Punch Card!

The Collector's Edition includes:
Bonus gameplay
Integrated Strategy Guide
Wonderful Wallpapers
Game System Requirements:
OS:

Windows XP/Vista/8

CPU:

1.0 GHz

RAM:

512 MB

DirectX:

9.0

Hard Drive:

531 MB
Game Manager System Requirements:
Browser:

Internet Explorer 7 or later
Blood
Mild Suggestive Themes
Mild Violence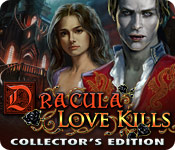 The Big Fish Guarantee:
Quality tested and virus free.
No ads, no adware, no spyware.

Reviews at a Glance

Dracula: Love Kills Collector's Edition
0
out of
5 (
0
Reviews
Review
)
Customer Reviews
Dracula: Love Kills Collector's Edition
41
41
Superb and Packed with puzzles and minigames
First let me tell you that I made the mistake of buying the SE, mistake not because the game is bad but because, precisely, it is OUTSTANDING. Which led me to having a slight feeling of frustration when I reached Chapter 3. I knew then I wanted to go to the very end, to the extra chapter eager as I was to know what happens after the predictable ending of the SE. The snag is that the SG gives you access to only Chapters 1 and 2, so you have no way of telling whether the CE is worth buying. Now I know it is. I understand that some developers do not want to unveil too much of their CE, but I wish they gave at least some information about what is not included in the trial version. After all when you buy, say, a PC, you want to know everything regarding its specs. A detailed list of what a CE has to offer, as a minimum, would be more than welcome. That said "Love Kills" is a must-have. Right from the start the game immerses you into a perfectly well rendered eerie atmosphere of the world of vampires. The artwork is simply stunning, with a cascade of colors dosed with subtlety and great talent. The soundtrack is one of the best I've heard. Although the HO Scenes are at times a little cluttered, they are not truly eye-straining if you don't goggle at them for too long at a time. This makes certain items difficult to find, considering also that some of them are sneakily concealed and/or blend in with the background. But they are not all that difficult after all. Help is available from the generous Hint System, both in and out of the HO Scenes. It points at what you need to find and where you have to go. Further help is given on screen and in the custcenes. These, although pretty standard, contribute to the smooth unfolding of the story as well as providing you with essential clues. Tasks and actions present no particular difficulty. The voive-overs are excellent; each character has a strong transylvannian accent and are good fun to listen to, except for Igor's voice rightly described as "hammy" by another reviewer. The dialogues are well written, and not devoid of humor. The map is quite convenient as it allows you to hop from one location to another, and indicates which one has been completed and which one has still tasks remaining Locations are not in excessive number, so getting lost is impossible. They are all so well crafted that it is a good idea to stop for a couple of minutes just to admire the details. Dracula has special powers, but in order to use them he needs to drink blood; looking for the vials of blood is part of the fun and a necessity. The shape of the cursor when hovering over a vial is just too funny. The other alternative for him to re-energize himself is to bite the girls, but the game gives a choice between doing it or not doing it; each choice having different consequences. Also part of the fun ! These powers enable him to do a number of things that would be impossible without them. You can earn 33 awards during the course of the game. But the strong point of this game lies in the huge number of puzzles and minigames of all kinds, some easy, others tricky, but none impossible. With 6 long chapters for the SE, 7 for the CE, the game ensures hours of fun, entertainement, challenge, and maybe a few thrills for some players. Although it is a vampire story with a lot of red -normal, blood is red- it never gets gory, unhealthy or scary, just a bit creepy at times with the odd skeleton and the inevitable graves and caskets. A game that will keep you glued to your comp and deserves 4.8 stars (5 is perfection)
December 23, 2011
A CE worth every penny
If you are undecided whether to go for the SE or the CE for this game then take my advice along with many other reviewers and invest into the CE version. I never played the SE version, but I assume it would end before the bonus game? And if this is the case, then the game doesn't really have a proper ending. Now obviously I won't give away how it ends :-), but it's really good. Also, the bonus play in this CE version is the longest bonus game I ever played in any CE. I started playing Dracula: Love Kills CE yesterday as a second visit to the game and it still took me about 9.5 hours to complete, that's including the bonus play, but with skipping a few of the mini games. Without the bonus play I would've completed about 1.5 to 2 hours earlier and this should convince anyone of the great value the bonus game has. Now to the game itself: This CE is the sequel to the game Dracula Origin, but personally I class them as two completely different games. Not just in genre but also in subject. Fair enough, they're both about the famous vampire Count Dracula and in both you will meet the infamous vampire hunter Van Helsing (now you know with whom lays my loyalty :-) ) but that's really about it. Oh, they look the same in both games, but that really is all the characters and the games have in common. So, if you haven't yet or don't want to play Dracula Origin, then you will not be disadvantaged in any way. Dracula Origin is a pure and very fantastic adventure game with no HO scenes and plenty of puzzles and when I played it I had to jot some notes down. Dracula: Love Kills is completely different it being a HO-Adventure but WOW :-) it's also "Puzzle Galore". Dracula: Love Kills has a lot to offer. Plenty of HO Scenes, which are very crisp. These are a bit on the dark side, but still very colourful and I have not come across anything that was impossible to spot due to it being blended too much into the background or it being too small. The mini games or puzzles are well explained, some of the puzzles I found quite innovative and the difficulty of these depend very much on the playing level you choose (if you chose to play in hard core mode, then the puzzles will be more difficult. The game has a map which you can use to 'teleport' to different scenes and it will show you in which places there is still something to be done. I always find this helpful, as I am one these people who get lost inside a tunnel. The story line I find hilarious :-). Dracula has a really cool accent and he and Van Helsing converse about the problems on hand (yes... believe it or not the two work together in this one :-) ) and Dracula's sidekick Igor adds his mustard to everything, but him being physically disadvantaged Dracula ends up having to do all the graft :-). The chats of the trio is something I wouldn't skip for the world as a lot of it is quite funny and gives a nice break every once in a while. Dracula has special powers and can use them, providing he drank enough blood. This he finds in vials or by biting a few ladies all of which don't mind as they want to get turned in vampires anyway. So you can chose for yourself whether you want to oblige or not. None of this is gory in fact I find the slurping sound he makes quite cute. You can earn plenty of achievements in this game such as completing a HO scenes without using the hint button. You will always be given some bizarre title when you achieve something. To me the whole game comes across more like a spoof than a horror game and even though it is about vampires it is in no way as occult as many other games from this genre or as it's prequel Dracula Origin. As I mentioned before I find it really difficult to see the two games connected for anything else but the characters. The CE comes with a strategy guide and after completing the game you can go back and play all HO scenes and puzzles again. So you can do plenty of training to get all the achievements ;-). I usually play these type of games in an afternoon or in one evening but even on the second time around I found this impossible. So, I seriously and without any hesitation recommend this game to anyone who enjoys a great HO-Adventure and puzzles. It's so worth spending the extra on the CE for this one. The greatest value for a CE price so far. Hope this helps in your decision making and enjoy playing :-)
May 1, 2012
You should not miss this one!
Dracula: Love Kills (D:LK) only has enough Hidden Object areas to get it classified as a HOG, but other than those token spots get ready for a game that should be more properly classified as a Puzzle-Fest. If puzzles in games are a turn-off for you then definitely look elsewhere, because D:LK is PACKED with them. But if you happen to enjoy puzzles, get ready to test your mettle because you?ve come to the right place. To start with, if you can get past the cheesy 3D animation in the beginning, then the look of this game will rope you in and immerse you in its atmosphere. In your mind?s eye you can almost hear the flame on the torches crackle, or you can see your breath as you move through cold and foggy environments; when the artwork is so good you can mentally take the realism up to higher levels because it fires your imagination, then it?s safe to say that the artists were successful in their work. With all of that said though, the complete visual package in D:LK is not perfect. As mentioned earlier the 3D animation in the beginning looks dated, as if it were something you?d expect to see on the original Playstation years ago. I have to wonder why somebody somewhere in the line of producing this game didn?t think the same thing. And considering how nicely rendered everything else is, I also have to wonder why Waterlily didn?t just write that 3D animation off as a bad experiment and then proceed to implement more of the great art that filled the rest of the game. Another complaint would have to go against the look on Dracula himself. While I?m glad the developers shot for a more traditional look and didn?t seem to take the teeny-bopping Twilight crowd into consideration at all in illustrating him, it?s regrettable that his in-game facial expression NEVER changes. In fact, other than a few different stances in his body, it?s pretty clear that all they did was copy and paste his original head from the title screen. While it can be said that if something isn?t broke it doesn?t need fixing, at the same time considering all of the lines of dialogue Dracula gets, a few different expressions from time to time would?ve really conveyed the mood better. Speaking of dialogue, I?ve read a few reviews on the internet that actually complained about the voice acting in this game, and I just can?t figure out why. Dracula sounds like Dracula should, calculating yet menacing all at once, and Van Helsing was great too (and speaking of looks, Van Helsing has major shades of classic actor Peter Cushing going on, which I?m also thankful for). Igor?s voice was a bit too hammy for my taste, but considering how well the other characters sound it?s easy to overlook him. The musical soundtrack in this game is a five star production if I ever heard one. Even now as I type this review I?m humming a few bars in my head from it. Most of the time it seems developers only aim for making soundtracks suitable for the games, but don?t really try to go above and beyond. That is not the case here; D:LK sounds as good as it looks, and possibly even better. If Waterlily wanted to release this music on a CD I?d definitely be there for that! There really isn?t much more to say on the greatness of this game. D:LK should rope you in and drain several hours of free time, providing of course if you like puzzles. There were a few occasions where I had to walk away from a puzzle and then come back to it later after giving my eyes a break, but for the most part the challenge is high and the frustration is kept in check. The Bonus goodies you earn after beating the game aren?t going to set the world on fire either, so don?t get those hopes up too high, but the achievement badges can be a bragging right with your friends. So thank you Big Fish and Waterlily for an outstanding game.
December 12, 2011
Best CE Bonus Ever!
In addition to your standard wallpaper and music you are given 32 hidden object scenes and 44 puzzles. BONUS!! Instead of concept art your given video and music. The art work is very well done. HO scenes are clear, defined and actually a pleasure to do (and I?m not the least bet fond of HO!!). I tend to click in a slow steady rhythm and did not get penalized. Perhaps if you click faster it will penalize you. Puzzles vary from easy to test your patience. Two modes of play, easy and hard. There are no sparkles in hard and hints take much longer to recharge. While the characters are one dimensional the voice overs are EXCELLENT. Dracula sounds just like you would think he should, and the art of Van Helsing looks just like an actor I?ve seen on TV (dang, I can?t remember his name). Igor, well??given he is Igor, is what you would expect. There is also humor. Who would expect Dracula and Van Helsing to team together and fight evil. Van Helsing and Igor banter back and forth and it is quite comical. You will get many chuckles. The one dimensional factor is overlooked and forgiven because the game play is so fun. Locations are marked completed when done; there is a map that will teleport you to an area of your choice. There is a journal; it gives you history on each knight whose powers you try to obtain. There is an achievement wall, always fun to see what you get. Long playing game. There is a timer that lets you know how long you?ve played. I went 8 hrs. and 57 minutes! Granted, I am determined to finish my puzzles and therefore do take longer. I also want to enjoy my games and take my time. What?s the rush, it?s not a race, you?re paying for a game?enjoy it!
May 12, 2012
Long Play, Clever, Challenging
Of all the games I have bought from Big Fish games over the last 5 years... THIS ONE IS THE BOMB!!! It is soo worth your time and money! Brilliant! Funny, intriguing, and offers lots of little extras! Extended play is really great too! BUY IT! You won't be sorry!
November 14, 2011
Frustrating, but excellent!
Took me 13 hours to complete this thing in hard mode; the puzzles seemed to increase in difficulty as it progressed. I loved the unusal collaboration between the vampire and vampire hunter. Also loved the score and sound effects: agree with antarctic1234 about the love bite and bit every enemy!
January 9, 2012
Addicting and oddly compelling
I've played through this game three times now. If you play it differently (make different choices) you actually get a different ending, which is very, very cool. And if you've splurged on the collector's edition, the different endings result in different extra-gameplay storylines. The extra gameplay is definitely worthwhile - it's probably about the length of one of the chapters in the game (maybe a little longer?), with puzzles and HO scenes. Dracula: Love Kills is not a pure HO, although it is heavily based on hidden objects. I'd classify it as an adventure game, though. The puzzles vary (that is, each one is a different logic-based puzzle - they're not all the same kind). Highly recommend this game. Dracula's voice acting is a little ridiculous, but Igor's goes all the way past ridiculous and into insane (in a fantastic way). I liked the story line a lot. Try the demo, if you like it, you'll like the whole game - it gives an accurate representation of the game. I think the demo is just the first chapter, and there are 6 or 7 chapters in the whole thing, plus bonus gameplay in the collector's edition.
May 29, 2012
One of the best HO Games!
The graphics are outstanding!!! The sound effects were awesome too...actually I loved everything about this game..the only other game I found to be of this caliber was Sherlock Holmes and the Baskerville Hounds. Great story line, puzzels were challenging ....and the best part was there was no way you could get stuck.....game clued you where and what to do next.....plus you could determine what level of play mode..easy or expert......... I just can't recommend this game enough !
January 13, 2012
Loved the different endings!
I had a blast playing through to see the different endings. I'm glad I decided on the CE, as the bonus level was worth it!
April 21, 2012
This was a Great Game!
This was a great game to play! I love the fact that it ventured away from the standard HOG format with being able to earn abilities and taking things down a different path! Anyone who enjoys vampires and the stories of Dracula will certainly enjoy this game! Getting to decide if you do or do not take a possible victim's life! Having to build strength, having to 'earn' abilities... that was a nice change from the usual! The graphics were really nice! The story-line was great! Of course Dracula always is set in a plot where he has to save the love of his lives (ha ha), Mina! But adding to it Van Helsing and then Igor as his faithful assistant was great! That quirky... kind of blonde air about him added a nice personality to the game! For the bonus content, it was really a bonus section! A nice amount of extra game play with the additional features! I would quickly give two thumbs up for this game and tell anyone to give it a try! Good luck in your quest... don't forget to bring the garlic and a wooden stake or two! ;) ~Liz aka Elizabeth1975
October 1, 2013