Dracula: Love Kills Collector's Edition
The Queen of Vampires is back and is determined to destroy the world! No one, human or vampire, will stand in her way. Count Dracula is still weak from his last battle with Van Helsing, so an uneasy alliance is formed between the two mortal enemies. Will they overcome their hatred and stop the Queen? Find out in Dracula: Love Kills, a terrifying Hidden Object Puzzle Adventure game!
This is a special Collector's Edition release full of exclusive extras you won't find in the standard version. As a bonus, Collector's Edition purchases count toward three stamps on your Monthly Game Club Punch Card!

The Collector's Edition includes:
Bonus gameplay
Integrated Strategy Guide
Wonderful Wallpapers
Game System Requirements:
OS:

Windows XP/Vista/8

CPU:

1.0 GHz

RAM:

512 MB

DirectX:

9.0

Hard Drive:

531 MB
Game Manager System Requirements:
Browser:

Internet Explorer 7 or later
Blood
Mild Suggestive Themes
Mild Violence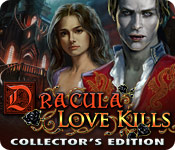 The Big Fish Guarantee:
Quality tested and virus free.
No ads, no adware, no spyware.

Reviews at a Glance

Dracula: Love Kills Collector's Edition
0
out of
5 (
0
Reviews
Review
)
Customer Reviews
Dracula: Love Kills Collector's Edition
39
39
A very fun game!
There are very few games out there that I have found to be most exciting the first time I played them, and then have the game be just as exciting as the second time i have played them. One of the other games that I can say this about, at least in my opinion, would have to be Mystery Case Files: 13th Skull. Without giving too much away, one of the main reasons that I had so much fun playing this game for a second time is the fact that you can play the game two different ways. One way is where you actually bite and feed on some of the "victims" throughout the game, which gives you a certain outcome. Then you can play the game a second time, without biting and feeding on the "victims" and you get a slightly different outcome. If anyone hasn't played this game as of yet, I cannot possibly suggest playing the 1 hour demo enough, cause you're missing out on so much! The puzzles and hidden object scenes have all be put together very well, with moderate difficult on the puzzles. Thankfully the hidden object scenes are also easy to distinguish what you need to complete each one. The graphics are very clean and the music really adds to the atmosphere, the developers did a very good job on both fronts. There is also a conciderable amount of comedy relief courtesy of Igor, it doesn't distract or take away anything in the game, other than laughing at the absurdity of Igors sense of humor. You also team up with your arch-nemesis, Van Helsing to help stop the Queen of Vampires who is out to destroy the world. A pretty simple and standard story plot, but it's the characters of Dracula, Igor and Van Helsing that made this game so enjoyable to me, and the second game ever that I played more than once. Give the game a download and try it and I know you'll come to enjoy the game just as much as I have! Enjoy!
March 26, 2014
Pure unintentional hilarity at every step
My girlfriend and I bought this game after we decided that we just couldn't let a game called "Dracula: Love Kills" pass us by. The title alone was enough to guarantee that we were onto something at least bad enough to be entertaining. Little could we have guessed just how hokey, wonderful, and simply fun this game is. I admit I was expecting something dreadful, whose entertainment value was only in its utter horribleness, but it took me aback by being-- well-- actually quite good. While I wanted to permanently mute Igor's VA every time he spoke, I really enjoyed the Count Chocula-sounding Dracula, the cliched and uninspiring but solid and pretty artwork, and the surprisingly fun puzzles. Most of all, however, having never played a HO game before, I found the bizarreness of the HO puzzles immensely entertaining. "Igor! Ve vill need a gun, a rope, a spider, a hatbox, two frogs, a necklace, and a pair of lips. No questions!" My alternate theory was that Dracula is an incurable neat freak, and can't pass a mess without cleaning it up. Sometimes you have to do a HO puzzle twice in one place: it must be so frustrating to have picked up all the junk people have thrown there, only to return and find it just as untidy as before. I also really liked the in-game achievements. Sadly my profile (named, in homage, Enoby Way) became corrupted and was deleted before I could collect them all, but it gave me a sense of pride to collect the prize for not skipping a single puzzle, or finding ten objects in as many seconds. I'll have to start a new profile (Eboby, perhaps?) and try again, because I definitely think it has at least enough replay value for another playthrough or two. I also got the "bad" ending this time, so I'm curious to know what happens in the "good" ending. Overall, this is a game with solid and entertaining gameplay which is just as awful as it is wonderful, in the very best of ways.
December 28, 2013
Great Game
This game has great graphics, typical story, good puzzles. All the components of a great game play.
February 19, 2013
Bite - mild
The sound of the "love bite" is just great creativity. Listen to it.
November 15, 2011
Can't Miss This
This game is brilliant, one of the best I've ever played. Here are my thoughts: Good Parts: Brilliant storyline Hint recharged at great speed, so, if ever I gt stuck, I did not have to wait long Built-in Strategy guide The game was very simple and straightforward. I hardly had to consult the Strategy Guide Good Graphics The Hidden Object Scenes- there were well placed objects and easy to find, which meant I didn't get bored or frustrated. Achievements- They added an extra thrill to the game and made me eager to play on as I wanted to earn more. The battle minigame of havng to reach your opponent in darkness without trying to hit the walls. This was the best part of the game. OK Parts: Although there were abilities, the downside of this was you had to find a lot of blood to use them. Bad Parts: Annoying voices. I couldn't stand Igor and Count Dracula began to annoy me after some time. The puzzles- they were annoyng, frustraring and way too hard. Unlike the hint, the skip button took ages to re-charge so I was just sitting there waiting, which wasted my free trial. Apart from these very small flaws, this is definitely a game worth buying, and I will definitely add it to my Must-Buy list.
June 1, 2012
Dracula: Love Kills CE
This game is so much better than the Sherlock Holmes: Hound of Baskervilles. The main character, the dracula, has a hunchback as his servant, van Helsing on his side and ability to teleport. Very nice and neat, indeed. Great graphics, very tidy and so clean, very crisp. Plus we can get to collect the blood, choose to kill/ not to kill, although I am not sure if that makes any difference. The ending, sadly is not phenomenal. Still, a great and fun game overall.
June 9, 2012
This is a fun game.
I wasn't sure about the vampire genre, but decided to give it a go after reading the story line and seeing the beautiful graphics. I have to say it is enchanting. What I really enjoyed about this game is the hidden objects and puzzles. The graphics are beautiful and vibrant. What I didn't like is the dialog. I kept clicking through it to play the game. I was able to play this game in just under 5 hours in easy mode. I will play this game again and I hope you found this helpful.
March 15, 2012
Most unique game in a long time.
This was quite a treat after so many games with the same story line. Great puzzles. Although I bought it because a reviewer had stated that it had no HOG's. Wrong, it had just as many as most games. Not overly so but pretty much even with puzzles. The characters were funny and also unique except to late night horror buffs. Sometimes they went on a little too long talking so I did skip a lot of the banter because I loved the game so much. Loved Dracula's super powers an how you had to keep refilling them in "special" ways. Thought it got over way too soon since it was so much fun. Going back to play the first installment in the series. Also if you like a good map it has that as well.
December 20, 2012
At Last Finished!! HAHAHA!
This was a great game and so happy with the CE ! It was worth it, and WOW ~at the very end I did get a great surprise too! ( hint~I am in a hurry all the time, and have to skip some games, and feel bad~) hehehehe oxooxxo Hope you will love this game too!
May 16, 2012
I'm Very Picky & This One is Almost Perfect!
I'm very picky about the games I purchase. They have to have certain things and Dracula: Love Kills CE has almost everything: Pros: - The storyline is well thought out and dialogue is entertaining - Custom cursor opt-out (custom cursors drag my system# - Fast click through dialogue #some is funny so don't skip# - Interactive map #jump + task 'to-do' locations# - Cool, unique puzzles - Clear, crisp, rich graphics - Fairly quick use of inventory items #I can?t remember what item I needed to complete a task from 20 scenes ago!# - Not too many long, drawn out, cut scenes - Built-in strategy guide Bonus pros: - Achievement awards - Location completed indicators - Cursor tells you exactly what you're pointing at so you don't have to click on something you've already seen - Extra "powers" can be earned to assist your goals Cons: - Not an interactive HO, but I can live with that - Inventory lock is always nice #this does not have# It took me 15 minutes on the SE to decide to buy the CE! It's that good #I rarely get CEs#. My overall rating is a 4.7-4.8 This game really reminds me of Sherlock Holmes: Hound of the Baskervilles. If you liked that game, you?ll like this one too.
May 7, 2013