Dracula: Love Kills Collector's Edition
The Queen of Vampires is back and is determined to destroy the world! No one, human or vampire, will stand in her way. Count Dracula is still weak from his last battle with Van Helsing, so an uneasy alliance is formed between the two mortal enemies. Will they overcome their hatred and stop the Queen? Find out in Dracula: Love Kills, a terrifying Hidden Object Puzzle Adventure game!
This is a special Collector's Edition release full of exclusive extras you won't find in the standard version. As a bonus, Collector's Edition purchases count toward three stamps on your Monthly Game Club Punch Card!

The Collector's Edition includes:
Bonus gameplay
Integrated Strategy Guide
Wonderful Wallpapers
Game System Requirements:
OS:

Windows XP/Vista/8

CPU:

1.0 GHz

RAM:

512 MB

DirectX:

9.0

Hard Drive:

531 MB
Game Manager System Requirements:
Browser:

Internet Explorer 7 or later
Blood
Mild Suggestive Themes
Mild Violence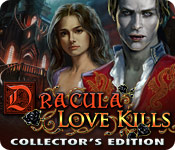 The Big Fish Guarantee:
Quality tested and virus free.
No ads, no adware, no spyware.

Reviews at a Glance

Dracula: Love Kills Collector's Edition
0
out of
5 (
0
Reviews
Review
)
Customer Reviews
Dracula: Love Kills Collector's Edition
42
42
Perfect!
I rarely give 5 stars but this time it is well deserved. The plot is enchantingly original, every scene is superbly detailed and artfully executed and the voice acting is (finally) spot-on! What more could I ask for? Except for a sequel, that is... :)
December 3, 2014
Great game!
Just finished playing this game for the second time. I played the difficult setting because I don't like all the glittering. It seems old fashioned, but look again, this is a wonderful game! The humour in it is incredible, the game is made by the voice-overs. There is a lot of talking, which is quite static, but it is told in such a good way you don't mind listening, it makes it fun! Graphics are crystal-clear and beautiful. Not a lot of adventure in this game, but a puzzle-galore!! And they are fun! Vary from simple to very challenging! A lot of HOP's too, quite challenging, most of them visited twice. There is a jump-map with active tasks, and a very helpful hint-button. I can't really put my finger on it why I liked it so much, on first sight I seems so oldfashioned, but I had loads of fun with it, and it's the very first game I played more than once, I guess that says it all. Try it, I hope you'll enjoy it too! Have fun!
September 27, 2014
not a good sequel but still a good HOPA
This is supposed to be the sequel to my favourite game here at BF - dracula origin. If you haven't played that then don't think dracula origin is anything like this because it's not. I so wanted a good sequel and got a completely different game (like azada in libro). But again putting that aside this is a good game. This is the sequel to Dracula Origin but instead of playing Professor Helsing you play Dracula. For those fishies that have played Hound of the Baskervilles (same developers) this gameplay is the same as the hound of the Baskervilles. Including the ability modes, map of achievements. There was 2 modes of play - hard doesn't have sparkles. I played on the hard/advanced mode. Didn't like the accents on the voice overs. There was an interactive map (transporter map) click to go to area and it also told you if there was tasks to complete in an area. When you have done everything in an area there is also "location complete". [b]Puzzles [/b]The mini puzzles were good though mostly non -original, (one sort of original) not hard, and skipable. And there were plenty and if you don't skip them it should be a long game. I really enjoyed hound of baskervilles and I do really enjoy this. BUT I LOVED the first Dracula game, it's humour, uniqueness and this didn't have the same humour. I think it is trying to appeal to a wider audience of gamers - those that love IHOGs. (It's just a B+ game and not an A+ game which I was hoping for) LENGTH There is 6 chapters plus a bonus chapter. First chapter took me exactly one hour on hard mode and no skipping puzzles or using hints. - overall took me 7 hrs with 2 skips in puzzles. Bonus took me nearly 2 hrs. - Completely different area than the main game, different puzzles, good length. And like the Baskervilles game, unlocked all H0 scenes, puzzles (although no new ones). STORY - Bonus plot just followed a small side-line in story (didn't like how that ended either!) But your choice in game gives you a different ending I loved that bit. For those that buy CEs this is a good edition. If you like puzzles, want a built in SG, like all puzzles, H0 scenes unlocked, decent length bonus play then this CE may please.
February 14, 2012
Some nice puzzles
I played this on the hard level and I did like it. You are in the role of Dracula trying to save Mina with the help of Van Helsing. The game's artwork and voiceovers are great, and the HO scenes are lavishly coloured and detailed, so much nicer than the junk pile you get in some games. There are many mini games and puzzles, some quite original. Although most were easy to medium hardness I am glad to note that there were three or four which were harder, which is excellent news for veteran players. My only negative concerns a glitch or bug that kept on freezing my mouse pointer for a couple of seconds and it happened quite often.
January 3, 2014
More Than I Expected
I don't know exactly how old this game is, and I downloaded it months ago and just got around to working on it. I think my first impression was that it was a bit cheesy, like a humorous version of Dracula. It's not like a horror story. So, if you are looking for something with a fear factor, that's not what this is. The cut scenes include voices all the way through. The graphics are pretty good, and although I had to look closely, I didn't find the objects too difficult to recognize like some games. I always play in relaxed mode, so I don't know how different it would be in expert mode. In fact, I don't know if I used a single hint this time during a HOS, but I did have to look hard for a couple. I just didn't give up easily. The images were pretty nice to look at, and the CG rendered people only showed up here and there. I prefer them drawn over the fake people, so that's good. I did enjoy most of the puzzles. I usually lose patience with those where you have to click on a block and it rotates others, or press a button to turn on all the lights. Yep, I usually end up skipping those after a few minutes. But most of them were good. The ones in the Extra gameplay were harder, and I skipped most of those because they fell into the above category. I do like the ones where you have to move a piece around a board in a straight line to get it to the desired location. That last one took a while, but I got it. :). I learned that I really suck at tic-tac-toe, so I won't be signing up for any tournaments anytime soon. The game lasted a lot longer than I expected. I have had some games that I was really disappointed in because after a couple of hours, it said I was halfway finished. This was not the case this time! I was going to finish it last night, but it was getting too late. Then I started working on it again tonight, thinking I was almost finished, and played for several hours. As far as time goes, it was excellent quality. You'll get a couple of chances to make decisions in the game whether to turn someone into a vampire or not. I only played as letting them live, but I'd like to see what happens if I change my decision. That is something that encourages repeat playing. The CE comes with an integrated strategy guide, which I had to consult a couple of times because I didn't understand the instructions to the puzzles (click the ? for instructions) since some of them were different from anything I'd seen before. After you finish the extra chapter, another section of extras unlocks with mini games and HOSs. I do not know if these are the same as in the game or not. I kind of assume they are. The game also features a map that allows you to easily go to other locations. In addition, when you have found everything in a location, it tells you that the location has been completed, so you aren't left wondering. All in all, I thought it was one of the better games I've played in a while. Definitely more game for the buck than I've seen elsewhere. I was pleased.
May 30, 2013
Dracula, No animation Bites!
I enjoyed this game...it was long, sometimes painful, but mostly fun. I love Vampires, and the story was great...I like that you make choices that affect the outcome and affect the choices you're able to make later. The HOS were a little tricky, as there was not much color, but it is a Vampire game, so always at night. I enjoy a challenge. Mini games were not too challenging, but fun. The only negative was there was no animation, aside from a few videos, that weren't even really animated. The dialog was between characters that appear on the screen, in the same position...although the voiceovers were good. Map to jump from place to place, which I really appreciate, fast loading hints, and no need for a notebook, or log to keep clues...things pretty much stay in their general area, and puzzles are solved within a few scenes. Overall, I enjoyed the game, enjoyed making consequential choices, and enjoyed the length. I just wish the character interaction and movement was a little less elementary.
August 20, 2012
Good game
Too much dialogue for my taste but loved the graphics and puzzles.
August 14, 2012
Deceived - This is an HO game!
This is NOT AN ADVENTURE GAME!!!! It is a Hidden Object game! Not like Dracula Origins; there is NO 3D animation. For an HO, it is O.K. It has a decent story with alternate endings (in the CE version) so you get to replay the game. Yes, I felt deceived b/c I expected an Adventure game, BUT I would still recommend the CE for anyone who enjoys Hidden Object games.
August 14, 2012
Dracula Origin Better
I preferred the first Installment because it was more adventure in style & more exciting. This second installment had way too many hidden object sections in it for me. I do not like this style of game play at all so that put me off right away. Not a bad game by any means still finished it to the end & did enjoy it but everytime I had to complete the hidden object sections, it bugged me & ruined the experience.
March 26, 2012
More Storyline Than Game....
The storyline was fantastic which included humour and at times wit. The sound and graphics were also great, however this was about it. As far as "games" go, it was more of a story than a game. The HO scenes were good, however for the rest of it, some puzzles and in general one scene at a time. More time during gameplay was spent listening to the narrative and the storyline unfold , which was annoying that it wasn't continuous and you had to keep clicking. I must say, overall disappointing.
July 16, 2012