Dreamland
Exclusive
Welcome to Dreamland, an old abandoned amusement park! It is full of dangerous traps and old run-down rides not suitable for children. It also contains a terrible secret... There is an evil dwarf that brightens up his miserable days by collecting the souls of those who dare enter the neglected park. Explore the rundown park and defeat the dwarf once and for all in this fun Hidden Object Puzzle Adventure game!
Incredible storyline
Spooky atmosphere
Explore the amusement park!
Game System Requirements:
OS:

Windows XP/Vista/8

CPU:

1.0 GHz

RAM:

512 MB

DirectX:

9.0

Hard Drive:

236 MB
Game Manager System Requirements:
Browser:

Internet Explorer 7 or later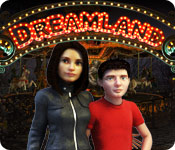 NEW299
The Big Fish Guarantee:
Quality tested and virus free.
No ads, no adware, no spyware.

Reviews at a Glance

Dreamland
0
out of
5 (
0
Reviews
Review
)
Customer Reviews
No game is perfect, but this one comes close.
Dreamland has it all. Great graphics, interesting and involving story, variety in the mini-games and a wonderfully immersive atmosphere. No doubt anyone who reviews this game will tell you all about it. So I'll tell you my one and only peeve. One of my pet hates is games that set the trigger to go to the next scene (the arrow) too close to the items and/or inventory, so that you have to be careful you don't leave the scene when all you want to do is click that darn "is it a bell?". Dreamland is guilty of this mistake. Still, it really is a great game, and I enjoyed playing it as much the 2nd time as I did the first.
December 11, 2011
Dreamland is the Best!
There have been other hidden object games in theme parks and though the title does nothing to entice play of this game, this is the best graphically, visually, and in challenge of a hidden object game. The activities in each scene are great fun and very challenging. I really love the detail used in the game scenes and of all the games I have bought this is one of my favorites that I purchased over the past three years. I highly recommend this game.
November 14, 2011
Lots to do in this game!
There were lots of hidden object scenes and puzzles to do in this game. The quality of the graphics in the hidden object scenes was a little fuzzy for me making it hard to find some of the objects. You visited the hidden object scenes more than once which wasn't really a negative because the second time I had better luck finding the different objects. The hint button refreshed rather slowly making me take more time to examine the scene and sometimes I was then able to find the hidden object. I really like being able to use the map to go back to a location rather than having to re-trace my steps. One feature I liked was the awards ... it will encourage me to play the game again in the future to see if I can improve my gameplay. There is so much to do that I think it will be a challenge to achieve all of the awards in one game. When I first started playing, I wasn't sure I'd like the storyline, but after a while I got hooked and wanted to play continuously as long as possible in order to finish.
December 26, 2011
Fantastic game!
I first played this on my iPad last year and I'm so happy i found it for the Mac, absolute joy to play, great graphics, superb music and explosive storyline. This game just went on and on, great length of play and worth every penny. Anyone who loves this game will LOVE weird Park, very similar to this and just as brilliant!
February 25, 2012
Exactly What a Hidden Object Game Should Be
This game is great. It has very good music and graphics, and plenty of places to explore and things to do. There are not a lot of different hidden object scenes you will have to solve; only 12, but you will go back to each location at least three times. There are various mini games throughout and I loved them. I didn?t feel they were too difficult or too easy, just right. This game is the perfect length; I did not use any walkthroughs and finished this game in a little over 3 hours. Some of the hidden object scenes are a little difficult because they are a little dark, but you really don?t get any penalty for repeated miss clicking, except for the mouse disappearing for about a second. It had a typical story of a brother gone missing and when he returns he is dying, so you, as his sister, must go on a search to find a cure and overall, I loved this game and would definitely buy a sequel if one should come out.
June 11, 2012
Great, imaginative game....
Dreamland is a fun adventure H0G with lots to do, interesting, theme-park oriented locations with an integrated connecting plot. Also to it's benefit, the graphics were great and provided overall good SFX (the only voice over, the game's antagonist, was a bit on the overdone side tho, IMO, lol). A true spooky/scary factor theme ran throughout, yet, without overt occult which was an excellent plus. A slight learning curve in the beginning makes up for in the end as it offers more challenging and diverse gameplay. I enjoyed it once I got under way and became more immersed in the multi-level goals, for which there are awards for in the end.
December 30, 2011
Dreamland
PERFECTION.Number 1 game.Dreamland extended version has it all!Great Graphics,super sountrack.involving story that keeps you interested and Dazzled from the beginning to the end.Absolute Thrilling!I Love it.
January 4, 2012
Very good!
If I buy a game like this, I must of really liked the demo - and I did and the full game delivered too! It was piles of fun. I found it very easy to navigate and while there was a lot to remember (and I did, like some others, need to use the walk through for this reason also at some parts) it also provided some very challenging but work-out-able (new word, yeah) puzzles. Overall it had great graphics, a good story with a good ending. And what I liked about this one especially was that it wasn't too 'far out there' to not make sense.
January 11, 2012
SO MUCH FUN I FORGOT IT WAS SO LONG
STORYLINE: You enter a nightmare in an amusement park. You?re met by a character who informs you that you will have to solve his riddles or meet an unsavory fate ? he?s just what you?d expect in a nightmare. (His dialogue could have been written because he was difficult to understand and he is, after all, the culprit.) MISCELLANEOUS STUFF: You have a journal, which will record information not obtained from the game play, a task list, and an interactive map, which sometimes (not always) tells you where there is an activity. There are various awards you can earn ? most you collect automatically at some point. TIP: Find all the starfish and marbles for extra awards. One of my pet peeves is that games don?t give you this type of information until you accidentally click the bonus item. Why the secret? GAMEPLAY: There are quite a few locations, so the interactive map is so handy. Hint system will also show you where you to go next and tell you to click on it to go there immediately. Since there?s so much to do (sometimes 15 things are pending) and see, it?s a real time saver from backtracking. The interactive HOS are not too crowded and objects are nicely sized. [Tip: watch the cursor change to a red/yellow glow for the interactive objects.] Sometimes the objects are so close to the bottom that you accidentally back out of the HOS ? annoying. Graphics are nice. Very polished and well developed game. Wide variety of puzzles and mini-games ? some are quite challenging. Mini-games have a long skip feature. [When you get to the rabbit trick, if you move the want the wrong way, you?ll end up with several different items. Try it for a laugh.] Sometimes I forgot what the goal was because the game lasted longer than I thought it would ? even with the map allowing you to hop from place to place and the hint system, it took me about 8 hours to reach the goal. Then there was additional stuff. Usually 5-6 hours is the maximum I can play a game without wondering when will it end. This game kept my interest to the end and the length didn?t bother me. But I did take a break before finishing all the additional stuff. W/T vs. HINTS: At about halfway through the game, I thought I?d check the walkthrough to see if I skipped anything, but the game isn?t all that well organized (i.e., not linear in the least) to find a walkthrough that helpful unless you are looking for something in particular. The hints are the way to go unless you are using a W/T from the beginning. Well worth the money.
November 11, 2012
Amusing and Creepy
Fun HO game. Eerie circus atmosphere. One problem: Didn't know until game was over and I opened awards page that I was supposed to look for starfish throughout game. Other than that, it was a lot of fun. Interesting minigames. Graphics were great.
March 12, 2012
The Apple logo is a trademark of Apple Computer, Inc.