Dreamland
Exclusive
Welcome to Dreamland, an old abandoned amusement park! It is full of dangerous traps and old run-down rides not suitable for children. It also contains a terrible secret... There is an evil dwarf that brightens up his miserable days by collecting the souls of those who dare enter the neglected park. Explore the rundown park and defeat the dwarf once and for all in this fun Hidden Object Puzzle Adventure game!
Incredible storyline
Spooky atmosphere
Explore the amusement park!
Game System Requirements:
OS:

Windows XP/Vista/8

CPU:

1.0 GHz

RAM:

512 MB

DirectX:

9.0

Hard Drive:

236 MB
Game Manager System Requirements:
Browser:

Internet Explorer 7 or later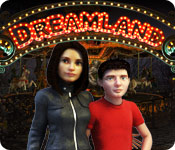 NEW299
The Big Fish Guarantee:
Quality tested and virus free.
No ads, no adware, no spyware.

Reviews at a Glance

Dreamland
0
out of
5 (
0
Reviews
Review
)
Customer Reviews
No game is perfect, but this one comes close.
Dreamland has it all. Great graphics, interesting and involving story, variety in the mini-games and a wonderfully immersive atmosphere. No doubt anyone who reviews this game will tell you all about it. So I'll tell you my one and only peeve. One of my pet hates is games that set the trigger to go to the next scene (the arrow) too close to the items and/or inventory, so that you have to be careful you don't leave the scene when all you want to do is click that darn "is it a bell?". Dreamland is guilty of this mistake. Still, it really is a great game, and I enjoyed playing it as much the 2nd time as I did the first.
December 11, 2011
Mileage may vary
It comes down to personal taste. There's a lot to love about it - great minigames, great scenes, easy to move around in (especially via map). The atmosphere and sounds leave nothing to be desired. I did need to use the walthrough a few times, mostly because there's a lot to remember and keep track of. The 'OK, now I have X object, where does it go again?' type of thing. The HO games very nearly ruined it for me, though. They're everywhere: mostly dark, grainy, and eye-straining...and you have to play each of them multiple times. The hint button took too long to recharge for my taste. IF the HO scenes could've been skipped, or if there were about 70% fewer of them, I'd be raving about this game. If you enjoy challenging HO scenes, this is absolutely the game for you!
November 17, 2011
Hard game
I was fooled by the trial thinking this would be fun. I hate to be negative with so many glowing reviews, but I didn't find this game fun at all. I'm in the middle of it and I can't wait to be finished. Although visually beautiful, HdO's are small and difficult to find and boy, are there plenty of them. It seemed every time I did something, there was another one. Groan :( But my biggest complaint was there were some mini games that could not be skipped and they were hard, with no amount of cheats that could help. I particularly hated the match-3 which seemed to get more and more time consuming and very difficult and you could not skip it. Only get this game if you want a real challenge.
December 30, 2011
On top of the search list: The Story
Review after finishing the game: The good: + decent game length + (hard!) achievements + good graphics + Match 3 minigame (although already matching tiles have to be matched again) + hard hidden object scenes + map with fast travel function (also announces hidden object scenes) The Neutral: o not much of a story (Rescue your brother! and done) o found hidden objects are put back into the scenes The Bad: - ...hard hidden object scenes can become frustrating (although there is a negligible mis-click penalty) - some items necessary for progression VERY hard to find Bottom Line: Good game with negligible story; scare factor was zero for me. Became a bit tedious at the end when every location had one more hidden object scene.
January 15, 2012
Nice, Creepy Game
Dreamland is a hidden-object adventure game. The story line has you trying to save your brother, who ran into supernatural trouble at the local abandoned amusement park. The graphics and ambience of the game is great. I like creepy carnival settings, so that was a plus for me. The voice acting is well-done. The hidden object scenes could sometimes be quite difficult, with some very well-hidden items. The puzzles were on the easy side. Most of them I finished well before the skip button became available. The game has only one difficulty setting, and has sparkles to clue you in on the items of interest in each scene. There's a lot of running back and forth in this game, but it has a very nice map that you can click to instantly move to a particular location. I completed the game in 3 hours 15 minutes, and skipped no puzzles. Overall, I consider this a worthwhile game. Bonus if you like creepy carnivals.
January 16, 2012
Dreamland is the Best!
There have been other hidden object games in theme parks and though the title does nothing to entice play of this game, this is the best graphically, visually, and in challenge of a hidden object game. The activities in each scene are great fun and very challenging. I really love the detail used in the game scenes and of all the games I have bought this is one of my favorites that I purchased over the past three years. I highly recommend this game.
November 14, 2011
Plenty of HO Scenes for the addict
At first I wasn't sure about this game but it grew on me. I liked the map - it was useful to navigate the scenarios. If you prefer to do it the hard way you can. The HO scenes are there in plenty, are fairly complex and test the eyesight as well as the patience but are still enjoyable. The hint button in the HO's is slow to recharge so use it wisely if you need to. The hint facility also assists with where to go next - nice for people like me with a dislike of frustration but for those who enjoy doing it hard it is optional. This game surprised me with the level of enjoyment it provided.
January 2, 2012
Lots to do in this game!
There were lots of hidden object scenes and puzzles to do in this game. The quality of the graphics in the hidden object scenes was a little fuzzy for me making it hard to find some of the objects. You visited the hidden object scenes more than once which wasn't really a negative because the second time I had better luck finding the different objects. The hint button refreshed rather slowly making me take more time to examine the scene and sometimes I was then able to find the hidden object. I really like being able to use the map to go back to a location rather than having to re-trace my steps. One feature I liked was the awards ... it will encourage me to play the game again in the future to see if I can improve my gameplay. There is so much to do that I think it will be a challenge to achieve all of the awards in one game. When I first started playing, I wasn't sure I'd like the storyline, but after a while I got hooked and wanted to play continuously as long as possible in order to finish.
December 26, 2011
Fantastic game!
I first played this on my iPad last year and I'm so happy i found it for the Mac, absolute joy to play, great graphics, superb music and explosive storyline. This game just went on and on, great length of play and worth every penny. Anyone who loves this game will LOVE weird Park, very similar to this and just as brilliant!
February 25, 2012
Exactly What a Hidden Object Game Should Be
This game is great. It has very good music and graphics, and plenty of places to explore and things to do. There are not a lot of different hidden object scenes you will have to solve; only 12, but you will go back to each location at least three times. There are various mini games throughout and I loved them. I didn?t feel they were too difficult or too easy, just right. This game is the perfect length; I did not use any walkthroughs and finished this game in a little over 3 hours. Some of the hidden object scenes are a little difficult because they are a little dark, but you really don?t get any penalty for repeated miss clicking, except for the mouse disappearing for about a second. It had a typical story of a brother gone missing and when he returns he is dying, so you, as his sister, must go on a search to find a cure and overall, I loved this game and would definitely buy a sequel if one should come out.
June 11, 2012
The Apple logo is a trademark of Apple Computer, Inc.