Dreamland
Exclusive
Welcome to Dreamland, an old abandoned amusement park! It is full of dangerous traps and old run-down rides not suitable for children. It also contains a terrible secret... There is an evil dwarf that brightens up his miserable days by collecting the souls of those who dare enter the neglected park. Explore the rundown park and defeat the dwarf once and for all in this fun Hidden Object Puzzle Adventure game!
Incredible storyline
Spooky atmosphere
Explore the amusement park!
Game System Requirements:
OS:

Windows XP/Vista/8

CPU:

1.0 GHz

RAM:

512 MB

DirectX:

9.0

Hard Drive:

236 MB
Game Manager System Requirements:
Browser:

Internet Explorer 7 or later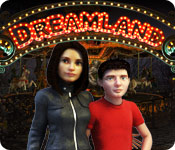 NEW299
The Big Fish Guarantee:
Quality tested and virus free.
No ads, no adware, no spyware.

Reviews at a Glance

Dreamland
0
out of
5 (
0
Reviews
Review
)
Customer Reviews
HELD MY INTEREST
This is a good HO game that held my interest through the very end. The mini games were varied and challenging, and the story line was well constructed. Having a map is always a plus, but the map would have been better if it showed the locations where further action was needed. The map only showed where HO scenes needed to be played, so there was a lot of back and forth that is frustrating. The hints were good and were often enough to help figure out the next step.
November 26, 2012
SO MUCH FUN I FORGOT IT WAS SO LONG
STORYLINE: You enter a nightmare in an amusement park. You?re met by a character who informs you that you will have to solve his riddles or meet an unsavory fate ? he?s just what you?d expect in a nightmare. (His dialogue could have been written because he was difficult to understand and he is, after all, the culprit.) MISCELLANEOUS STUFF: You have a journal, which will record information not obtained from the game play, a task list, and an interactive map, which sometimes (not always) tells you where there is an activity. There are various awards you can earn ? most you collect automatically at some point. TIP: Find all the starfish and marbles for extra awards. One of my pet peeves is that games don?t give you this type of information until you accidentally click the bonus item. Why the secret? GAMEPLAY: There are quite a few locations, so the interactive map is so handy. Hint system will also show you where you to go next and tell you to click on it to go there immediately. Since there?s so much to do (sometimes 15 things are pending) and see, it?s a real time saver from backtracking. The interactive HOS are not too crowded and objects are nicely sized. [Tip: watch the cursor change to a red/yellow glow for the interactive objects.] Sometimes the objects are so close to the bottom that you accidentally back out of the HOS ? annoying. Graphics are nice. Very polished and well developed game. Wide variety of puzzles and mini-games ? some are quite challenging. Mini-games have a long skip feature. [When you get to the rabbit trick, if you move the want the wrong way, you?ll end up with several different items. Try it for a laugh.] Sometimes I forgot what the goal was because the game lasted longer than I thought it would ? even with the map allowing you to hop from place to place and the hint system, it took me about 8 hours to reach the goal. Then there was additional stuff. Usually 5-6 hours is the maximum I can play a game without wondering when will it end. This game kept my interest to the end and the length didn?t bother me. But I did take a break before finishing all the additional stuff. W/T vs. HINTS: At about halfway through the game, I thought I?d check the walkthrough to see if I skipped anything, but the game isn?t all that well organized (i.e., not linear in the least) to find a walkthrough that helpful unless you are looking for something in particular. The hints are the way to go unless you are using a W/T from the beginning. Well worth the money.
November 11, 2012
I'm on the fence with this one.
I really wanted to like this game as I'm a fan of the dark, creepy carnival themes but this one just left me cold. I'd only heard of this game after seeing it raved about in another game's review so I had to check it out. I should have stopped after playing the demo because it gave me all I needed to know as to whether I'd like it or not. Why I went ahead and bought it is anyone's guess. I suppose it's because the sinister circus theme differs from the usual haunted mansion/asylum locations we've come to expect from games that are described as being spooky. And it intrigued me enough to buy Dreamland but I'm glad I waited for a half off sale. Each scene just looks kinda drab in color. I was spoiled by the bright, vivid colors in Weird Park_Broken Tune and I guess I expected the same level of color variations in Dreamland but I didn't get them. The colors are just sort of dull and the hidden object scenes are a nightmare. The objects are so well hidden that they're either too small or completely blended into the backgrounds, causing me to use the hint button far too much for my liking. As an experienced gamer, I felt I was pushed right back into the rank of beginner with this one with not knowing quite what to do or where to find needed items. And I didn't like it. Thankfully, the helpful map came in handy and transported me easily once I knew where I needed to place found items. But the game suffers from lack of a substantial storyline and other than for the villain who pops up randomly, there's no one else around and the lonely feeling is pervasive and something that never bothered me before in other games. I don't know what it is with this game that unnerves me so much as I like a challenge but this one just seemed a little too hard and not fun overall. Not all of it is bad though. I found the shooting gallery to be great fun and if nothing else, provides enjoyable music to listen to between the times you wander around the park aimlessly. The puppet theatre was very cute with its associated minigame too and the refrigerator glutton, although somewhat annoying, had his own appeal. I had average luck with the puzzles, being able to do some while skipping others that made absolutely no sense to me, but it was towards the end that made me insane. After what you think is the end, more hidden object scenes pop up ad nauseum and I was so done by this time that I just wanted the game to be over. I struggled through it but was having no fun doing it. It's certainly not a game for beginners and there's the added perks of the various achievements that can be earned, so it's not a total loss. Just be prepared to work for them as they can be difficult to do. Finding the starfish and marbles are probably the biggest challenge as they are frequently of different colors and in a different orientation from what you're used to seeing, but the forums are helpful in providing where to find these items. All in all, not a truly bad game but it's one that I won't be replaying anytime soon. I'll still recommend it, though, because it provides the kind of challenge that others may be seeking. I'm just not ready to feel that bad again.
October 9, 2012
Awesome (but hard) game!!!
This game was awesome because I liked the challenge in it. All of the Hidden Object puzzles were very hard and you had to look very closely in order to find the objects. Overall I liked the scenery, I liked the challenges, and I had fun trying to win some of the awards!!!
September 9, 2012
Solid Hidden Object/Puzzle Game
I really like this game- enough that I've played it at least three times through. The hidden objects are challenging but not impossible and the objects match their descriptions. The storyline is interesting. The puzzles also fall into the challenging but not impossible category. I really liked the map feature; it made the game move along at a good pace because you could move quickly from place to place rather than constantly backtracking. I also enjoyed earning the awards during the game, such as for completing it in a certain amount of time and for minimal use of the hint button.
September 1, 2012
Hit or Miss From one Scene to the Next
I bought this game because based on the free trial I thought it was going to be the greatest game ever. The problem is, it's not consistently great. Plus, the map is comparatively enormous, which means a lot of wandering around looking for what you're supposed to do next. There is an interactive map where you can click and spawn, which is crucial for a game like this, but it's still harder than it should be to figure out what the next step is. I like a challenge as much as the next person, but I don't like it when the next step is more obscure than logical. I still recommend it because it's SO DARNED CLOSE! At first I thought it was going to be as great as MCF, but it gradually peters out as the game progreses.
August 22, 2012
Loved this game!
I love this game! The visuals are stunning and creepy. the story is good. The hidden objects can be hard to find as this is a dark game. I had to resort to my trusty magnifying glass a couple of times.
August 19, 2012
All The (Spooky) Fun Of The Fair! :-)
OK, I'll come clean. I'm over 50 and have recently started playing computer games. Having tackled quite a few of the straightforward HO games here, and being a lover of old fairgrounds, I decided to have a go at "Dreamland". What an experience! This game had me gripped from the start with its stunning graphics, challenging - but not impossible - hidden object scenes and mini games all wrapped up in a proper plot. I needed a few hints to play; they recharge quite quickly at the casual player level. There is a lot of variety here to keep you engrossed and a lot of creative imagination has gone into making "Dreamland" a great experience. My one tiny gripe is that the ending could have been a little more dramatic . . . still, it's the first game of its kind I have EVER played right through, so well done, BFG for entertaining this old duffer for a week!
August 6, 2012
A great fun game
I loved this. The art work was beautiful, the puzzles creative. I loved that it is long and felt it really gave me my money's worth.
June 19, 2012
Great Game
I'm so glad I bought this...I wasn't going to even play it because I thought it looked cheesy. The game had fun HOG's, interesting and fresh mini-games, nice music, and a good story (I like the spooky broken down carnival games). Played it through twice...still haven't found all the stars and marbles. It just gives me an excuse to play it a third time...lol!
June 18, 2012
The Apple logo is a trademark of Apple Computer, Inc.