Tearstone
Set off on an adventure and help your professor with a mysterious discovery in Tearstone, a fun Hidden Object game! Change your life forever as you explore unusual locations and meet interesting characters. Take on challenging minigames, unique puzzles, and mind-bending quests in this unique game. Unravel the mystery and discover the truth of the Tearstone!
Incredible gameplay
Fantastic puzzles
Set off on an adventure!
Game System Requirements:
OS:

10.4

CPU:

1.0 GHz

RAM:

256 MB

Hard Drive:

259 MB
Game Manager System Requirements:
Browser:

Safari 4.0 or later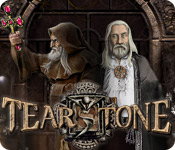 NEW299
The Big Fish Guarantee:
Quality tested and virus free.
No ads, no adware, no spyware.

Reviews at a Glance

Tearstone
0
out of
5 (
0
Reviews
Review
)
Customer Reviews
A delightfully different diversion
To start off with I made a couple attemps to fathom out what to do, where to go and why. It seemed way out of my league. Why? Surely one little game is not going to get the better of me - so I game back to it and perservered. Gradually it all came to me, although I did have to use the walk through blog in a couple of sticky places but by the time I had reached the end I was somewhat disappointed that it was finished. You had to explore various locations and meet interesting people, help them with some problems whilst trying to locate and help the professor with a mysterious discovery. The dialogue, various books and the diary all added to the progress of the game but did become a little tiresome at times but not overbearing. Graphics were quite clear and well defined in most cases but some scenes were a little dark. The puzzles were different, ingenious, intriguing and challenging. The hidden objects were of the pictorial variety with each set pertaining to that particular chapter alone. These objects were located over several scenes and some needed extra work to be located. Because of all this they were quite difficult to find in most cases as some tended to blend into the surrounding backgrounds. I found this game to be decidedly different and quite challenging and well worth sticking with if at first you are not impressed.
August 22, 2012
for me this was an extremely hard game
it was a good game but i had to consult the walkthrough a lot. the hint/skip charged slowly for me. some of the items you needed to find were very small. you had to be very precise to pick things up and click on things. more so than i liked. there isn't a map but that is not really a problem. there is a journal. each chapter is in and of itself. what i did hear of the music was typical for this kind of game. i played casual.
February 3, 2013
Love To Hate It
The graphics were beautiful but so full it was very difficult to find things. I found it hard on the eyes from the boxes showing what to look for to actually looking at the scenes for the items. The journal helped me to connect to the journey more then the play out of the journey itself. Otherwise I would have been confused. There was just enough to keep me busy but on the verge of almost giving up. It was a very different game and think it might grow on me. I hate tutor windows but actually needed it at the beginning and gritted my teeth through the whole learning process. Some items were just too small to see what they were. Like in the recipe book. Very small and could not figure out what some items were. So random clicking solved that problem. So parts of this game were enjoyable and the scenes beautiful. I would not recommend this game for just anyone.
December 7, 2012
Great for a DD
Fun game. Different. Objects to find are described in miniatures. Not the epic adventure we've grown to love but fun. Graphics were a bit fuzzy.
December 7, 2012
Good game but tricky in parts
Enjoyed the game but a little frustrating at times as hidden/interactive areas sometimes hard to find.
July 6, 2012
Just did not enjoy...
I expected to love this game because it was billed as requiring a little detective work and extra thought in solving puzzles and acquiring inventory items. The concept sounded great but the way it was executed sucked the fun out of game play. The graphics were crisp and clear with a fairy tale motif, some of the puzzles were pretty clever, the music was not memorable, and the storyline was weak. Damper on the fun factor - Tasks: While the cursor would indicate areas requiring action, the player was left to figure out just what that might be. This would involve a fair amount of back and forth between scenes and guesswork. Inventory: Figuring out that acquiring an item involved a series of steps using multiple non-inventory items within a given scene was trial and error rather than logical deduction. For example: **spoiler alert** at one point acquiring a key involves lighting a candle that reveals a needle that is used to pop a balloon revealing the key. There was no rhyme or reason connecting the scene with the items used or the inventory acquired and no reason to think that additional action was expected in that scene. In another instance inventory items are applied to a painting including skewering a pear on the end of a sword that a bear is holding??? **end spoiler alert** The game was ok and I'd recommend it just for some of the cute mini-games and the fact that others might enjoy the extra complexity no matter how illogical.
March 9, 2012
A little bit different HO
This game has nice graphics, a fair storyline, and interesting play. It offers a different angle on HOs in that you are giving a group of picture items that you must find and place within each chapter. There were also some interesting puzzles; however, you were given the solution to most in the notebook. I don't think the game offered a lot of challenge since I finished in less than my average time. However, it was rather fun to play. I do think it is one of those games that you will either enjoy it or not. Another one of those rainy day games.
February 7, 2012
And Now For Something Completely Different...
BASED ON FULL DEMO ONLY Tearstone is not your average HO GAME, by a long shot. The GAMEPLAY is of a style I?ve never seen before. In each SELF-ENCLOSED CHAPTER (there are 8) you receive a list of 16 or so GREY-SCALE PIX of the items you will need to COMPLETE the chapter. The first few of these items are almost certainly within easy view in the first LOCATION you find yourself in. As you find items they are changed to FULL COLOUR in your list and are now available as INVENTORY ITEMS. As they?re used, they disappear. There are no useless items, by the end of the chapter you will have NO ITEMS LEFT. You will then move to a NEW LOCATION to start the NEXT CHAPTER. There is also usually a CHARACTER to speak with who will give you TASKS or errands to run for them before they will help you. You will need to search other SCENES within or beside the original LOCATION. Some will only become available after some task has been completed or a PUZZLE solved. Some items require the combining of two inventory items and you have a MAGIC MIXER for that. NONE of these activities is DIFFICULT. There is only ever a few scenes and tasks in each chapter, so while there is a lot of back and forth, you can?t get lost. Therefore, NO MAP. HINT gives you either the task to be performed in that scene, or if there?s nothing, then either suggests you come back later, or tells you that there is nothing left to do there. I can?t remember anything at all that might be construed as sound, so either it wasn?t there or was very forgettable. No VOICEOVERS. The GRAPHICS are a puzzle to me. On my monitor they look so horridly low-def I?m not sure I could ignore it enough to enjoy the game. Yet others are saying they?re good. I assume that this is therefore my own silly fault buying the latest and biggest! *sigh* I am not going to tell you this is a fantastic game. But it IS SIGNIFICANTLY DIFFERENT from the usual run, and it has WELL THOUGHT OUT gameplay. Not fancy, but interesting.
June 7, 2013
not great but good
I could not get it off of the help screen so I could play it. A different kind of HOS. Not bad just not my cup of tea. I did not get any voice over.
April 26, 2013
Review of Finished Game
I don't know what to make of this game. You can see by my ratings it was all over the place. This game is mostly adventure/puzzle. You had about 6-8 scenes in each chapter, and silhouettes of what you need to find. A lot of the time I had no idea what to do, and a lot of the time the hint button was no help at all. It is very challenging in that regard. The puzzles themselves were fairly easy, it was the rest of the game that was hard. The storyline made no sense to me, and I never felt like I was having fun whilst playing. I used the hint button and the walkthrough a lot. I can only recommend this game for people looking for something different and challenging, those who love to figure out what to do on their own. If you just like the normal CE games we have, and are playing to have fun, this might not be for you. I'm giving it 3 stars because it is a good game for people who like this sort of game, but for my personal taste it was 2 stars at the best. If I ever replayed it, I think I might like it better the second time.
January 26, 2013
The Apple logo is a trademark of Apple Computer, Inc.
The Windows logo is a trademark of Microsoft, Inc.