The Timebuilders: Caveman's Prophecy
Explore a forgotten time when dinosaurs ruled the earth in The TimeBuilder: Caveman's Prophecy, a fun Time Management game! Guide your tribe out of their cave and into the world. Discover new lands filled with dinosaurs, carnivorous plants, and mischievous saber-toothed kittens. Use all your skills to manage your people, build houses, and gather resources while creating awesome inventions to help your people!
Challenging puzzles
Fantastic story
Guide your tribe out of its cave!
Game System Requirements:
OS:

Windows XP/Windows Vista/Windows 7/8

CPU:

1.4 GHz

RAM:

1024 MB

DirectX:

9.0

Hard Drive:

1397 MB
Game Manager System Requirements:
Browser:

Internet Explorer 7 or later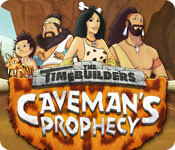 NEW299
The Big Fish Guarantee:
Quality tested and virus free.
No ads, no adware, no spyware.

Reviews at a Glance

The Timebuilders: Caveman's Prophecy
0
out of
5 (
0
Reviews
Review
)
Customer Reviews
The Timebuilders: Caveman's Prophecy
16
16
Loved it!
I have always love the t.m. games, but shied away from the grid/strategy type tm games, until I tried the Timebuilders series on my ipod touch. Now, I'm hooked. Along with this series I also love the Royal Ehvoy series, and I can't wait to see more sequels of both. If you're a fan of the tm games and haven't tried this type yet, do it now! Give it a chance, even if you've played them before. Play past the first few levels and you'll be well rewarded with challenging goals and levels.
November 16, 2011
A definite favourite!
One of my absolute favourite games on the site! I absolutely love the gameplay. The graphics are brilliant. The storyline is as stupid as expected but, still, very fun! It does begin to get quite hard near the end but stays bearable to not stress me - it also have a lot of potential for replaying levels as each one can be completed several different ways.
January 11, 2012
Great Strategy/Time Management Game
This is a fun and colorful time management game, but the strategy aspect is what makes it a stand out; it isn't a simple "point and click" like Diner Dash. Perhaps a cross between "My Kingdom for the Princess" and "Build a Lot." Where as the levels in some similar games can be redundant, each level in this game is unique and requires a unique strategy to master. The prehistoric setting also adds additional delight. Though I have enjoyed many of the "My Kingdom for the Princess" type games, I'm a little tired of chopping wood and digging through snow piles; riding wooly mammoths and hatching dinosaur eggs was a fun little twist! Definitely give this one a try, even if you find the first few levels simplistic; the game develops in later levels!
August 18, 2012
The Timebuilder's Caveman's Prophecy
This was a fun game to play. I enjoyed playing it very much. I would recommend it. Each level you have objectives you have to do. Before you start, the game will tell you how to do the new objective for that level. I would recommend this game.
May 11, 2012
Fun Time Management Adventure Game
Challenging levels when trying for the Flystone.
June 30, 2012
Funny & Fun
Firstly, the storyline is (intentionally) hilarious, I love it. Usually I skip the storyline parts of games but this one was so funny I sat through it, even in the trial. The gameplay is mostly quite easy but it does get harder, and many levels do require the right strategy for you to be able to complete them in time. The earlier levels can be very repetitive but if you stick with it, there are interesting new developments, like the ability to use mammmoths as mounts to move around faster. I like this as well as Build It Green, which is essentially the same game with a different storyline. Both have good re-play value as you can use different strategies.
March 25, 2012
delightful stone age fun
in this time management game, you are interacting with cavemen during a time when dinosaurs walked the planet. in this game, your tribe of cavemen are gathering resources to build stone homes and to invent a variety of time-saving devices. along the way, you meet adorable (but delightfully scary) human-sized carnivorous plants, dinosaurs, prehistoric birds and sabre-toothed kittens, and more. graphics: the cartoons were ADORABLE! colourful and entertaining and just plain fun. the human-sized venus flytrap gave me a smile every time, for example. music and sound effects: the music was quiet and repetitive, but non-intrusive. i loved the sound effects, charming and effective. the venus flytrap makes a sound that is so familiar to me, although i cannot recall what it is ... a small electric saw? a dremel rotary tool? my one complaint: i was a bit put off by the caveman sounds and think the developers could have come up with a better sound for them to make than "ooga mooga". storyline: completely silly and far-fetched (dinos and humans never walked earth at the same time, for example), but straightforward and compelling. gameplay: fun and addictive. not very challenging -- at first -- but if this game is like these developers' other time management games, it becomes MUCH more challenging after the first ten levels have been completed. my interaction: one hour demo. i enjoyed this game so much that i purchased it (well, it had a special price break, too). i own many of these developers' games and they always are charming and engaging. i recommend this delightful game for anyone who seeks a fun, lighthearted time management game with adorable graphics and a straightforward storyline. fun for the entire family!
June 11, 2012
Don't be fooled by the one hour demo...
I enjoyed the preview, which I thought was really easy, and so I bought the full game to see the storyline, thinking I'd finish it easily and i had a credit at the time. What I really like about this game is that as you get to the higher levels, it gets much harder. I still have not got a gold on every level because I haven't figured out the right strategy yet. I keep hoping they will release a new Timebuilders game.
June 24, 2012
Very fun!
I'm in the process of going back through my games (all 125+) and reviewing them. For reference, while I enjoy the occasional match 3 or hog, my preference is time management - particularly the clear the road and build kind. I just finished getting gold on all 43 levels plus bonus levels. It took me several days, and the game got progressively harder (meaning some levels took many attempts for gold) This is my favorite level of challenge! My favorite part of this particular game is that you earned tokens from each level depending on your star (bronze=5, silver=10, gold=15) with which you could buy helps in subsequent levels. But be careful, because if you have to replay a level, the helps you bought before are used up and must be repurchased. Almost all of the levels could be completed in gold time without using helps, but there were a few tricky levels that I couldn't get through without them - so use your helps wisely! I would say that this game required a bit more strategy than usual - and in the latter stages each level required several attempts just to figure out that strategy... never mind the need for speed! Things I didn't like about this game: Some of the sounds were super annoying (market guy) but kind of needed to alert you in the last few levels. Walking mummy that zapped your workers for a few seconds. I hated this guy because there was really no way to avoid him and ... well, I just hated him! Fortunately he wasn't present continually or on all levels. Storyline was boring, imho, and you could not click through the opening scenes without skipping them altogether. Graphics were acceptable, but not notewothy. I rate this game a solid 4 stars... 5 stars for level of challenge and fun, 3 stars for graphics/sound and storyline.
October 18, 2014
too easy and unimaginative
Good for children and a relaxing game. But not for me. It's too easy with too many repetitions.
June 8, 2013
The Apple logo is a trademark of Apple Computer, Inc.