The Witch and The Warrior
Life's not always a fairytale when you are a witch, especially in a world that is full of suspicion. Explore this magical world in The Witch and The Warrior! An uncomfortable truce is only just forming between the magic and non-magic folk after years of war, but the message is spreading slowly. Experience the trials of a teenage witch in this fun and exciting Strategy game.
Magical story
Multiple endings
Explore this magical world!
Game System Requirements:
OS:

Windows XP/Vista/8

CPU:

600 Mhz

RAM:

128 MB

DirectX:

6.0

Hard Drive:

98 MB
Game Manager System Requirements:
Browser:

Internet Explorer 7 or later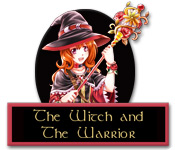 NEW299
The Big Fish Guarantee:
Quality tested and virus free.
No ads, no adware, no spyware.

Reviews at a Glance

The Witch and The Warrior
0
out of
5 (
0
Reviews
Review
)
Customer Reviews
The Witch and The Warrior
10
10
Loved It!
I really enjoyed playing this old-time rpg game - it was fun and had a great story line - and I also liked that it was a relatively long game (I wasn't done in a few days like many other games). If you like Aveyond I think you'll enjoy this game as well.
November 30, 2011
Witch and Warrior Adventure
This is my first attempt with this style of adventure game. You are placed in a world with hundreds of different places and an ever expanding list of tasks. Your strength and experience levels grow over time as you explore and work towards mission goals. It is a very long game and has multiple endings. You want to save yourself often. I have discovered later that the game engine is used in several other games.
November 25, 2011
Cute RPG
Underrated role playing game, like the Aveyound series. Very cute and fun.
March 25, 2012
Simply Wonderful
This is my favorite RPG so far. Like any RPG, there are features that won't appeal to everybody. To get through the game and to make a dent in the side quests, you have to look EVERYWHERE and talk to EVERYONE and keep track of all of it. The lands you explore are large and there are a lot of them. Like other RPGs you have to make choices that will affect things later in the game. These choices won't prevent you from winning, but they could prevent you from completing all the side quests. But if you enjoy that style of game, this game is well done and will keep you going for a good long time. In particular, this game avoided a tedious and irritating problem I found in all the other RPGs. In the other RPGs, I've had to replay some levels dozens of times for no other reason than to power up my characters. This game is so well paced that it completely avoids that problem. Also, the story line is really good. It starts out going in one direction and slowly evolves into something else. If you like RPGs try this one.
July 17, 2013
Amazingly fun game to play
I had an amazing time playing this game. I even ended up restarting it and played it a second time just to get all the side quests. This reminds me a lot of just how great the Aveyond series was and i'm proud to share this game with my friends and family.
August 22, 2012
Nice story to play slowly
The graphics are primitive but pretty. The battles, not precisely gripping. But the storyline is great. Plenty of side trips, pelnty of characters, plenty of different directions for you character to take. She is growing up and making more and more seriouls decisions. And while the visuals and mood may be primitive, the characterization and storyline are not. This is best played slowly, in differnt stages, so that you can do the exploring you want and roam all over, until you figure out what to do. Who knows, in your wandering, you may get yet another quest. Great fun for a long time.
August 10, 2013
After school is more fun
Similar to the Aveyond and Ella's Hope games, this is a straightforward RPG with tons of sidequests, some of which are time-sensitive. A choice of familiars (pets) encourages you to replay the game. The story ending gives a feeling of completeness. If going to school every day turns you off, keep playing until you are let loose!
February 22, 2013
It's good!
If you like the old-time 2d adventure games, you will like this. Some exploring, talking to ppl, finding your way around. All mixed with some small minigames and fights. You've got 3 different skills to choose from (beginner, normal and expert) so pretty much fits for everyone.
November 23, 2011
Pretty good RPG but misses being great
This RPG is based around students at a war and magic school, and has an interesting plot. The title is misleading, the game is 85% witch. You have several party members to choose from, but only your active party members level up so you need to stick with the same 4 if you want party members with strength. Every one has some magic ability, and you gain spells as you level up. The witch gets an animal familiar, you can pick from several choices. This character finds you things and can be a great asset in battles. However there are no objects available to use in battle, it is all spells or fighting ability. What is frustrating about this game is that you must search very carefully for side quests. If you miss the moment to trigger one, the opportunity is gone for the rest of the game. Same with fulfilling the side quest, you can miss the chance forever easily. My advice is to not go to sleep ( in the game) until you have searched all available areas (even if you have already done so). Also seek out all battles regardless of the characters' advice. Still, a classic RPG in the manner of Aveyond and hours of fun.
March 19, 2013
Didn't live up to its potential
I loved the characters, the story, and the art in the game. Some aspects of the game were really cool, but I won't be specific because I don't want to spoil it for the rest of you. I think the creators of the game have the potential to make a truly awesome game. I wish I could say that was this game. Sadly, the gameplay was not very satisfying. Battles were too easy and too repetitive. It took way too long to get where you needed to go (or maybe battling ten hornets consecutively made it feel that way). Sometimes the goal was really unclear (I didn't know where to go, what to do, who I was supposed to talk to, etc.) And when I figured it out, it wasn't like "oh, duh, you idiot", it was more like "how was I supposed to know that was what I was supposed to do?!" My brain must not be wired the same way as the game creators' brains or something. The mini-quests and what-not were usually not rewarding or worthwhile endeavors. (i.e., I did all that for 5 coins? Wow, I feel really cheap.) A novice rpg player might enjoy this game if it weren't so frustrating to play. I kept waiting for the gameplay to increase in difficulty and for the storyline to speed up, but neither one of those things ever happened. I'll be fair though. Being a huge fan of Avenyond games, maybe I expected too much out of The Witch and The Warrior.
October 6, 2012