Butterfly Escape
This exhilarating action-puzzle game will have you helping butterflies find their freedom. Guide Buka to shoot and destroy approaching balls of light before they reach the Dungeon of Darkness. Adventure and excitement await those who help Buka free the butterflies and return the sunrise to the Kingdom of Light! Help the butterflies escape!
3 gameplay modes.
100+ levels.
15 butterflies to free.
Game System Requirements:
OS:

Windows 2000/XP/VISTA/7/8

CPU:

600MHz or faster Processor

RAM:

128 MB
Game Manager System Requirements:
Browser:

Internet Explorer 7 or later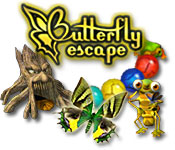 NEW299
The Big Fish Guarantee:
Quality tested and virus free.
No ads, no adware, no spyware.

Reviews at a Glance

Butterfly Escape
0
out of
5 (
0
Reviews
Review
)
Customer Reviews
I WANT MORE
I played all through the night the game was not to challenging that i couldnt play it ,i just wanted more and i am hoping that after ii finish this revew you will let me play again and again i would buy it i just dont have the money right now
June 6, 2012
Challenging Time Management Game!
When I first saw the game , i thought "what a cute kids game" Well I still can't beat some of the levels!
April 23, 2013
Cute and a little annoying all at the same time
Pros: bonus powerups, multiple game modes, butterfly lore Cons: frustration factor, occasional uncatchable powerups Here's a Luxor-style marble popper with a high level of cuteness, a good challenge level, and a little entomology lesson. You are playing Boonka the beetle who is trying to rescue butterflies from the aphids. The game plays largely like Luxor, except that Boonka doesn't always just go back and forth along the bottom; he flies in a semicircular path or may be fixed into position on some boards where he can only pivot on an axis. At the end of every stage you play a round in which you clear a rotating circle of marbles to free a butterfly. Once you win this round you'll get a brief description of your latest rescued friend and the opportunity to view the butterfly up close with rotating views. The butterflies are all actual insects with realistic pictures, so even though this is just a game, it's a nice bonus. Along with the powerups that fall from the marble chains, there is also a bonus row of powerups at the bottom of the screen. These bonuses gradually become enabled as you get farther through the game, and then each recharges at a rate ranging from fast to slow. Careful planning on the use of these bonus powerups is a must for later stages of the game, when the levels become really difficult in their length and twistiness of the tracks. There are three different gaming modes, normal, legendary, and tournament. The first two are just different difficulty levels to play the game in, with legendary featuring a couple of upgraded powerups falling from the marble chains. In tournament you play on a single board for the best possible time. In my experience, the normal mode is completable by experienced marble poppers, but legendary doesn't appear to be (I've made it to stage 13 of 15 in legendary but it's nearly impossible at this point). A couple of things stood out as particularly annoying. One is that powerups falling from the chains will occasionally come in at such an angle that they just sail over Boonka's head without being caught. The other is that the aphids pushing the marbles cannot be shot over. Trying to make shots from the back of a marble chain just hits the aphid pusher in the backside, which the aphid promptly shakes at you; this makes the strategy quite a bit more complex particularly late in the game. If you finish the game...well, I won't spoil that for you. It's still a worthwhile game to play while you're waiting for the next great marble popper to come out.
December 4, 2011
Colorful, Cute Game!
I really enjoyed playing this game and trying to free the butterflys! I read some of the other reviews and have to disagree with at least one....I really don't know what kind of bug Boonka is, but a militaristic bee?? Really?? Giving allowance for artistic license, I believe he is a compilation of several bugs! I mean, I've never seen a bee that's completely yellow, with carapace-type wings with a big blue bead on them! Plus - I'm no entemologist, but isn't bug culture inherently what we'd call militaristic? So If violence of any kind is anathema to your delicate sensibilities, stay away from marble popper, brick busting, or any games that have those wonderful, satisfying explosions or destruction! Back to the game...I thought the game was really difficult to win at the higher levels. There are several strings of beads coming one after the other so that it's almost impossible for me to finish them off all in one go! But I keep playing because I don't want to let Boonka down! If you lose, he hangs his head and shakes it in a very dismal way - sad! Also, when starting to play, Boonka flys out and waves at you in salute...how cute is that? If you do win, the butterfly is released to cheers and clapping and then you are given a brief lesson about that particular species of butterfly and you get to choose how to display it. If anything, this is where some might find irony as you just freed the butterfly and now it's displayed in a case....hmmm...just sayin'! All in all the game is very colorful and definitely challenging! I usually do mute the sound to a very low level or completely if it interferes with my concentration but I didn't find it obtrusive in this game. I bought this game right after finishing the 1 hour demo as I thought the game was such a great idea and executed in such an innovative way. Yes, it's a marble popper game at it's core, but with the addition of the uber-polite Boonka and how colorful and fun the game was - well, I was sold! Again, all you fishies should at least try the 1 hr demo to see if it's as fun for you as it is for me! Happy gaming!
June 21, 2012
Educational AND fun!
As in any marble shooter game, you have a shooter at the bottom of the screen (in this case, it's name is Buka and I guess it's a butterfly). Try to shoot the colored orb (snakeskin egg looking thing) in Buka's hands into the steady stream of other various colored orbs to make matches of 3 or more. You earn bonuses during game play as well as those earned and then click on them at the bottom of the screen. Same ones, just earned differently. For every 25 stars you collect, you gain a life. For every level that is incomplete, including bonus levels, you will lose a life. Bonus levels are timed. There are 3 circles of moving orbs that you must clear off the board. However, you have limited capability in movement and no bonuses. Don't make a mistake and you can accomplish this. Once you complete this bonus level, you free a butterfly. There is an encyclopedia of butterflies. Every time you free on in the bonus round, you get a HUGE amount of data about it. And, it goes right into your encyclopedia. While this one fun little game to play, I just didn't get the "wow" factor when the demo ended so it's not a buy for me. I do, however, encourage everyone to try this butterfly freeing game. Happy Gaming!
July 13, 2014
Good game but I'm not buying it!
A MALE bee?!! I'm not buying it. Whoever heard of a male bee outside the hive? So, I'm not buying this game because of this, frankly, sexist mistake. Also, it has a little militaristic theme going on which I'm not supporting with my dollars. The mechanics of the game are good, though. I'll just stick with Zuma and Luxor!
June 15, 2012