Dark Dimensions: City of Fog
Silvertown was swallowed by fog and disappeared from the face of the earth 100 years ago. Search for a town consumed by fog! Unlock forbidden doors and uncover mysterious items in this thrilling Hidden Object Puzzle Adventure game!
Game System Requirements:
OS:

Windows XP/Windows Vista/Windows 7/8

CPU:

1.6 GHz

RAM:

1280 MB

DirectX:

9.0

Hard Drive:

357 MB
Game Manager System Requirements:
Browser:

Internet Explorer 7 or later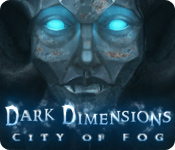 NEW299
The Big Fish Guarantee:
Quality tested and virus free.
No ads, no adware, no spyware.

Reviews at a Glance

Dark Dimensions: City of Fog
0
out of
5 (
0
Reviews
Review
)
Customer Reviews
Dark Dimensions: City of Fog
82
82
Too Hard to Be Fun
A lot of how much you'll like this game depends on how challenging you like your games to be. Personally, I play games to relax after a hard day, and I don't enjoy games that feel too much like work. This game crosses the line for me. Not only do you have to find hidden objects, but you have to find other objects to use those objects on. One or two of those per hidden object scene adds some interest, but having five or six or seven of them per hidden object scene felt too much like work. The puzzles also seemed a little too much like work to me, so if you want a challenge, this game is for you, but if you want a relaxing game, you might want to check elsewhere.
December 14, 2012
Mostly Annoying.
Soon after I bought, I wish I hadn't bought. Extremely annoying for the following reasons (not necessarily in order): 1. "You can only do that in the movies" any time you use an inventory item where you shouldn't. 2. Same inventory used in wrong place will pop out of your hand, flly up and back into inventory. 3. Very precise placement of inventory items so even if you have it right it will still pop out of your hand, fly up and back to inventory over and over until you get the right pixel. 4. Annoying thunder over and over and over like so many games these days. Enough already!! 5. Nonsensical linearity, stupid things to do for example, pull a ladder down. You have a crowbar or other hooked item in inventory, or rope, but noooo, can't use! Have to wait for correct item! 6. USELESS hints. It will only tell you "My investigation is done here for now" then when it gets to a spot where there's something to do, it goes to it, but even if you do not yet have the inventory to do that thing, so now you are stuck again! 7. Tedious H0 scenes, yes they are interactive but I found much of the interactions rather lame. Nice touch, I just think it could have been done better. 8. Sparkles everywhere. One of those games where I was enthusiastic at first but quickly grew tired, bored, and wanted it to END. You might like it. I did not.
March 5, 2012
The absolute worst backtracking of any game I've played
The graphics are very good quality, although the developers should either do their research or not set their games in 1896. All of the clothes and hairstyles were extremely modern, which was confusing when ghosts popped up. The puzzles are average and pretty typical of this kind of game. They aren't hard so much as tedious; dragging and dropping or swapping tiles, etc. One math puzzle; no word puzzles that I can recall. The storyline kept me playing well after the backtracking had me bored to tears, and the resolution was almost worth it. If you are bothered by witchcraft and black magic, you'll want to avoid this. But the backtracking! I can't think of one time, except at the end, that I had what I needed when I got to a location. Literally, go to a place, note that you need an item; head to another location, find that item, note that you need an item for this location; head off to another location, find that item, note that you need an item for this location. Only toward the end do you actually pick up several items in different locations that are then used in one location. The progression is not logical, either. There are cues in the beginning, but after awhile, it feels almost random. I finally resorted to the walkthrough to avoid wandering around, hoping to figure out where I should be. In most games, if you find an item you need, you go back and use it; if you head off to look for something, that's what you do. Not this one. You can't get in the train station, so you go around to the back -- except that now you're at the cemetery, so you go in the cemetery, and take note of items you need in the cemetery, then you go out of the cemetery and over to a fountain, then you go down the road to a farm, then you go back into the city and head down a side street to a house you've never been to before. And back to the farm -- and back to the cemetery -- and back to the house -- and back to the farm -- and back to the fountain -- and to the doctor's office -- and back to the farm -- and then to the house -- for literally hours, until you FINALLY get to the train station, but not the way you think.
May 25, 2013
NO COMPARISON TO WAX BEAUTY
Review based on one and a half hours of game play because I could not tolerate the "that only happens in movies", "I could sure use a tool right about now", the music and the absence of animation/vos. Tedious, boring and annoying. Not a game for me.
December 18, 2012
disappointment
Normally the Dark Demensions line is pretty good but I was sorry I purchased it. First it didn't give you a hard/med/easy playing option. I found it too dark and would've liked to adjust the gamma on the game but didn't have that option either. Not enough cut scenes or talking. Also, I found it on the short side as far as finishing it quickly. On a lighter note, the games were at a good difficultly level for me...that's the only good thing I can say about. it. (2012)
August 10, 2012
great HOS in a boring game
Pros: Some of the best interactive HOS in any HOG. Good graphics. Cons: Everything else. Start with a plethora of trivial puzzles which beg the question ?Why did I bother?? Generally I dislike puzzles; these were the worst I have ever seen. Not only are the puzzles boring, but only by reading the Walk Thru will you know what it is that you are supposed to do to solve the puzzle. Then add to that the fact that you will be very, very busy moving all over the board chasing down clues and then retreating back to use them. Constant back tracking of a monotonous sort characterized the play of this game. And the plot is one I could not have cared less about, unrequited love; how lame and unoriginal. I found the game boring. Fun factor, exclusive of the better HOS, was nil. Recommendation: Play it for the HOS and skip the puzzles. But be prepared for lots of running back and forth. So, I sort of recommend it. It just isn?t a good game.
February 12, 2012
COULDN'T FINISH THE GAME!!!!
I loved everything about this game UNTILI couldn't finish the game because of an interaction in a tree that was off my screen. I tried to change the resolution with no success. HATED that I bought this!!!
September 19, 2012
dark dimensions: city of fog
This game is managing to frustrate me. In the H,.O. scenes I find what is needed and then it says, a tool would be needed. No hint as to what tool. Sometimes when I have the right tool, it just pops away instead of being useful. I have to constantly exit the game and go to the walkthrough. When I do something right I find out that I need to find something else. And that thing is never nearby.
August 23, 2014
City of Blah
I had played this game before, but like Wax Beauty, I returned to it and gave it another go. Fun Factor: This game was not fun at all, and was poorly designed. First off, every time you start the game, you get the same introduction, which is fine the first time you see it, but gets irritating having to click through every time you come back to the game. The hint button was completely useless. If you're stuck in an area, it won't lead you to the next hint; it'll just say "my investigation's done here for now". Then, if you're in the right place, it'll "hint" you to somewhere in the scene that you should do something, but if you don't have the item in your inventory, this is annoying and pointless. Also, when you do have a hint, there's a fog that swirls around until it eventually circles the "hint", which is irritating and wastes time. HOGs are pretty standard in this game, and not too interesting. There are pieces that you have to create, but if you don't use the tool in the proper way and get it to the right part of the scene, it'll go into your inventory, which is annoying. The other games are sometimes particularly hard, and if you want to skip them, it takes forever for the skip bar to load. The inventory, which slides down when you're not using it, is annoying as well. If you don't use items in the particular part of a scene, the item will jump out and back into the inventory. The diary is useless and sparkles constantly. It will also sparkle every time you return to the game, making you think you might have found some new information, but you haven't. The amount of backtracking around scenes and collecting one of twelve or so angel coins is really frustrating, especially if you miss one, because without any hints, you have to guess your way around to finding them. Visual/Sound Quality: The visuals are nice, but particularly dark. The music is dull with lots of thunder claps. There's not much to fault upon, but it's so decidedly average that it doesn't make up for the rest of the game. There's also live and stationary actors, none of which are notable. Level of Challenge: Challenging enough because of all the game flaws. Storyline: The storyline is completely forgettable. Halfway through the story, I figured out the culprit. The characters are dull and it's obvious not too much thought went into the story. The ending is so fast that it seemed that the directors ran out of time and put it together at the last minute. Final Thoughts: Overall, the game has too many flaws to make it fun, and the story is completely awful. There is no way to enjoy this game; you have to be a masochist to get to the end. The premise of the story is interesting but not developed at all. The visuals and sounds are alright, but don't make up for the awful gameplay. My suggestion: skip this game and just go to "Wax Beauty", which isn't a knockout, but it somewhat enjoyable and you can at least play it without all the silly frustrations. You're not missing any plot points about the series from this game.
August 10, 2012
Bought it, uninstalled it
I wish I'd played the trial, but I bought this after all the hype it received. I rarely give games poor reviews, but this one had me gnashing my teeth within the first ten minutes. The hint system doesn't tell you where to do or what to do, it just highlights objects it thinks you haven't clicked on yet. The inventory system forces bundled objects, i.e. 4 gears, into separate boxes then makes you place them one at a time. If you try an object and misclick, it takes the object away and shoves it back in the inventory. The HO scenes were interesting, in that many of the objects you have to find are related to the other objects you find, but the rest of the gameplay was so frustrating I couldn't even enjoy that. There's no explanation of why you're there or what you should be looking for, and the random selection of puzzles bears no relevance to what's going on. Overall, very disappointing, especially since so many other people seemed to enjoy it. I wish I'd been able to see whatever they did but clearly it's just a matter of other people being more patient or forgiving of software than I am.
April 4, 2012
The Apple logo is a trademark of Apple Computer, Inc.