Gravely Silent: House of Deadlock
Exclusive
Save your sister from the grave! After receiving a troubling phone call from your brother-in-law, you're off on an adventure! Investigate the troubling scene and discover the truth in Gravely Silent: House of Deadlock. Scour gorgeous Hidden Object scenes for valuable clues and unravel the mystery behind your sister's disappearance.
Amazing gameplay
Fantastic graphics
For a more in depth experience, check out the Collector's Edition
Game System Requirements:
OS:

10.4

CPU:

1.0 GHz

RAM:

512 MB

Hard Drive:

323 MB
Game Manager System Requirements:
Browser:

Safari 4.0 or later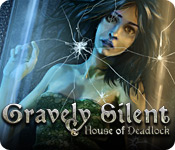 NEW299
The Big Fish Guarantee:
Quality tested and virus free.
No ads, no adware, no spyware.

Reviews at a Glance

Gravely Silent: House of Deadlock
0
out of
5 (
0
Reviews
Review
)
Customer Reviews
Gravely Silent: House of Deadlock
86
86
Fun
fun but too short. I wanted more than another hour from playing the demo
January 27, 2012
Nice Little Game
I enjoyed this game. I played on the easiest setting, as usual, and found it to my liking. The hint button guides you to where you need to be. The Skip button recharges quickly. The story line was entertaining. The graphics were well done. The music was not too annoying. My only minuses were that when I logged out and logged back in, it always put the Custom Cursor back on so I had to switch it off. Also the game crashed to my desktop at least three times during play.
January 7, 2012
A Solid Game
I enjoyed this game except that I had to look at the walkthrough too much. I don't like them extremely hard. It was a good length, and an interesting story. I liked how you had to gather ingredients and make potions yourself to free the brides. Lots of hidden object scenes and adventure, plus mini-games, some of which I found tedious or difficult, though. But it was a good game.
May 25, 2012
A solid, long SE with some decent challenges
This review is based on a complete playthrough of the game. First - before you even start the game you're faced with a choice of two evils: do you want the easier setting that has 'glints' everywhere, or do you want the harder setting that has a more extreme 'click penalty'? I hate click penalties, so I chose the former. The game took me a bit over six hours to complete, and I skipped one puzzle and used the hint more than a few times. I'm reviewing this in 2014. The game is about three years old at this point, but I have to rate it by 2014 standards as that's when the people reading this will be choosing where to spend their money. On to the game: THE GOOD: The game length, as I noted above. Also, the game ended conclusively, no loose ends hanging. The graphics were ok, a dark palette which fits the tone of the game. The music fit the setting, and was 'pleasant' enough to keep on through the whole game. You have a 'task list' in place of a journal that lists the things you need to do. The 'main quest' is at the top of the list for pretty much the whole game so you won't forget about it. The story is a fairly standard one, with no real twists or surprises, but sometimes just sticking to the formula can be a bit of a 'surprise' in itself. At any rate, the story worked. I knew what I was doing and why throughout the game, and the main goal (saving your sister) never really leaves. There are lots of HOS. They're the 'traditional' word list with a couple of 'interactions' for each scene. Some (all?) get repeated, but they're different the second time - objects you found may be gone, new objects to find may be added. The puzzles were all fairly standard, medium difficulty. The last puzzle I skipped - It wasn't the puzzle itself that was too difficult, figuring out exactly what they wanted was. I'm sure it's doable if you really put your noggin to it, but at that point I was ready for the finish. THE BAD: Lots of little things, starting with the GUI. Backing out of a scene wasn't easy, you had to put the cursor just right between your inventory (which stays open) and the scene. It wasn't terribly difficult, but always having to watch that got annoying fast. No map. You can manage your way around without one, and at key points you are given some 'teleports' to get to where you need to go and back again. Still, a map would have been very helpful, especially during the middle of the game when you're still exploring everywhere. The HOS were dark. Yes, it fit with the game, but when you start looking for objects painted black on black it gets old. Combine that with the incessant click penatly (you can't pace yourself to avoid it, it just happens every so many clicks) and the scenes become frustrating. I'm glad I didn't choose the longer click penalty. No voice overs - everything is done via dialog written on screen. The 'task list' knows WAY more than it should. You'll see lots of 'goals' listed that you have no clue about because you haven't found the place or object it's talking about yet. THE UGLY: A few typos: "fawcet" and similar. Some ambiguous terms in the HOS list: which 'bird' or 'bow' do they want? Without giving away a spoiler, one puzzle looks like it wants numbered buttons, instead it wants light bulbs. Those things are few and far between though, thankfully. BOTTOM LINE: I'm giving this game four stars primarily for it's length - over six hours for me. It's an ok story, done with decent graphics but no voice-overs. You see 'yourself' (which can be good or bad depending on your preferences). Plenty of HOS, and some reasonably challenging puzzles. You are not 'cheated' out of an ending by getting the SE. It doesn't rise to the level of the best games coming out now, but it's stood the test of time fairly well. Still a worthy SE to add to your collection.
July 15, 2014
Solid, good game
I've just finished playing this game and I had a nice time. The graphics are appealing, and the storyline captivating enough to want to keep on playing. Quite a lot of HOG's and they can be very challenging. I enjoyed them though. The puzzles are not very difficult, I like that, since I'm not so keen on challenging puzzles. It's obviously a little dated, and I was dissapointed there were no voice-overs. But as one of the earliest games of this developer, you can see they have a lot of potential, and they lived up to the expectations, their games nowadays are awesome! Nice game to buy with a free coupon. Try it and have fun!
December 20, 2013
Save Your Sister
This was a fun game with lots to do. Great music Good graphics Lots of HO'S Lots of puzzles Long playing time Storyline fairly typical The only negative were some of the teeny tiny items in the HO'S. Even using the hint button with a magnifier I still could not see the item!! This is a game worth playing.
February 19, 2013
Beautiful Fantasy !
The artwork made this game for me. I must save my sister from death as she has become involved with a wealthy killer of wives (4). I travel into each talented wife's vividly colored world to put her spirit at peace. The puzzles were simple, but beautifully done. The HOs had numerous multiple finds (4x leaf, 3x button...) some objects were tiny, others unrecognizable, but again the artwork and relativity to the game's theme made them enjoyable. There is a delay penalty for overclicking. The game is a long one and well worth the players time and money.
February 7, 2013
GOOD STORY LINE
The story line was interesting and followed through the whole game smoothly. At times, the scenes were pretty dark, as would be expected in a game like this. The mini games were varied and there were enough HO scenes to keep the game interesting. This is the type of game that tends to be a pet peeve of mine; too much backwards and forwards, but in this case, the other positives outweighed this particular flaw. It would have benefited from a map, specifically one where you could use it to go to the next active area. Not an outstanding game, but one that I was happy with when I finished it.
November 28, 2012
Fun till the end
I really enjoyed the story line. The puzzles and HOS were fun! I didn't have a problem seeing them or the objects being to small or dark. I loved how each character had their own unique story line and puzzles, that made it fun! The game does last a long time, which is nice because I play allot and seem to beat them quickly sometimes, which sucks! I will agree with the other reviews on the ending however, after all the work you go through to get there it's almost not worth it. But I did still enjoyed the game.
November 5, 2012
Fun , simple game
Not overly challenging and not much of a storyline to be had. But a nice, fun quick little game.
November 4, 2012
The Apple logo is a trademark of Apple Computer, Inc.
The Windows logo is a trademark of Microsoft, Inc.