Youda Farmer 3: Seasons
After disaster strikes during a stormy night and reduces your farm to rubble, you once again face the difficult task of rebuilding your village and farm! Facing cold winters, bug ridden springs, hot summers and stormy falls, your farming skills will be put to the test in Youda Farmer 3: Seasons! Build new farms and shops, buy new tools, and earn money to upgrade your farm in this excellent Time Management game!
Incredible gameplay
Fantastic upgrades
Rebuild your farm!
Game System Requirements:
OS:

Windows XP/Vista/8

CPU:

1.2 GHz

RAM:

1024 MB

DirectX:

9.0

Hard Drive:

180 MB
Game Manager System Requirements:
Browser:

Internet Explorer 7 or later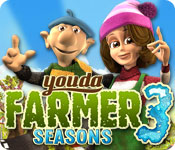 NEW299
The Big Fish Guarantee:
Quality tested and virus free.
No ads, no adware, no spyware.

Reviews at a Glance

Youda Farmer 3: Seasons
0
out of
5 (
0
Reviews
Review
)
Customer Reviews
Youda Farmer 3: Seasons
12
12
Good Time Management
This is the best of the three Youda Farmers. It is a typical time management with fun twists. You can see many upgrades from the first one - I have all three and since I like time management appreciated the efforts to smooth out the first two. Enjoyed - bought it!
March 16, 2012
Nice and Good Farming Game
It was a very good and so fun farming games and I think it is the best series of the of the Youda Farmer game Although some levels of it was very challenging I really like it.
April 8, 2013
Best Farming Game
I think when I was first swa it it`s not good , But when I try it ohhh it`s really good, And I think it is the best Youda farmergame , than the first and second , Really liked it :))
June 20, 2013
Great Game
I love this game, each youda farmer game gets better and better. Great challenges, more difficult than the second. More minor games between levels. Favourite game at the moment.
February 22, 2013
Great Buy as a Daily Deal
Downloaded the trial, played for about five minutes and bought it! I've got one the other two Youda Farmer games and to be honest, the first one I only completed on my very old PC because on that one the game runs in slow motion. These games are seriously fast and require quick eyes, quick decisions and even quicker mouse movements. So I really can appreciate that these TM games aren't for everybody's taste as the game play can be quite stressful but that's exactly what I love about them. Unlike one reviewer I didn't find the graphics primitive at all, as they were clearly created without using hammer and chisel :-). The only scene I came across was a winter scene and snow is notoriously difficult to do (painting or drawing) but whoever did it did a great job imho. Can't say much more, as I only played for a very short while, but for D/D price really good value for money.
July 2, 2012
Youda Farmer 3:Seasona
When I saw this game it looked like fun. To me it was not. I got through winter then I got to spring. There are suppose to be 3 seasons and I am still in Spring. I keep getting flour and eggs and taking them where they go and I can't seem to get out of spring. I would not recommend this game.
July 2, 2012
Where's my delivery!
This as is usual with TM 'next in the series' games, in that it follows what was before and adds additions to the game. The game in set-up and design is pretty much similar to 'save the village', the game-play again is pretty much the same, though in this game you have the addition to purchase 'perks' in order to help you 'down on the farm'. The game is again a 'delivery type game' rather than a traditional TM building game. The are a few improvements in that if you are wanting to combine to make a recipe and you have multiples of the correct ingredients then it will allow you to make multiples. Other improvements, were the graphics seemed to be a bit better, the voice overs were slightly improved (though on occasions could be a tad tiresome), and the music was suited to the game. In the hour trial I completed a year, mostly with 'gold' first time round, so whether it because it was the first year and it was like a 'trainer' year or whether I am superbly brilliant at this type of game (highly unlikely), or the game is 'pegged' for a younger audience I don't know, but towards the end of the year (autumn/fall), it was getting a bit tougher (unfortunately though my hour ran out :)), Given that I now understand the game-play and that I have realised it is not a farming game in the populas sense, i would still recommend if you like to play a farmer version of the 'UPS' guy/guyess :) Give it a spin, I would recommend the game.
May 5, 2013
Another great addition to Youda.
Youda Farmer is great, I loved the first two, it was fun. I enjoyed the different aspects of the lessons from summer to winter. Different stock and different buildings; I liked it.
July 8, 2013
Farming Done Differently
This was my first try at the Youda games, and I did not really get taken by it. I found the graphics a bit primitive and the storyline not very intriguing. I tend to like the TM games that have higher graphics and more challenge to them. I only lasted about 20 minutes into the trial and cannot say if there were any mini games or trophies or awards within the game. I didn't find the game obnoxious or annoying; I just didn't like the graphics and how you were supposed to do the tasks within the levels.
January 12, 2012
Tough TM game
As with all Youda games, this is a complex and challenging time management game. You own a farm, and you must complete orders to finish a level. There are different places that produce items (like eggs, wheat, meat, etc.) and different places you drop off either the items themselves or a combo (like bacon & eggs). The difficulty for me comes because you're never zoomed out on the map. You are always looking at one of the places (like the mill or the chicken coop), and you can only access each one by clicking on products, which spawn randomly. The drop-off places are always along the top, so you can go there, but if there's a product you're waiting for, you have to wait until it spawns. My basic issue with it is that it doesn't flow--I don't feel like I can queue things as far in advance as I like to, and each shopkeeper ordering something can order a number of things, so I get confused as to what is going to whom. The other problem I have is that when you complete the level in gold time, you get one upgrade; when you complete the level in silver time, you get two upgrades; and when you complete the level in bronze time, you get three upgrades. It makes no sense. At times, if there's not a lot of time left, I find myself waiting for the clock to run out so I can get an extra upgrade. A few levels into the game, you get the ability to drop off orders at a hotel. The people in the hotel are demanding, and if you don't drop everything at once to start their order, you are almost guaranteed not to meet the time constraint. I pretty much abandoned that, instead focusing on the overall goals that are given at the beginning of the level, and I get gold much more consistently now. It's not a terrible game. I actually bought it. But I've tried to play it through several times and never got very far. Each time, I restart, thinking that perhaps this time, I'll get into it. This particular time, I've gotten farther, which I think is due to abandoning the idea of serving the hotel people. I would suggest doing the trial to see what you think of it before purchasing it.
April 15, 2013
The Apple logo is a trademark of Apple Computer, Inc.