Midnight Mysteries 3: Devil on the Mississippi
Mark Twain's ghost has come to you seeking help. When Twain's passion for literary history reignites a controversial debate about the true identity of Shakespeare, the age-old question resurrects one of the most evil interested parties. After waking the evil spirit, Twain sets about to rid his time of the darkness, but the plot only thickens. With Twain's help, you have to unravel the connections to try to set history straight in Midnight Mysteries: Devil on the Mississippi!
Spooky atmosphere
Incredible puzzles
For a more in-depth experience, check out the Collector's Edition!
Game System Requirements:
OS:

Windows XP/Vista/8

CPU:

1.6 GHz

RAM:

512 MB

DirectX:

9.0

Hard Drive:

442 MB
Game Manager System Requirements:
Browser:

Internet Explorer 7 or later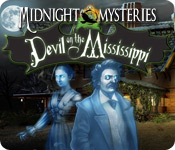 NEW299
The Big Fish Guarantee:
Quality tested and virus free.
No ads, no adware, no spyware.

Reviews at a Glance

Midnight Mysteries 3: Devil on the Mississippi
0
out of
5 (
0
Reviews
Review
)
Customer Reviews
Midnight Mysteries 3: Devil on the Mississippi
58
58
First Game I've WANTED to Review
What delicious ambience this game has! A bit of Pirates of the Caribbean ride feel to it, right down to the fireflies, eerie cloudy skies, and misty waterways. Nearly had me smelling the river water, feeling the cold fog shrouding graveyards, and shivering 'neath skeletal trees that creaked in the wind. Level of difficulty wasn't so difficult that it discouraged me from playing. A great deal of fun navigating through the scenes and game play. Delightfully spooky, intriguing, spell-binding. The references to Mark Twain, Shakespeare, and other noted literary icons added flavor to the entire adventure and had you wondering what might be truth and what may be fiction. The graphics were, to my mind's eye, top-notch for the storyline. It didn't bog down in a specific setting as it took the player all over the globe, through time, with gameplay that I found engaging, enlightening, entertaining, and ever-changing. This was a fun ride! Cheers
January 25, 2012
I love these games!
Midnight Mysteries is quickly becoming my favorite casual game series. Every game I have played has been worth downloading. I love that they've added awards, it gives the game even more replayability (is that a word? lol# than before. This one was creepier than previous games in the series, in my opinion #which I like). It ran beautifully on my computer- no glitches, no stutters. It had just enough of a challenge- not frustratingly difficult, not boringly easy. Even writing this review I'm thinking about playing it again when I get some free time! I highly recommend all of the Midnight Mysteries games!
November 15, 2011
Intriguing Mystery
I also love this literature themed series. The story kept me interested until the very end. The game reminded me more of the larger adventure games that involve dialog with the characters, but it?s only a limited amount per character (some games can get pretty gabby). I really enjoyed all the ghostly characters that you bump into. I thought the game was on the easier side, but I like that occasionally. Not a lot of running around or backtracking, the hidden objects were easy to find and I didn?t need to skip any puzzles. The hint button pretty much told you what to do and where to go next. Overall I thought it was a nice relaxing, creepy game with an intriguing storyline.
January 17, 2012
first game EVER to have enough fun to finish!!
The sights, the sounds, the element of surprise...,this game HAD me!! My daughter and I were playing and when we finished a task all of a sudden this "BAM!" and lighting flashed, a "spirit" flashed across the screen and we were both "eeeeeck!!" what was that!!??? scared the pants off of us!! we need more games with this kind of surprise!!!
December 5, 2011
as you like it: gorgeous graphics and ghostly writers
in this hidden object puzzle mystery, Mark Twain?s ghost has come to you seeking help. a wise choice, seeing as how you are an accomplished investigator with a passion for the paranormal. Mark Twain is asking your help discovering the true identity of Shakespeare -- a question that grips the literary world to this very day and that has awakened the interest of an evil spirit. this evil spirit (a disgruntled literary critic?) will do what he can to keep you and Mark Twain from accomplishing this task -- which becomes more complicated the further you pursue this investigation. graphics: like all the games in this series, the graphics are absolutely gorgeous; wonderfully detailed, crisp, carefully presented and designed. the art is lovely, if a bit foreboding, and made me want to simply look around. the hidden objects scenes are so refreshingly tidy; i am pleased that i didn't run across the usual junk piles. however, if you think a tidy scene makes it easier to find hidden objects, well ... think again! some of these items are very cleverly hidden ?in plain sight?! further, hidden object scenes included mini-games where you combined two objects to create one hidden object on your search list. there is a nice combination of hidden objects scenes and puzzles. puzzles include memory, spatial and matching mini-games, some of which i've not seen before in the many games i've played. music and sound effects: music is appropriate and the sound effects were quite nice, setting the mood well. i was a bit confused at first when i heard a recording of baby birds (sounded like chickadees to me) begging for food -- then i realised the game developers were using that sound whenever bats were flying about. uh, ok! storyline: interesting, became progressively more convoluted (perhaps a tad *too* convoluted for a strong video game storyline?). included historical (educational) details. conversations with various ghosts indicated what you were supposed to do next, provided context and moved the story along. gameplay: no map, although there is a journal. smooth transition between scenes and no cursor hiccups or freezes. not much back-and-forth. there is no click penalty and puzzles can be skipped. hints are wonderfully detailed and can function as a walkthrough or mini-strategy guide. ravens and four-leaf clovers adorn many scenes and are collectable: each raven gives you another hint whilst the clovers unlock unlimited hidden object gameplay if you collect at least 40 of the 70 in the regular game. achievements are awarded, which as always, improves replayability. in addition to ghosts, this game also included time-travel. as a bookworm, i absolutely loved the references to Mark Twain and Shakespeare. these references made me wonder if teens who are reading these books for the first time in school might find a special appeal in this game? although there's plenty of thought involved in this game, it's not so difficult that you give up in frustration. the convoluted storyline is the reason i gave this game 4.5 stars (rounded up to 5 stars), although i do highly recommend it. as for me, my biggest challenge is deciding which to purchase: CE or SE?
June 15, 2012
Fantastic game!
I did not think I would find a HOG game to replace my favorite but this one does. The graphics are amazing. The story line keeps you fully engaged and wanting to keep going. And the game is educational without being preachy. This game gets an A+ from me. I'm going to look into the previous releases of the series as well.
January 18, 2012
ONE OF THE BEST GAMES EVER PLAYED!
Definitely! Lengthy play, Game has phenomenal artwork and very exciting scenes where you're mostly "transported"--not running to and fro. The best and most enjoyable puzzles I'ver ever played. Most HO scenes are at the beginning and thins out to puzzles, mini-games and finding objects to progress. Locating a target range of 70 "shamrocks" and "ravens" unlock hidden object mode with 100 achieving the"perfect" awards. Not an easy task and will replay to try for that 100 mark! Enjoy! -Mama Mia-
February 20, 2012
Great Game!
I have almost NO idea what the story was about. I really couldn't follow it. I think it was about Mark Twain trying to get his soul back or something...I'm not sure. Somehow Shakespeare is involved. Who knows...it's kind of convoluted...BUT....this game was great! The scenes were gorgeous, the puzzles were just challenging enough. The game even startled me a few times, which was fun! I definitely recommend this one!
February 11, 2012
EXCEPTIONALLY GOOD!!!
I thoroughly enjoyed this game and it was educational as well. I had no idea Mark Twain's real name was Samuel Clemens. The story was great, the way it was tied into both fact and fantasy. The puzzels aren't hard at all, but it is fun and thoroughly entertaining and having only paid $3.99 for it a bargain to boot. While it is educational it is not for the kiddies does contain dark themes and not just the Faustain ones.
January 22, 2012
Really like this series
I very much enjoy this literature based series. I have played this and the Nathiel Hawethorne one and found both intriguing. I wish the Edgar Allen Poe game was available for Mac. (Hint, hint.)
January 1, 2012
The Apple logo is a trademark of Apple Computer, Inc.