PuppetShow: Lost Town
Exclusive
After discovering a new system of caves, the entire town is excited to explore, until Suzy is kidnapped by a mechanical beast! Emerging from the darkness and startling the townfolk, the creature causes a cave-in behind him, leaving no trail to follow. Track the creature down and explore the mysterious caves in PuppetShow: Lost Town, a beautiful Hidden Object Puzzle Adventure game!
Immersive atmosphere
Gorgeous graphics
For a more in depth experience, check out the Collector's Edition
Game System Requirements:
OS:

10.4

CPU:

1.4 GHz (INTEL ONLY)

RAM:

1024 MB

Hard Drive:

447 MB
Game Manager System Requirements:
Browser:

Safari 4.0 or later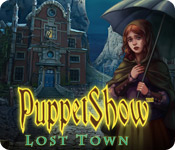 NEW299
The Big Fish Guarantee:
Quality tested and virus free.
No ads, no adware, no spyware.

Reviews at a Glance

PuppetShow: Lost Town
0
out of
5 (
0
Reviews
Review
)
Customer Reviews
PuppetShow: Lost Town
56
56
Interesting Characters
This is the first of the Puppet series I've tried, because it came highly recommended. The different type of characters (the puppets) in this game are interesting, due to them being unique. I thought there would be more of a storline with more speaking characters involved, but it was actually a nice change not to be interuppeted by all of that. As usual, there's a great deal of running back and forth to find the necessary items to complete the puzzels and solve the crime. A few of the puzzles are more challenging than the rest, so it does give you a little variety. There's not that many different interactive HOG scenes in this one, so be prepared to enter the same area more than once. However, the graphics are high-end, so they're easy to spot and what you find for tools makes sense to be used elsewhere. There's some common sense thinking that needs to come into play, which is challenging within itself to solve the case. The options do give basic and expert mode, which is always a nice feature for the gamer to choose. Since I chose expert, a few times I missed an item and needed the walkthrough to get me started up again. LOL! Otherwise, it wasn't too difficult or aggravating to not be able to complete. The music was nice up to a point, then I couldn't listen to it any longer. However, that's normal for me with games like this! This was a really enjoyable relaxing game and I'll probably purchase the entire series. All-in-all, very nice quality gaming experience!
January 30, 2012
Lives up to expectations
The third in the Puppet Show series, Lost Town not only meets the standards of those before it, it exceeds them easily. To start with, this is the first PuppetShow game where they've worked in motion graphics in their cutscenes and they have voice-overs for the story text. While not something I find necessary in a game, it does add something to the feel of the production value. Like its predecessor, Lost Town has two difficulty levels which add or remove helpful sparklies and determine the recharge timer for your hints. It uses the same backing track music, so if you didn't like it, you'll want to turn on some music. Once again the artwork in the scenery is fantastic and the imagination that has gone into the puppet creations is admirable. Lots to look at in this one, and you'll even get to fool around with some machinery and have a puppet or two do your bidding! Plot-wise, this one heads in the same direction that we've been seeing in the series, getting more detailed and involved. You start out looking for little Susie who's been dragged off by a puppet and slowly learn just how deep this particular mystery, and mine, goes. And that mystical crystal will make another appearance. HOs are more intricate, in that you'll have to interact with some objects. No click and drag here though, just opening some cupboards and the like. The mini-puzzles range from easy to head-scratcher difficult, but are all very logical and workable. Overall, this one is a definite recommend. If you haven't played the previous two, don't worry, you haven't missed out on so much plot that you won't be able to enjoy Lost Town. Crazy fun, and about the right length - roughly two hours on a speed run for me which is quite good. Pleasantly for those with younger computer-sharers, this one's also not as dark and macabre as we've seen before. There won't be many who'd regret trying it out.
May 20, 2012
An Outstanding Game
This is one of the best, if not *the* best game of this type that I have played. There was nothing cheap or shoddy about it. The locations were nicely done, the human characters were very lifelike and the puppets were a hoot. It was challenging without being frustratingly difficult. The hidden object scenes were very good and did not seem repetitious, even though they were used several times with different objects to find. It was also a satisfyingly long game which kept me entertained for several days.
February 1, 2012
Game 3: some people never learn
This is the third of the excellent PuppetShow games. The graphics continue to be above par, and the storyline is suitably creepy ? if you think crazy puppets and a sorceress looking for eternal youth and beauty is creepy, I guess. The music, by the way, is rather catchy even though it must necessarily repeat sequences. But it all blends very nicely. A big shout out to the composer for a job well done. I really like the boppy march music from the string basses. It just works and is never annoying. Some of it was used in SotI, but it's back like an old friend. Like Souls of the Innocent, the HOS are challenging, and the puzzles are clever. I really like the PuppetShow series, and now I'm off to Return to Joyville. By the way, here are the games in order of release: 2009 - PuppetShow: Mystery of Joyville 2010 - PuppetShow: Souls of the Innocent 2011 - PuppetShow: Lost Town 2012 - PuppetShow: Return to Joyville
October 27, 2012
Another ERS Top Quality Game
Storyline: Suggest that you play at least Mystery of Joyville so that you have the gist of the series. Felicia is continuing her pursuit of being young and beautiful and, this time, she has absconded with a little girl into a cave in the mountains and her mother asks you to find her. The familiar spider-bot is back, but isn?t featured here. Most of the town is deserted or its residents dead, but you do run across several puppets that remain but haven?t been functioning for some time. The town isn?t very large but, once you get into the caverns, there are a few times when you have to trek clear across town to get one object. Graphics are stunning, as usual, and the music follows in the wake of its predecessors (it?s actually grown on me). This time, you get to finish one of the puppets and fix a couple others to work. The animation is astounding. HOS are nicely sized and easily identifiable. Although you do repeat the HO scenes, not everything is returned to the way it was originally. So if you broke something the first time, it may still be broken when you revisit the HOS. You will need a lot of objects to help you on your journey, so there are a lot of HOS to provide them for you. Puzzles are beautifully-crafted; many are unique. Some are quite challenging, especially toward the end, but there is a skip button available. This is another game by ERS that is top-notch in everything.
September 7, 2012
Well worth the purchase
I just finished Puppet Show: Lost Town and totally enjoyed it. This game was full of great puzzles...BUT the running back and forth was a bit confusing. It had a lot of tricks to figure out, but it made me think like the creators....hee hee All in all it was a very interesting and challenging game...only I wish the music could have been a little more eerier (instead of cheery) to add to the suspense. I liked saving the child from the evil witch...
March 2, 2012
Love it
I just finished playing this one and had a wonderful time. I loved the story line as well as visual and sound quality. It kept my interest the entire game.Great fun. Look forward to the next one!
February 27, 2012
Enjoyable
good graphics, good story, no glitches. Only had to use walkthrough once when I got really stuck.
March 31, 2012
Loved this game!
The graphics and visuals are beautiful and spooky, as is the soundtrack. There's a lot of variety in terms of the puzzles (including the hidden object scenes), which aren't hugely difficult but are challenging enough to be fun. I'm glad I bought this one!
March 14, 2012
I love the puppetshow games!
These are awesome! Love the challenges, great story! I with they would just keep coming! Puppet show games are my favorite! You can't go wrong getting this one!
March 4, 2012
The Apple logo is a trademark of Apple Computer, Inc.
The Windows logo is a trademark of Microsoft, Inc.