PuppetShow: Lost Town
Exclusive
After discovering a new system of caves, the entire town is excited to explore, until Suzy is kidnapped by a mechanical beast! Emerging from the darkness and startling the townfolk, the creature causes a cave-in behind him, leaving no trail to follow. Track the creature down and explore the mysterious caves in PuppetShow: Lost Town, a beautiful Hidden Object Puzzle Adventure game!
Immersive atmosphere
Gorgeous graphics
For a more in depth experience, check out the Collector's Edition
Game System Requirements:
OS:

10.4

CPU:

1.4 GHz (INTEL ONLY)

RAM:

1024 MB

Hard Drive:

447 MB
Game Manager System Requirements:
Browser:

Safari 4.0 or later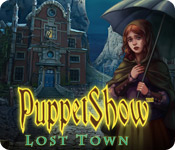 NEW299
The Big Fish Guarantee:
Quality tested and virus free.
No ads, no adware, no spyware.

Reviews at a Glance

PuppetShow: Lost Town
0
out of
5 (
0
Reviews
Review
)
Customer Reviews
PuppetShow: Lost Town
56
56
PuppetShow: Lost Town
Very good storyline, good graphics, plus well chosen music. Overall lot's of puzzles to work along the way. Recommend this game. Good work Bigfish
September 5, 2014
Puppet Problems Again!?
GAME COMPLETED SEVERAL TIMES THE STORY starts out a familiar one. Again the citizens need your help in dealing with unruly mechanical puppets. This time there is no sign of the nasty spider puppets we know from the first two games of this series. Instead a King Kong sized robo-puppet steals a small girl in full view of the townsfolk, and makes off with her. In the course of tracking him down, you discover an isolated town that has been sealed off from the world for years. Strangely, there are no people here, just broken down and rusted puppets. This is my least favourite of the 5 PuppetShow games, but is still a magnificent game If you?re familiar with the series, you don?t need me to tell you about the BEAUTIFUL, STYLIZED GRAPHICS & IMAGINATIVE LOCATIONS of this edition. Much of this one is set in underground and mining locations, so the ARTWORK is somewhat MECHANISTIC, which is not so attractive to me personally, but is still wonderfully done. The gameplay is as always HOS DOMINANT, they are slightly interactive, and repeated twice. This game introduces highlighted items in the list to tell us which items are interactive. These HOS have so many things that open and shut that the extra information is actually more confusing than helpful, I find myself preferring the earlier way. The PUZZLES are HARDER than in previous games, and there seems to be more of them. A number of them are quite interesting variations on common puzzles. The game flows well, there is little in the way of backtracking, except as appropriate ? ie. To give the game a filled-out feel. Nevertheless, with NO MAP & NO HINT, it is sometimes difficult to get around. Despite having played this game previously, I still had to resort to the walkthrough once (that?s an improvement on my past performances). As always, this PuppetShow game can be played stand-alone without missing out much, but it is far more fun in conjunction with the other PuppetShow games.
April 29, 2013
Puppetshow 3
This is the 3rd in the series, and I will say they continue to improve the game play. The graphics as usual are great, the sound effects are pretty good, voice overs okay, music was a little annoying at times but did fit the storyline. The storyline is good and continues from the previous two. The HOs are a big, messy junkpiles still, and I don't like that you play the same scene at least twice. The puzzles were simple for the most part with a couple that had a little more challenge. There are 2 modes of play, casual and expert. Can't speak for easy mode, but in expert there is no map, and the hint button is available only in the HOs which does add a bit of difficulty to the game. I finished this game in about average time for me, and found it to relatively fun; therefore, I recommend this game.
January 23, 2012
meet the jovyille spelunkers
the residents of Joyville discovered a new system of caves near their little town. unfortunately, little susie is kidnapped by a mechanical puppet-creature, which hides in these caves, also causing part of the caves to collapse so no one can follow. in this hidden object thriller, it is your task to find and rescue susie from this puppet-monster. i believe this is the third part of the PuppetShow trilogy. after playing the demo version of "the mysteries of Joyville" on my iPhone (and not being able to get that game out of my head for literally months afterwards), i came to Big Fish, specifically seeking that game for my laptop. i found it, along with its sequels, and so much more! graphics: lovely graphics. there is no click penalty, which is nice since the hidden object scenes are a bit cluttered. the puzzles are detailed and often intricate, but not excessively difficult. you can skip them, too (but why?). music: same old, same old. it can get a bit repetitious (and thus, annoying) at times, so just turn the sound down so it doesn't assault your senses too much. storyline: if you can go along with the other puppetshow storylines, then this one is no more fantastical than those. complaints: the lack of a map was frustrating when you add a new item to your tools inventory but cannot remember exactly how to return to where that tool should be used. also no diary/journal and no hint button (except in the hidden object scenes), so there is plenty of wandering around, wondering what to do next. i also found the "tools" fan to be annoying. my interaction: one hour demo, in casual mode (this game has two modes). i was surprised to find i was creeped out when the puppet/robot creature kidnapped little susie, but after i got over that, i began to enjoy the game. i purchased the other two PuppetShow games many months ago and plan to add this to my games library soon.
June 4, 2012
good game
worth the money.... follows the previous story line well
March 18, 2012
great!!!!
I love this game it is really good and fun it makes you fell like you are in the game and also you felt part of the game i thinmk the grafics are brill and come to life !!!!!!
February 5, 2012
A little bit of schmaltz, a Lot of fun!
Yet again the makers of the Puppet Show series knocks it out of the park! This is a fun and challenging HOG. I personally am not very good at the puzzles in these games so I just skip them, which doesn't seem to impact game play at all. It'a a great way to kill time!
July 3, 2014
Fun But???
I really enjoyed this game until the very end when trying to solve the last two puzzles, its like I ran out of time and the game just moved me on and then ended. True there is a possibility that I would have been unable to solve them, but I was not giving up when they ended. Oh well.....
May 12, 2014
Part 3 - continues to get better!
As with the previous 2 games, the game play has not changed, but that's not a bad thing. Now, they've added voice-overs, and the HO sections have added the multi-step approach to some of the hidden items. To me, the puzzles and HO parts have increased in difficulty, which is also not a bad thing. I really enjoy the PuppetShow series, and am excited to start part 4. I guess the only negative thing I can think of is the music. Its not bad by any means, but they still are recycling the same music from part 1. Although this time, its a tad different, but still the same.
August 2, 2013
Improved Puppets - A Guy's Review
*review based on completing the game in expert mode* The third installment of the PuppetShow series is an improvement on the other two. Especially in the game play department. This one offers a bit more challenge than the previous two (which were way too easy) and has quite a bit more adventuring. The adventuring also means more back and forth between scenes (sometimes quite a lot) which I know is a negative for some. The game offers no map or quick travel functions, and there are no hints outside the HO scenes. This means that you might get a little lost at times, but for adventure fans that is seldom a negative, and adds a bit to the challenge. I still wish there was some form of map and journal to easier navigate my steps though. The graphics in this game is even a bit better than the previous game, and animations too, though the latter seems a bit blurry at times. And this time they even have voice-overs which I find a big plus. There is not too much dialog though, and after playing three of this series I still feel that there is more story to tell through the characters. There is an improvement here too though, compared to the previous installments. The biggest improvements one finds in the game play. There are still lots of HO scenes, most of which you will have to visit twice. Maybe even all of them. They have become more interactive too, but there is still room for improvement in that department. The HO scenes are usually crisp, clear and colorful, but some are darker and some items are rather small, so it can be challenging to people with poor eye sight and also be a bit eye straining on most. Not too big of a problem though. The puzzles have improved a lot, and I find them more challenging and creative than they were in "Mystery of Joyville" and "Souls of the Innocent". There also seems to be more of them than previous seen. There is still only two difficulty levels. Namely "regular" and "expert". Regular has a quick recharge of hint/skip functions and sparkles on anything you can interact with, while Expert recharges slowly and only sparkle on HO scenes. This game offers a lot of fun for beginners and seasoned players alike IMO, and I can therefore recommend them to anyone who likes these types of games. The most seasoned players will still not find it very challenging but I think most would still enjoy this one. For the guys: Still no gender bias in this game, and it should suit everyone. TJ
November 2, 2012
The Apple logo is a trademark of Apple Computer, Inc.
The Windows logo is a trademark of Microsoft, Inc.