PuppetShow: Lost Town
Exclusive
After discovering a new system of caves, the entire town is excited to explore, until Suzy is kidnapped by a mechanical beast! Emerging from the darkness and startling the townfolk, the creature causes a cave-in behind him, leaving no trail to follow. Track the creature down and explore the mysterious caves in PuppetShow: Lost Town, a beautiful Hidden Object Puzzle Adventure game!
Immersive atmosphere
Gorgeous graphics
For a more in depth experience, check out the Collector's Edition
Game System Requirements:
OS:

10.4

CPU:

1.4 GHz (INTEL ONLY)

RAM:

1024 MB

Hard Drive:

447 MB
Game Manager System Requirements:
Browser:

Safari 4.0 or later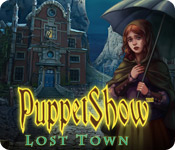 NEW299
The Big Fish Guarantee:
Quality tested and virus free.
No ads, no adware, no spyware.

Reviews at a Glance

PuppetShow: Lost Town
0
out of
5 (
0
Reviews
Review
)
Customer Reviews
PuppetShow: Lost Town
56
56
Weaker than the first, but still a good game.
Really enjoyed the first game of the series, then I played this one second (although it is the 3rd in the series). The two games have are awfully similar, and there wasn't much to advance the story beyond what we already learned from the first game. There was a good plot introduction at the beginning, but then a large chunk of the game in the middle was puzzle after puzzle (which were all very good) with little or no story, and then things picked up again at the end. I enjoy playing Big Fish titles because they typically have a nice story element that enriches the game beyond the average hidden object game. Lost Town was still a lot of fun to explore, and the puzzles were all excellent (a few were quite challenging), so I enjoyed the play-through, but overall it felt like a weaker game than the original... especially if you focus on the story element of these games. For me, that's one of the main reasons to purchase 4 games in a series... to get the rest of the story! If you loved the first, you'll still enjoy this one, but if the first title wasn't a hit in your book, I doubt you're going to like this one any better.
August 22, 2012
Good Game
This is my first time playing PuppetShow series. The beautiful graphic of Puppet Show caught my eyes, which I decided to buy it. I also enjoy the music. It sounds relaxing and mysterious at the same time (and sometimes, it's really creepy). At first, the story is very interesting to keep me playing. I want to find out more about the Lost Town and Suzy. However, I'm not satisfied the ending. And I'm getting bored after meeting Fecilia... Between Suzy and the Town, they DON'T HAVE ANY CONNECTION AT ALL. I still feel like the game is missing something important about the history of the Lost Town. I simply know the Town has an illness, which makes people die. Then, they decide to replace humans with puppets. The cause of the illness is unknown, including some mysterious crystal and many thing more! I believe Puppet Show will continue the Lost Town story, so I'm looking forward to playing more. The riddles are interesting, and getting harder at the end. The graphic is not too dark to find the Objects, so I enjoy finding them! I still remember the first Object Finding in Puppet Show: Lost Town... If you notice, you will see the eyes of Doll and Puppet are moving and looking at your arrows. It really makes me scared :D.
July 11, 2012
Decent Game
Fun game, good graphics, lots and of back and forth. HOGS and mini games are fairly easy and I played on expert mode. There was no map or journal and only hints during HOGS. Took me about 2 1/2 hours to complete the whole game so fairly short also.
June 29, 2012
Beautiful Game
This is the only PuppetShow game I've played and I really enjoyed it. This developer never disappoints. The hidden object scenes are well drawn and not too difficult. The puzzles are challenging, but solvable with some thinking. There is a lot of backtracking which may bother some. It was sometimes difficult for me to remember which places I needed to go back to and with what! All and all, a good way to spend a few hours.
May 28, 2012
Puppet Show series succeeds again!
I'm a little tired of the gloom & doom HOGs but this series is well worth it. The graphics are always gorgeous and the puzzles are usually interesting. There was a little too much running back & forth from place to place, but that was a minor quibble. The storyline is a little on the meh side, but that's never a big consideration for me, so it didn't make much difference to me.
May 26, 2012
Finally an Original Story Line
It is quite an original story, refreshing change from the usual ghouls, witches, vampires etc. (although I have enjoyed those as well). I had seen this game offered before but it didn?t really interest me until it was offered as a bonus purchase. Based upon the reviews it had at the time (17 five stars and 3 four stars with 100% recommending, impressive) I then decided to purchase. It appears this is one of several in a series, although it did not require playing the previous one(s) to understand what was happening. While the scenes can be a little surprising with the visual content (no spoiler), the dev.?s have tried to balance the shock value with rather pretty details on the borders of the close-ups (when magnifier appears), and your tool ?holder?. Don?t get me wrong, there is no real gore or disgusting things, just some things that made me go, ?oh creepers!? And if you don?t like bugs fear not, you get pesticide! The graphics are very good. I was immediately impressed when I could see tears in the eyes of several characters. Starts out with voice over, which disappears when the story continues. The music is subliminal and not obtrusive or annoying. There is no map or diary (miss the diary, helps to remember what you were going to do when you return from a break). There is considerable to and fro. I played in expert mode, which has no hint button except in the HOG?s. There is no click penalty, and while they are cluttered they are not what I would call a junk pile. Items are not that difficult to find, although you always have that evasive one. At first it appears there are not many HOG?s, and then you get one after another after another, sometimes three in a row (seriously). And yes, there is a crowbar?.I personally like the crowbar, I find it a very useful tool. ? That said, this is a good game for HOG lovers, if you?re looking for straight adventure not so much. Just when your getting into the story and searching/investigating another HOG pops up, and like I said sometimes it goes on 3 times in a row. After that 3rd HOG your left wondering what was it you were supposed to do. I would rate this a 5 if it had no HOG?s, but (in my opinion) they obscure the flow of the game, I give it a 2.5 Conclusion: Good story, nice graphics, entertaining. I will recommend for fans of HOG?s for those reasons. Not recommended if you want straight adventure.
April 12, 2012
Lost Town
I'm sorry that I have to disagree with some of the reviews here, this is my least favorite of all the PuppetShow games that I have. I am no fan of mechanical stuff (except the automatons in Syberia series!), they're not very much 'puppetry' to me. As always, there's someone you have to rescue and why is it always little kids? I found this a bit disturbing after playing all the three games in the series. I am getting rather bored with the interface (same fan like inventory feature) which cannot automatically open up until you click it, very frustrating if you need to try using the items to unlock/ fix something. Overall, my least favorite of all the PS series. They're still great, but after awhile, I get tired of the same interface, over and over repeated.
June 28, 2012
Another Eternally Released Sequel game
Review based upon completion of the game. This is the third installment of the Puppetshow series. In a remote town, a little girl is abducted by a Puppet / Robot to an even more remote town, that has been abandoned for some reason. When you go there you find that the inhabitants have been replaced by puppets, and of course your old adversary and her spider puppet are there too. The Good: + graphics up to the developer's usual standard + items are not put back into repeated HO scenes The Neutral: o inventory only shows 5 slots o very limited interaction with the main adversary and the spider puppet (only around 4 sightings during the game) o average game time of about 3 hours The Bad: - you have to click a "Tools" button every time you want to take an item out of your inventory - no hint function outside the HO scenes Bottom Line: This game is definitely less boring than the second part, but overall nothing to really write home about. I would classify it as your typical average game that this developer churns out regularly. If you played the first two games, play it to know the continuation of the story.
May 16, 2013
NOTHING OUTSTANDING
This game is pretty average as games go. It is guilty, in my opinion, of too much back and forth, my pet peeve. This was further complicated by no hint button except for the HOS. I had to have the walk through open during the entire game to be able to figure out where to go next. For a little while, things would progress in fairly logical steps, but then nothing would stand out to direct me to the next step, so I had to go to the walk through to continue. At one point, the walk through told me to back out 9 times to get to the next play area. In my opinion, again, this is way too much movement and breaks your concentration. However, this game isn't the worst I've played; there have been others that require so much back and forth, I just about give up on them. Because of this failing, I had no desire to check out the CE. All this back and forth makes the game seem long, but the time you spend actually playing is much less than it could be if you didn't have to spend so much time backing out and going forward to get to the next area of play. The storyline is good, the graphics are good, and the HOS were difficult enough to be challenging. The puzzles were a good mixture of types, but, again, required a lot of forward and backward movements to finally collect all the pieces needed to play them. Overall, an OK game, but didn't leave me with a warm, fuzzy feeling.
October 14, 2012
A good game, but a didn't like it
I think it's a pretty old game. There's no hint button in the adventure part to show the direction when your are stuck. That's annoying. Still there some indication of what to do, but it doesn't worth the HOG we have currently. If you have to choose a great game, there's plenty new who worth it.
September 28, 2012
The Apple logo is a trademark of Apple Computer, Inc.
The Windows logo is a trademark of Microsoft, Inc.